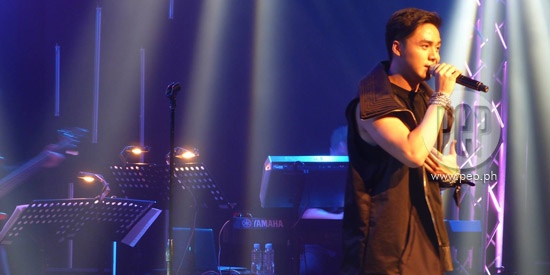 ---
Anticipation was building up at the Music Museum when the lights were suddenly turned off and a countdown timer was flashed onscreen.

The audience erupted into cheers when Sam Concepcion finally came out on stage sporting a black sleeveless hoodie. He opened the night with a medley of "No Limitations" (a track from his 2013 album Infinite), Usher's "OMG" and Swedish House Mafia's "Don't You Worry Child."

During his No Limitations concert held last March 15, Sam told the crowd: "I don't wanna say thank you yet because I see a lot of familiar faces, and I tell you it's actually more intimidating to perform in front of the people you know--and you love." This was a little kilig moment for Sam's fans because Jasmine Curtis Smith was in the audience to show her support.


He then performed another song "Rescue," which was also taken from his latest album.


Sam dedicated the song "Di ka Nag-iisa" to victims of supertyphoon Yolanda, saying he wanted to release this as a new single because he felt that it had a very important message and that it was timely. Midway through the song, Sam did a rap verse that elicited a lot of cheering or rather, delightful shrieking from a very impressed audience. At the end of the song, Sam jokingly said, "tara fliptop tayo!" but later conceeded that the verse was actually done by fliptop rap artist, Dello.

The singer-actor also took this time to ask the audience for support in the upcoming MYX Music Awards. Sam is nominated in the Favorite Male artist category along with Abra, Bamboo, Daniel Padilla, and Gloc 9.


In his spiel, Sam admitted, "One of the highlights of my career is being chosen to star in a movie musical called I Do Bidoo Bidoo that features APO Hiking Society songs." The mood turned a bit mellow as Sam paid tribute to the APO Hiking Society by singing "Panalangin," which he dedicated to his lolas who came to watch him perform.



The pace quickened once again as Sam performed "She Drives Me Crazy." He was definitely pulling all the stops to make all the girls audience swoon. He even took selfies with Samsters (the name for his fans) and one lucky fan even managed to steal a kiss on the cheek from the heartthrob.



At this point Sam introduced his first surprise guest, X Factor Philippines grand champion KZ Tandingan. They sang an outstanding rendition of "Say Something" by A Great Big World and Christina Aguilera, which proved to be one of the many highlights of the night. Sam left the stage for a bit while KZ wowed the audience with her versatility and range through her take on Katy Perry's "Roar." She added her own twist by adding Filipino rap verses into the song but still somehow managed to make it look seemless as thought this was how it was meant to be performed.



Sam then emerged from the backstage in a very loose and slightly hanging black shirt, white shorts and black leggings underneath. He narrated, "In my career I have been very blessed to have been given original songs that I can give to my fans. Until two years ago, I joined a songwriting competition. I didn't actually join but I sang one of the songs." He then sang "Kontrabida" that won third place in the PhilPop songwriting contest in 2012.



One segment was dedicated to a band which Sam says made a huge impact to the industry and OPM. The 21-year-old performer invited the audience to sing with him as he sang "Alapaap," "Ligaya," "Huling El Bimbo" and "With a Smile" performed and made popular by the Eraserheads.



According to Sam, there are also other artists who influenced him heavily. He then channeled the King of Pop with his performance of some of Michael Jackson hits such as "Black or White," "Blame the Boogie," "Smooth Criminal," and "Don't Stop 'til You Get Enough."



Sam, who was partially out of breath, took a break from dancing and sat in the middle of the stage as he serenaded the audience with his impressive take of Cold Play's "Yellow" and John Legend's "All of Me."



The signer-actor then made way for one of his special guests that evening, Tippy Dos Santos, who performed Katy Perry's "Teenage Dream."

When he came out again onstage, Sam was wearing a black half trench coat and baggy pants. The pair then gave their rendition of the song "Dati," which allowed them to win the grand prize in the 2013 PhilPop singing competition.

He then proceeded to thank his sponsors, and the band as well as the production team for making the concert possible.


Just when everybody thought it was over, Sam treated his fans to an amazing hip hop dance routine that had his dancing prowess on full display. He also sang Chris Brown's "Forever" and "Turn Up The Music" as he encouraged the audience to stand up and dance. By this time, Sam was all over the place, staying true to the concert's title of No Limitations. Samsters were thrilled to get the chance to hug, shake hands and take pictures with their young idol.



For his encore, he sang "Mahal na Mahal." During his performance, he gave the audience another kilig moment when he went up to Jasmine to serenade her and asked her to sing the song with him. Jasmine, though a bit hesitant, gave in and sang a few lines which, of course, was all it took to make the audience melt.



No Limitations was truly a success as the concert showcased all of Sam's talents and cemented his credibility as a well rounded performer. He can sing, dance, rap and and still look good while working his butt off onstage. The concert proper ended at around 10:30 p.m. but Samsters were eager to stay a bit longer for a chance to meet Sam Concepion.


ADVERTISEMENT - CONTINUE READING BELOW