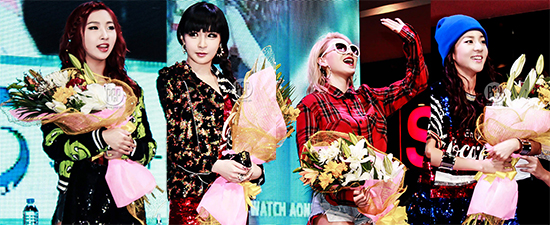 ---
Shangri-La Plaza, a staunch supporter of culture and the arts, recently held a special event featuring the internationally-acclaimed South Korean girl group 2NE1 at the mall's East Atrium.
A part of 2NE1's AON: All or Nothing world tour, the event, hosted by K-pop blogger Kring Elenzano and Jimmy Kim, included a highly-anticipated appearance from the talented quartet.
Considered one of the leaders in propelling K-pop to global fame, 2NE1 has churned out chart-topping singles since their launch in 2009, such as debut single "Fire" and other popular hits like "I Don't Care," "Go Away," "Lonely," and "I Am the Best."
The four-member group, known for its unique, powerful music and funky-fierce style, is composed of Dara (more known to her Filipino fans as Sandara Park, having first debuted here in the Philippines as a singer, dancer, and actress); group leader CL, who is also regarded as an international fashion icon; along with lead singer Bom, and rapper and dance machine Minzy.
The girls are back in Manila for the second time to celebrate their 5th anniversary with a one-night only show tonight, May 17, at SM Mall of Asia Arena.
Just last February, the group released their second Korean studio album, Crush, which sold over 4.2 million digital album sales – making it the best-selling digital album of 2014 so far – and peaked at South Korea's Gaon Music Charts and the U.S. Billboard record charts.