South Korean idol Bae JinYoung made hundreds of his Filipino fans feel kilig during his first-ever fan meet held in Manila on Saturday night, May 18.
CDM Entertainment conducted JinYoung's fan meet dubbed as IM YOUNG at the New Frontier Theater in Quezon City.
JinYoung rose to popularity after winning a group survival reality show called Produce 101 Season 2 in 2017.
He was among the 11 idols who won the competition and became part of the group called Wanna One.
This marks JinYoung's third time to visit the Philippines following the group fan meet in October 2017 and first major concert in September 2018.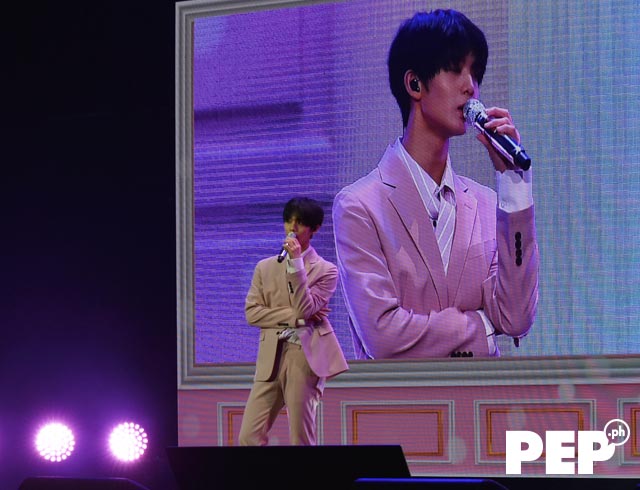 JinYoung showed off his cute and charming side during the opening performances.
Donning a pastel pink suit, he performed the song "Hug."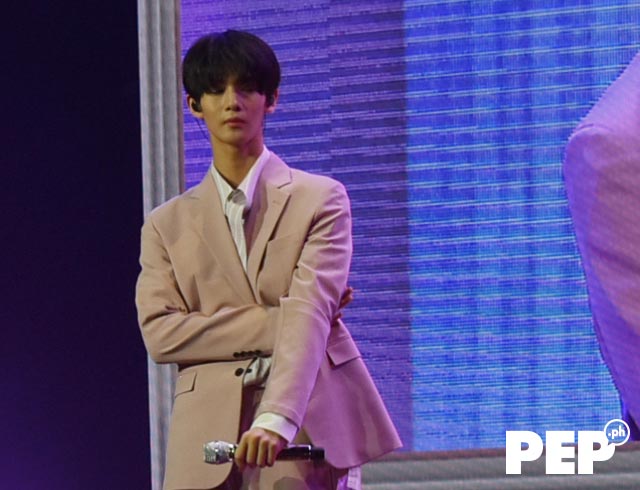 This was followed by his performance of "Oh Little Girl."
JinYoung went backstage for a quick outfit change.
For the second set of performances, he wore an all-black ensemble to show his sexy and manly side.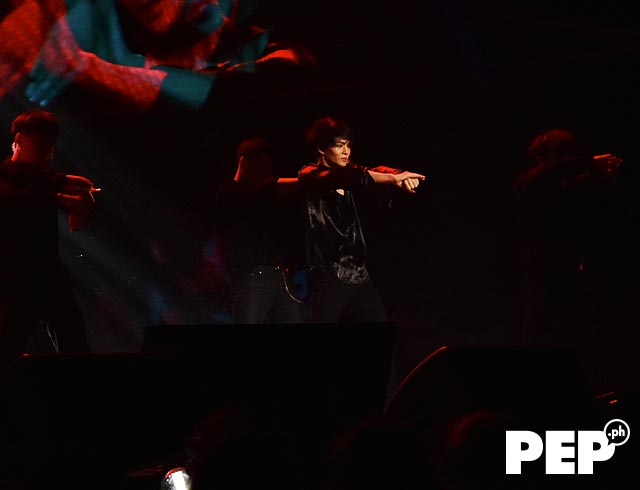 In this segment, he did a dance cover of The Weeknd's song titled "The Hills."
This was followed by "Eleven," a song he originally performed with fellow Wanna One members JiHon and GuanLin (both not in photo).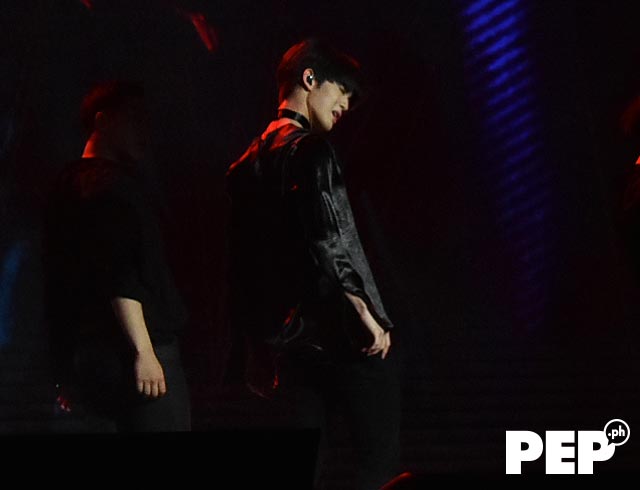 After his performances, JinYoung had another outfit change for the interview segments of the fan-meet.
MYX VJ Sunny Kim hosted these segments.
JingYoung introduced himself in Tagalog and told the audience: "Mabuhay! Ako po si Bae Jin Young."
Talking to Sunny, he said he prepared a lot for this fan-meet.
He narrated, "Before, he was more cute. But now, I'm more confident to show a sexier or manlier side."
JinYoung later added, "I haven't been resting because for me, I'm very happy when I practice to show you more sides of me."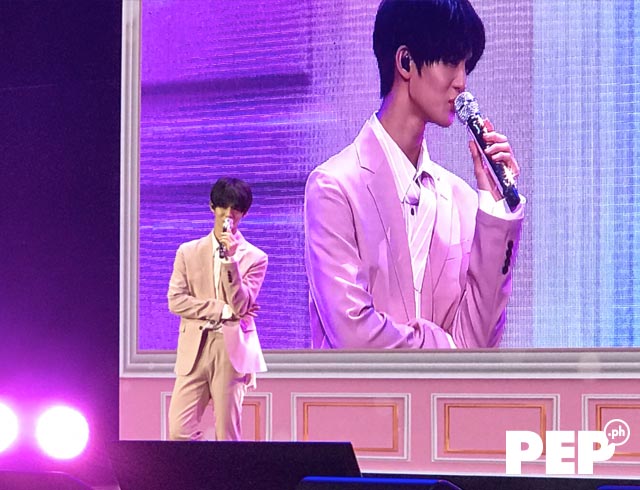 During the first part of the interview, fans got to know the "three wonders and three mysteries" of JinYoung.
Photos of JingYoung's poses wore shown on the LED screen. Sunny asked him to do a live version of his 45-degree angle pose.
The Korean performer then proved that he is an 11 deung-shin (11 head figure) and exceeds the Korean beauty standard of 8 deung-shin (8 head figure).
This means that the size of his face multiplied by 11 is equal to his height.
He also did a live version of his viral "Baebastic" introduction video from Produce 101 Season 2.
According to JinYoung, his talent agency, C9 Entertainment, gave him the idea to do this for his introduction video.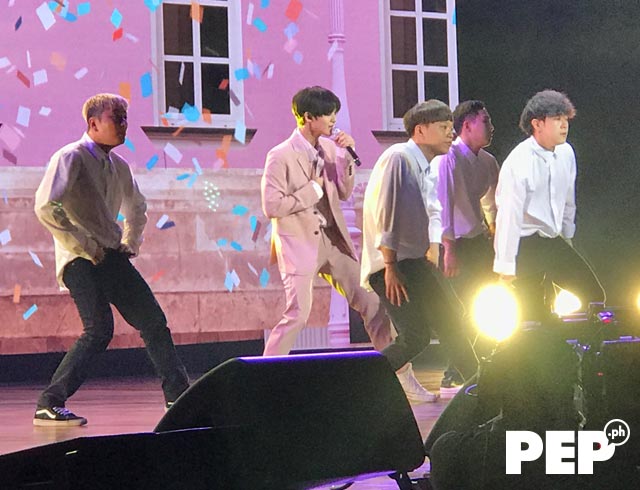 During the second part of the interview, fans recalled how they became attracted to JinYoung during a segment called "The Moment I Fell For Bae Jin Young."
During this part of the interview, he shared some of the Tagalog words he learned so far.
Addressing his Pinay noona fans, he said, "Ate, I love you."
Noona is a term in Korea used to call girls older than their age.
He also learned the terms "bunso" and "kaibigan."
As for his male Filipino fans, JinYoung calls them "Kuya!"
JinYoung also granted some wishes during the third and last segment called "Make My Wish Come True, Young."
The Wanna One member basically did some cute poses, also known as aegyo, for his fans.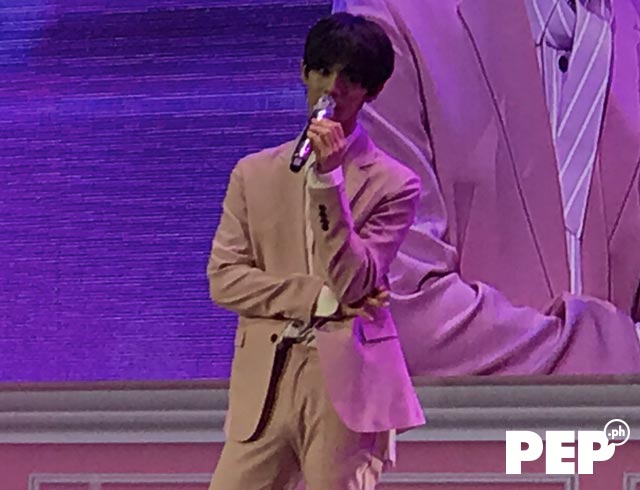 One highlight of the fan meet was when fans gave him a birthday cake in celebration of his 20th birthday.
JinYung officially turned 20 last May 10.
Before bidding farewell, JinYoung performed his latest song "Hard To Say Goodbye."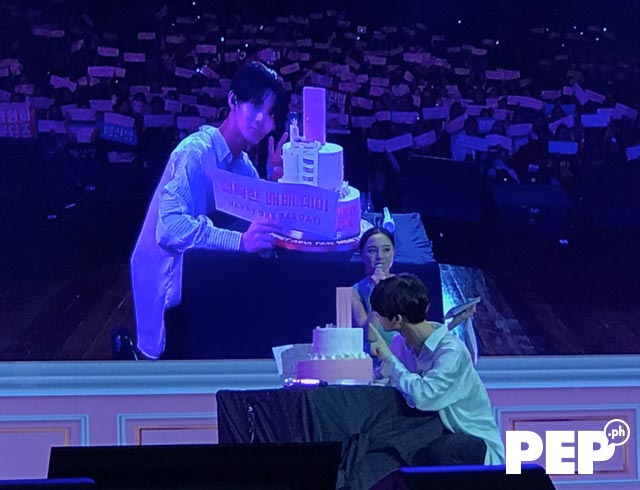 Towards the end of the fan meet, JinYoung emerged on stage wearing his official fan-meet shirt and danced to Justin Bieber's song "Baby."
Lucky fans got an up-close encounter with JinYoung during the hi-touch and group photo segments after the fan meet.