Irish boyband Westlife is currently on a world tour to celebrate 20 years in the industry, and Manila, Philippines is one of their stops for The Twenty Tour.
The lads of Westlife returned to Manila for a two-day concert last July 29 and 30, 2019.
The concert, which was held at SMART Araneta Coliseum in Cubao, Quezon City, was a celebration of their greatest hits and a jumping-off point to their next chapter as Westlife.
Westlife members Nicky Byrne, Mark Feehily, Shane Filan, and Kian Egan recalled their fondest memories with the Manila crowd.
Shane (third from the left) remembered the Philippines being one of the loudest audiences they have had and the crowd during the first night confirmed it for him.
"You proved it tonight guys, you really did. That was an amazing reception," he said.
"It's always nice to come into a country with so much memories and to have even more memories tonight.
"We're going celebrate 20 years of Westlife together tonight. We're going to take you on a journey through all those memories and all those songs."
Mark (second from left) looked back on their early years as Westlife and recounted the first time he and his bandmates arrived in Manila.
As a young singer, Mark grew up in the countryside of Ireland and he couldn't believe that people from Asia knew his name as well as all of his family members' names.
He said, "Since the very beginning, the point is you guys have been very passionate supporters of Westlife. This concert this evening is to say thank you so much and we love you Philippines! We love you!"
Nicky recalled the moment the first arrived in Manila.
He said, "We started from Ireland, the west coast of Europe, and we started to travel around the world. We got to Asia and we landed in Manila nd it seemed like thousands of people were at the airport to greet us.
"And that was all of us guys and all of your support that led to us returning to the Philippines on many occasions to tour..."
Nicky then thanked the Manila crowd for their continuous show of support even during their seven-year hiatus.
The Dublin-based singer said, "Instead of the usual, we decided to take a little break. We got married and we had kids. We had nine children between us, by the way. Nine Westlife kids at the moment back home in Ireland. And we're not finished there because Mark is expecting a little baby! They'll be 10 Westlife kids!
"During that time off, we all crossed our little individual things. During all that stuff we did, I always remember you guys on Twitter and Facebook and Instagram and you all supported everything we did. Thank you so much!"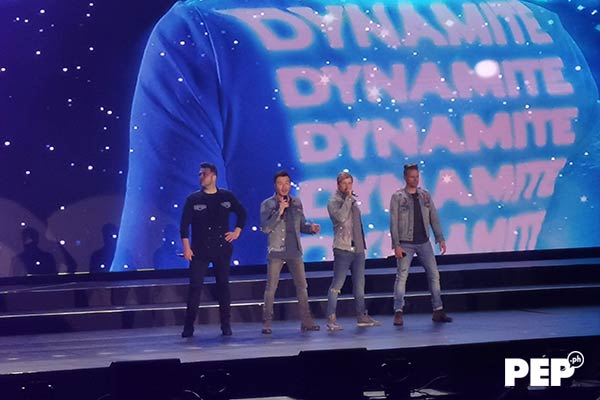 Westlife went on hiatus in 2012.
WESTLIFE'S GREATEST HITS
The concert was a mix of old and new songs as Westlife kicked off the night with their new single "Hello My Love."
They followed it up with their debut single from 1999, "Swear It Again."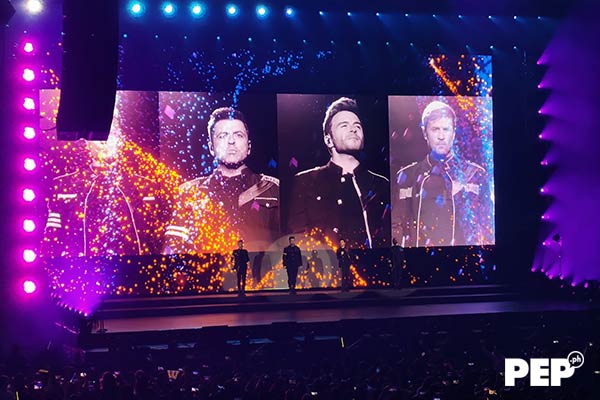 The lads then sang more of their beloved hit singles such as "My Love", "If I Let You Go", "Uptown Girl", and "When You're Looking Like That."
Later on, Westlife chose five of their fans from the audience and serenaded them with their new song "Better Man."
After a beat, the lads did their own cover medley of Queen songs.
Shane, Mark, Kian, and Nicky sang and danced to "Another One Bites The Dust", "Radio Gaga", "I Want to Break Free", "Don't Stop Me Now", "Somebody to Love", "We Will Rock You", and "We Are The Champion".
Later on, the four of them took a seat in the middle of the stage and reminisced over some of the singles they felt would be a hit with the Manila crowd.
They sang acoustic samples of "Seasons in the Sun", "I Lay My Love on You", "Fool Again", and "Queen of My Heart".
For their encore, Shane, Mark, Kian, and Nicky appeared in white suits and sang "Flying Without Wings" and "World of Our Own".
Westlife was originally a band of five members.
Shane, Mark, Nicky, Kian, and former member Brian McFadden formed the band in 1998. They were signed under Simon Cowell, a well-known talent manager and talent show judge.
As a band of five, they recorded and released four studio albums: Westlife (1999), Coast to Coast (2000), A World of Our Own (2001), and Turnaround (2003).
In 2002, they released their first Greatest Hits album.
In 2004, Brian departed from the group. The four remaining members continued to be in Westlife and released four more studio albums: Allow Us To Be Frank (2004), Face to Face (2005), The Love Album (2006), and Back Home (2007).
Shane, Mark, Kian, and Nicky took a one-year break in 2008, then regrouped in 2009 to do two more albums: Where We Are (2009) and Gravity (2010).
The four of them then took a longer break from the industry in 2012.
In between the years of 2012 and 2018, each member took on solo careers and solo endeavors.
Shane and Mark had solo music careers, which gave the latter the recognition of highest charting LGBT performer and Irish LGBT performer in the U.K. charts.
Kian and Nicky participated in reality and talent competition shows. Kian became a judge in The Voice of Ireland, while Nicky joined the tenth series of the British version of Strictly Come Dancing.
All band members, including former member Brian, are married and with children.
In 2019, Shane, Mark, Kian, and Nicky reunited and began the next chapter of Westlife.
They are set to release Spectrum, the 11th studio album, in November. "Hello My Love", "Better Man," and "Dynamite" are among the album's lead singles.
Westlife is presently on the second Asian leg of The Twenty Tour.