Korean heartthrob Cha Eun Woo dazzled his Filipino fans not just with his pretty-boy looks but with his effort to deliver an unforgettable first fan meet in Manila.
He came prepared with a surprise production number where he serenaded the audience with "Kathang Isip," a popular song by the OPM band Ben&Ben.
Amid the spotlight and a backdrop of twinkling lights being flashed on the big LED screen, the handsome Eun Woo was a sight to behold on stage.
He even spoke in Tagalog asking his fans, "Sabayan niyo ako."
This turned the crowd crazy with excitement as they loudly sang along with the 22-year-old singer-actor.
It was like a scene straight from the Korean romantic-comedy TV series My ID is Gangnam Beauty, where he plays a campus heartthrob with lots of girls swooning over him.
Eun Woo was clearly in his element when it comes to singing as this rekindles his roots as a member of the Korean boy band Astro.
As an extra treat, he even sat down and played Justin Bieber's "Love Yourself" on the piano.
Once in a while, he would stop singing to engage the crowd or take a moment to flash his beguiling smile and just feel the song.
Such candid gestures were enough to make the show a memorable one for his fans.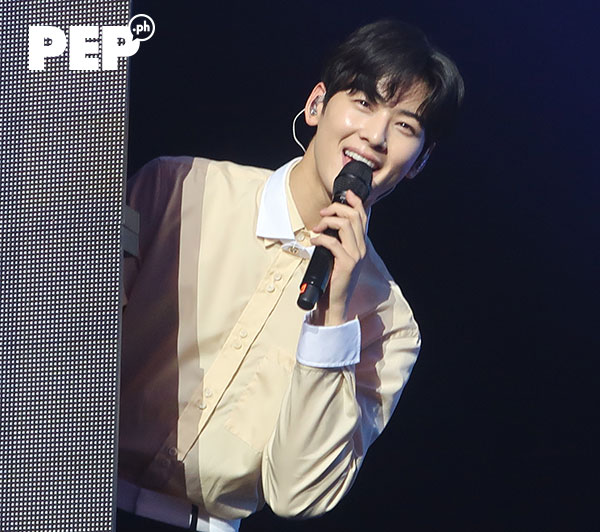 But Eun Woo also made fans remember his kilig scenes with Gangnam Beauty co-star Im Soo Hyang when he sang the show's theme "Rainbow Falling."
The rain scene in Gangnam Beauty—when he confesses that he likes no one else but Soo Hyang—was even shown on the big LED screen.
Eun Woo also made sure to dress up in his hanbok, a traditional Korean attire which he wore for his most recent TV series Rookie Historian.
It was his outfit for his opening number where he sang the period romance-drama's OST "Remember."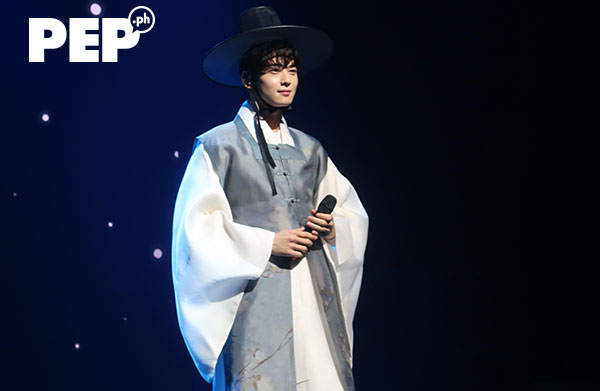 Dubbed Just One 10 Minute, Eun Woo's first fan meet in Manila happened Saturday night, October 26, at the New Frontier Theater in Cubao, Quezon City.
Aside from his song numbers, below were other highlights of his visit:
CHA EUN WOO LEARNED SOME FILIPINO EXPRESSIONS
At the start of the fan meet, Eun Woo warmly greeted his Pinoy fans with "Mabuhay!" and "Mahal ko kayo!"
These are some of the usual Filipino expressions that are being taught to foreigners visiting Manila.
But the Korean heartthrob also made the crowd laugh when he exclaimed "Pak na pak!"—a Pinoy gay lingo for "Perfect!"
He would utter "Pak na pak!" whenever he wanted to convey how much he's enjoying his encounter with Pinoy fans.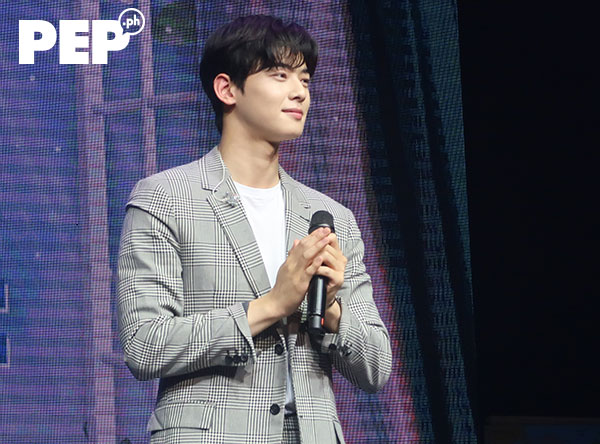 HE FIRST VISITED MANILA WHEN HE WAS IN GRADE 1
Eun Woo recalled that his first visit in Manila (when he was still in grade school) was a memorable experience for him.
"I came to the Philippines when I was in Grade 4," said Eun Woo with the help of a translator.
"I really liked basketball then.
"And that's why back then, I used to play basketball with the people there in the Philippines."
He stayed in the Philippines for several months to study in an elementary school in Tagaytay.
Still talking about how much he enjoyed playing basketball in the Philippines, Eun Woo added, "When they told me to study, I didn't want to study."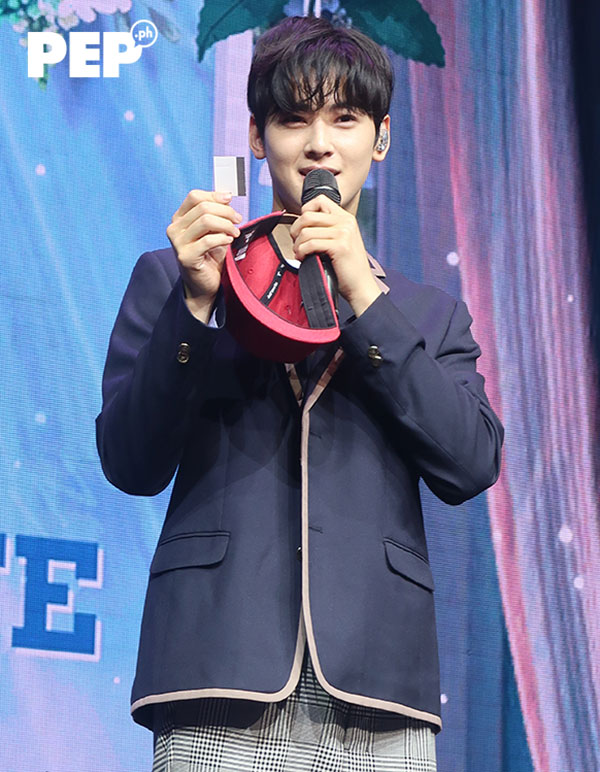 HIS MOM TAUGHT HIM TO ALWAYS STAY HUMBLE
Eun Woo was dubbed in Korea as "face genius" because of his good looks.
But when he was growing up, he admitted that his mom would often tell him "You're not good-looking."
He added that she constantly reminded him, "Don't be vain."
What's the lesson behind it?
Eun Woo simply explained, "Don't think of yourself highly is the main point."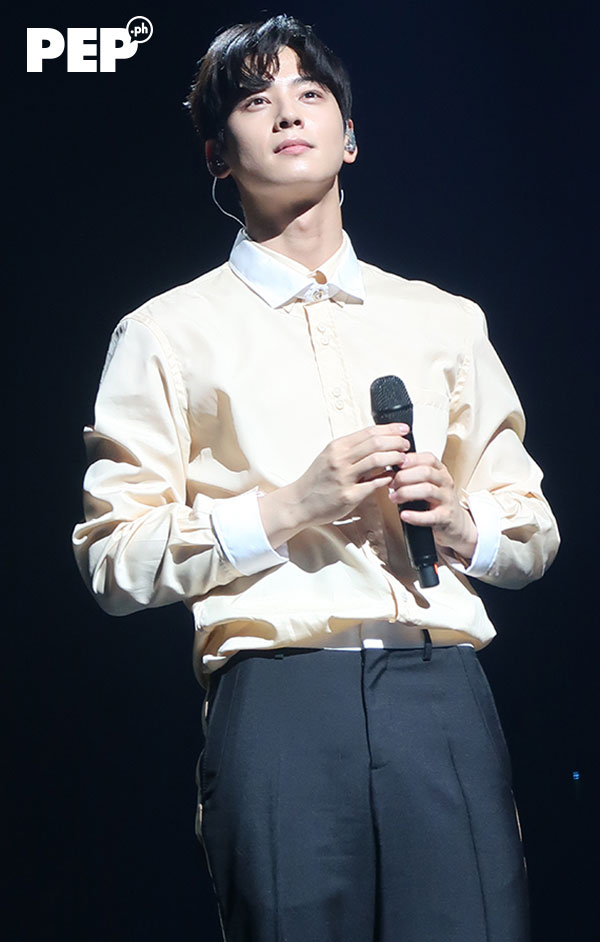 CHA EUN WOO OFTEN COOKS FOR HIS ASTRO BANDMATES
Eun Woo said that there where times when he would cook for his fellow Astro members Jinjin, MJ, Moonbin, Rocky, and Yoo San-ha.
"If I'm with the rest of the members except Jinjin, I grill the meat. The rest of them don't really know how to grill."
Talking about why Jinjin is an exemption, Eun Woo added, "I think because he's the leader that's why he takes care of the members.
"But I guess the rest of the guys just don't really know how to grill meat."
Their group actually came to the Philippines in September 2016 for the MBC Show Champion concert that featured nine K-Pop acts including BTS.
At the time, Eun Woo was even photographed holding a Jollibee drink.
Apparently, he remembered eating at the famous Pinoy fast food during his very first visit in the Philippines when he was still in grade school.
HE MADE A DREAMCATCHER FOR HIS FANS TO AVOID BAD DREAMS
Eun Woo personally made a handcrafted dreamcatcher for two lucky Pinoy fans to bring home as souvenirs.
While crafting the dreamcatchers, he spoke of his recent dream about a "big fish dragging me all around."
He went on to say that it was pretty scary because he had a hard time staying afloat in the sea with water "slapping me all over."
When the audience laughed at his anecdote, Eun Woo added, "It might sound funny, you'll be like, 'What?!' But really, in my dream, it was so bad."
When he was done making the dreamcatchers, the Korean wished that his fans would always have a deep and relaxing sleep at night.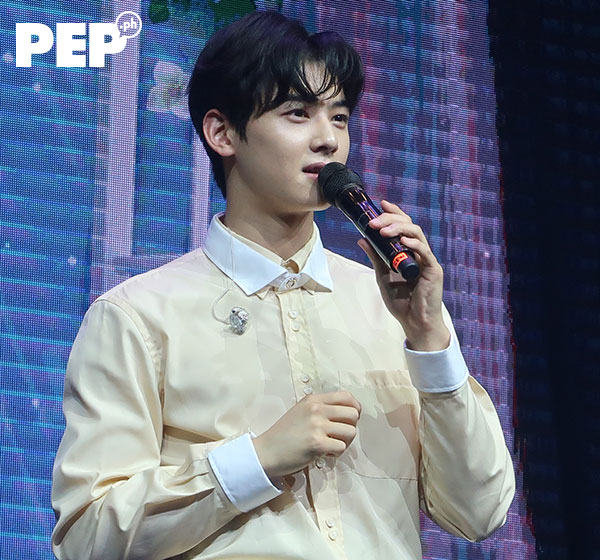 MESSAGE FOR PINOY FANS
Then at the end of the fan meet, Eun Woo told his Filipino fans:
"I was really happy and I had so much fun meeting my Filipino fans here in the Philippines.
"You are really passionate I feel the heat from you.
"I'm so happy that I received such positive energy from you.
"I'll go back in Korea and keep the energy to become a better Eun Woo and a better Astro."
The charming Eun Woo added, "I'll come back to the Philippines, promise!"