SB19 makes history as first Filipino act to debut on Billboard Social 50.
According to their official website, Billboard Social 50 is a weekly "ranking of the most active artists on the world's leading social networking sites."
The five-member Pinoy pop group composed of Sejun, Josh, Stell, Ken, and Justin debuted at the 28th spot on the said chart last week. This week, the group peaked at the 19th spot, placing behind Mariah Carey.
SB19 outranked some of the biggest acts in the world including former One Direction member Harry Styles, American rapper Cardi B, American singer-songwriter Lizzo, and K-pop girl groups including Twice, BlackPink, and Mamamoo.
Korean boy band BTS currently tops the chart and has been on top for over 129 weeks. Five-member K-pop girl group Red Velvet currently holds the second spot.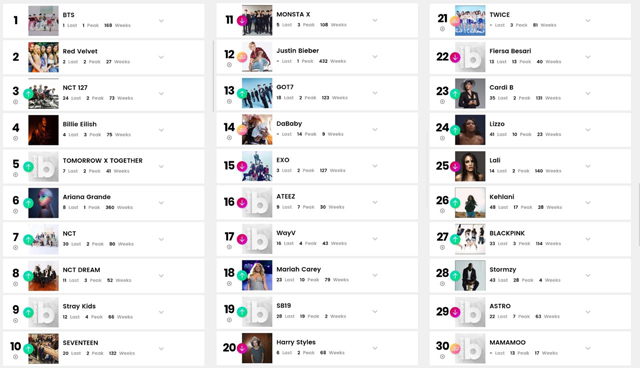 SB19 is the first Filipino group trained by a Korean company called ShowBT Philippines. The boy band is best known for its songs "Tilaluha" and "Go Up." SB19 is currently promoting its third single, "Alab."