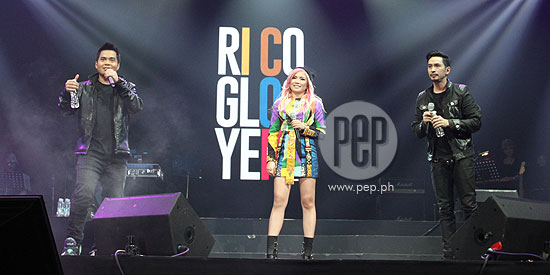 ---
"Sisiguraduhin naming tatlo na mage-enjoy kayo!" Rico Blanco vowed at the beginning of the concert.
True to his word, the trio—composed of rock artist Rico, hip-hop star Gloc-9 and pop-rock singer Yeng Constantino—delivered all-out performances for ICON The Concert held at the Smart Araneta Coliseum last night, November 21.
They jumpstarted the concert by showing what they each has to offer as a versatile rock star, a pop-rock princess, and a master rapper (not to mention all three of them are singer-songwriters).
Rico was first on the stage with "Antukin" as his opening number. Known for his penchant for unique fusion of diverse sounds, he added a mix of orchestra symphony and Pinoy folk to that song from his first solo album, Your Universe.
Looking subdued in his all-black ensemble, Rico left it to his band of drum beaters to wear their usual Ati-atihan inspired outfits.
But, of course, there was nothing subdued about his performance as he jumped on stage every once in a while, hyping up the energy of the crowd.
ADVERTISEMENT - CONTINUE READING BELOW
A sing-along anthem amongst his fans, the song goes: "Kung ayaw may dahilan / kung gusto palaging merong paraan."
Standing out in her multi-colored mini dress, Yeng chose a rousing opener with "Time In." The cutesy dress was a stark contrast to her confident performance and rock star attitude in the way she interacts with the audience.
"Okay ba kayo diyan?" she shouted in her booming tomboyish voice, showing that she's rough around the edges like that.
Her solid fans (known as Yengsters) loved the Kapamilya singer just the way she is, and it was apparent with their non-stop shrieks everytime they see her on stage.
The bigger surprise was Gloc-9 who blew the audience away with his amazing talent for rap. At first, it wasn't that evident when he performed his hit rap song "Sirena" for his opening number.
Perhaps because the greater part of the audience are more inclined to listen to pop songs, they just needed a little warm-up.
ADVERTISEMENT - CONTINUE READING BELOW
But when he did the rapping part for Aerosmith's "Come Together," the award-winning rapper stood out with his rare talent, especially since famous Filipino singers these days prefer pop or trendier genres like electro dance music (EDM).
Add to Rico and Yeng's flair for rock, seeing the three of them perform together is definitely astounding.
It was a great opportunity for a varied music appreciation session.
HAPPY FAREWELL TO SINGLEHOOD. Most of her fans are used to Yeng singing her brand of pop-rock songs.
But for the beginning of her set, the Pop Rock Princess showcased her efficient vocal dynamics as she belted out Miley Cyrus's heart-wrenching song, "Wrecking Ball."
Looking almost heartbroken, Yeng brought out the sad emotions of the song to the very last note.
But the soon-to-be bride quickly broke into a smile right after the song and made herself comfortable on a high chair for her next numbers.
ADVERTISEMENT - CONTINUE READING BELOW
She related that she feels cheesy everytime she performs her original composition "Jeepney" especially now that she can no longer relate to its lyrics.
But when she talked about it with her fiance Yan Asuncion, the latter asked her to simply recapture the story behind that song and how she felt when she was composing it.
"Para sa mga taong in love pero sa maling panahon," said Yeng before singing "Jeepney."
Next on her list was "Chinito" from her recent album Metamorphosis. Yeng shared that it's actually a song written by her church mate Jed Dumawal.
Apparently, she knew that it was going to be a chart-topper from the moment her church mate made her listen to that kilig song.
But the highlight of her set would definitely be her performance of "Ikaw," a song that she dedicated to her fiance Yan.
While she was singing, Yan's face was flashed on the LED screen and he seemed moved to tears by Yeng's overwhelming love for him.
ADVERTISEMENT - CONTINUE READING BELOW
TRIBUTE TO FRANCIS M. For Gloc-9's set, he paid tribute to his idol and the country's King of Rap, the late Francis Magalona.
He started off with "Lando," a love song about star-crossed lovers that he originally performed with Francis.
Gloc-9 further recalled Francis M's contribution to OPM and how the latter paved the way for other aspiring rapper-singers.
"Siya talaga nag-open lahat ng bintana, eskinita, kalye para sa lahat ng katulad naming rappers," Gloc-9 stated.
After a few more Francis M songs, Gloc-9 asked for a lights out performance and urged the audience to light up the Big Dome with their cellphones as he sang "Kaleidoscope World."
A surefire sing-along anthem, everyone followed suit and waved their phones while singing the meaningful lyrics of "Kaleidoscope World": "Every color and every hue is represented by me and you / Take a slide in the slope / Take a look in the kaleidoscope / Spinnin' round, make it twirl in this kaleidoscope world."
ADVERTISEMENT - CONTINUE READING BELOW
RIVERMAYA HITS. Prior to Rico's set, the trio did a segment where they each sang their chosen classic Filipino lullabies.
Given the genre, it naturally toned down the mood of the crowd.
But just when you thought that there'd be a lull in the concert, Rico fired up the energy at the Big Dome when he performed songs reminiscent of his stint with his former band Rivermaya.
He started off with "Posible," a theme performed by Rivermaya for Southeast Asian Games in 2005.
Then he segued to "Awit Ng Kabataan," a production number that turned out to be a visual feast with the beautiful spectacle of lights, sounds, and stage effects coupled with the colorful costume of Rico's drum beaters.
The audience also loved his performance of more Rivermaya hit songs such as "Hinahanap-hanap Kita" and "Liwanag Sa Dilim."
Rico also serenaded the crowd with the band's popular ballads including "Balisong," "214," and "You'll Be Safe Here."
ADVERTISEMENT - CONTINUE READING BELOW
As promised, Rico worked up all the "decibels" of his amazing singing voice as he belted out the high notes in the latter part of "Balisong": "You're everything I wanted and moooorrrreee! Aaahhh!"
Or when he was singing the birit lines in "214": "Forever by your siiiiddddeeee!"
The segment was definitely a showcase of his talent, passion and know-how of his craft especially since he's known for composing and arranging his songs.
Another highlight especially for the ladies was Rico's performance of the anthemic love song, "Your Universe," from his first solo album of the same title.
He even approached the audience who probably got kilig as he seranded them with the following lines: "You can thank all the stars but I'll always be the lucky one."
Then Rico proceeded to fulfill his promise to fans by singing a pop song for a change.
"All three of us promised to step out of our comfort zones. We said that we're going to do something we don't normally do.
ADVERTISEMENT - CONTINUE READING BELOW
"This time I'm gonna step outside my comfort zone. Pop Rock Princess 'di ba? I usually don't do this but let's do pop music!"
For this number, he collaborated with Yeng for a duet of Rihanna's "Stay."
Afterwards, Rico, Yeng, and Gloc-9 reunited on stage for a shared song number. Then they capped off the concert with Rico and Yeng's remix of their songs "Panahon Na Naman" and "Hawak Kamay."


It was truly an iconic night to remember seeing Rico, Yeng and Gloc-9 stepping out of their comfort zones and delivering rare performances.