Talent runs in the family of former Side A member Joey Benin. The musician has four kids--Boey, Jaco, Clara, and Sarah—who are all musically-inclined.
Clara Benin, Joey's eldest daughter is now making a name for herself as a singer and songwriter, at the young age of 21.
She is studying Music Business Management at Meridian International College in McKinley Hill, Taguig.
PEP.ph (Philippine Entertainment Portal) had the chance to sit down with Clara during the launch of her 10-track album, Human Eyes, held at the Coffee Bean and Tea Leaf, Net Lima Bldg., Bonifacio Global City.
With a standing room crowd full of family, friends, and supporters, Clara launched her debut album with her bassist father, Joey Benin, right by her side.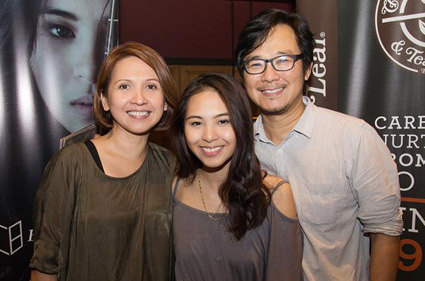 Joey Benin (right) performed with his daughter Clara during the launch of her debut album
BEING THE DAUGTHER OF JOEY BENIN. For Clara, there is no denying that her dad, Joey, had a huge influence on her taste in music.
She narrates, "Well of course, I grew up with my dad. He has to do a lot with the music I listen to right now.
"Like when we're in the car, he's always like, 'O, Clara, listen to this.'
"Or kunwari I'd listen to a folk song na bago, he'd be like, 'Ah, ano, ginagaya niya si ganyan'. Tapos he's let me listen to the original one.
"He's like, 'Oh no, there's so many artists that sound like Stevie Wonder, no, Clara, this is the original.
"So I guess that's why I got into a music band. Kasi parang, ano ba 'yan, nothing's original anymore."
In making her songs, Clara enjoys all the perks of having a musician for a father.
She shares, "He actually played the bass for some of my songs. And he helped me arrange everything.
"Siyempre it's my first album, I don't really know what I'm doing, like technically.
"So whenever I'd record a song, I'd send it to him right away. And he'd be like, 'Ay Clara may mali dito sa chord mo na 'to.'"
Clara started writing her own songs during her late teens: "When I was like 15, 16, I tried to make pero I never really finished it. Parang, I just write lang pero wala lang.
"Pero the first song that I actually finished was with my friend, 'Closure.' I wrote it when I was about 17."
What's her favorite song from her album Human Eyes? Clara replies, "It's hard, I like them all.
"Well, in terms of songwriting, I guess, it's a song called 'Dust.'
"It's the single in my album, actually. I released it as a lyric video on Youtube last January.
"And it's my favorite coz I guess it's the most personal song I have. Most of the songs kasi in the album are songs I've written in the past about…they're more of about people, my observation of people.
"But 'Dust,' it's really the first time, it's really a song I wrote for myself, why I'm here, how I got here and where am I going. That's what the song is about."
Nevertheless, having Joey Benin as her dad did not exempt Clara from having stage fright.
Fortunately, this was something Clara has learned to overcome, "I don't know, it was a really long process, I guess."
What eventually made her comfortable on stage was the idea that, "People are actually listening, so what's the point of being shy?"
And it's no surprise why people listen. Clara is gifted with an alluring voice, a pretty face, and real talent in music.
She is out to make a mark in the industry and is making it clear with her new album, Human Eyes, that she's more than just Joey Benin's daughter.


STANDING OUT FROM THE CROWD. The 21-year-old budding singer wants her style in music to stand out from the crowd.
"I've always liked being different from other people, like I never wanted to be the same with person next to me. I always look for different things for me, what's presented to me."
The young songstress also refuses to be boxed into any category in terms of music genre.
"That's hard. I don't know, at this day and age, I don't believe in genre anymore. Everything's mixed together, e. May konting '80s, may konting soul."
On making her distinct style, she says, "I don't know. I guess I'm still discovering. I think that's like a never-ending discovery.
"I always want to be able to evolve. Music is like something, you keep learning it and learning it and you never really stop learning it."
When asked to name her musical influences, Clara admits: "I like really old school stuff. I guess there's Stevie Wonder. But I like John Mayer and Sara Bareilles.
"In terms of songwriting, I really love Jon Foreman from Switchfoot. He's one of my top songwriter influences."
Meanwhile, her growing number of followers have compared her singing voice to Candaian musician, Sarah MacLachlan.
Clara Benin's album Human Eyes is available online at http://clarabenin.happy.ph/shop in both digital and CD format.