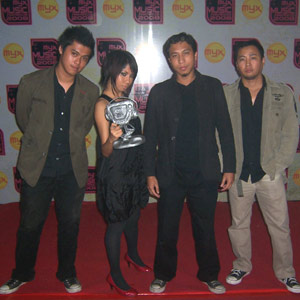 ---
Zelle took home the prize of best Bandarito Performance from the 3rd MYX Music Awards held last March 26 at the Meralco Theater in Ortigas. The event was well attended by industry bigwigs and fellow artists. Zelle has gained recognition for its powerful live performances and its hit song "Sabihin" which flooded the radio airwaves in recent months.
If, in your quiet moments, you find yourself humming a rock tune flooded with violin music and heart-wrenching, honest Filipino lyrics that you can't seem to put a name to, then chances are, Zelle has already beguiled you without your even knowing it.
Their songs permeated the public consciousness long before fame caught up with this five-member alternative pop-rock band. Formed by and named after the group's female vocalist, 22-year old Jeazell Grutas, Zelle is proof of the fervent yet precise musicality that can be ignited from raw emotion striking a balance with carefully nurtured craft.
"Our music is really emotional. Wala na kaming sinunod na kailangang ganito," Jeazell says.
"Basta honest lang kami sa craft namin," adds Anthony Ramirez, who provides Zelle's distinct violin voice.
Jeazell points out that writing songs based on personal experiences taught her to face her problems and created an outlet for her negative emotions. She realizes now that her songs inadvertently tell other people's stories, too, which could explain the songs' mainstream popularity despite their sometimes dark, unconventional tones.
Once a song is composed, everyone contributes to its arrangement. "As we practice, it just develops," says Enan Cruz, the bassist who also composed some of the songs in their first album. "It's really based on what each member feels."
This individual musical freedom is apparent in Zelle's music: every song seems to be made up of distinct musical layers, each telling its own perspective of the same story, yet all blending with surprising fluidity despite the varied velocities and textures that define their particular character.
ADVERTISEMENT - CONTINUE READING BELOW
Zelle's band members continue to educate themselves on different musical genres. Each member considers it his responsibility to research on both past influences and current developments in guitars, for example, as in the case of lead guitar player Archie Salvador. He explains why he eventually joined Zelle, which used to be a quartet: "The electric guitar gives weight to Zelle's music, because they used to just be acoustic. It makes the music complete."
The four instrumentalists had already been playing in other bands when Jeazell decided to expand her art three years ago from playing solo to exploring the creative limits of her songs with like-minded musicians. It is perhaps each member's previous experience with other musical groups that has collectively given Zelle a refreshing maturity and focus not often found in the here-today-gone-tomorrow fanfare of those in the music business.
"Alam na namin yung weakness ng mga band (We already know the weaknesses of bands)," says Jasper Grutas, the group's percussionist and Jeazell's older brother, "When we signed our album contract, we talked about how we would deal with things. 'Pag may maliliit na problema, pinag-uusapan namin kaagad."
Zelle has remained intact for three years now, and counting. As further testament to the group's uncommon ethics in a dog-eat-dog industry given to excess, none of the band members smoke, and they rarely, if ever, drink alcohol.
In their spare time, they still manage to indulge in their old hobbies. Violinist Anthony likes to visit the racetrack and perform motorcycle stunts sometimes, while lead guitarist Archie and bassist Enan play basketball and go on road trips. Jeazell has learned to enjoy going out with friends instead of being a homebody, to put her full-time musical work into perspective. Jasper, on the other hand, plays drums even in his free time.
ADVERTISEMENT - CONTINUE READING BELOW
Despite their diverse personalities, everyone in the group agrees: they want Zelle to become legendary beyond their generation so that their music can be shared with as wide an audience as possible instead of just fading away with time. But how to achieve this is no cause for anxiety for the band, as they carry on the task set before them with a certainty of purpose that can only come from a higher calling.
"It was God that led me to this. Though I didn't know how to handle it at the start, I just knew this was what I wanted," says Jeazell, recounting her experience as a solo artist before joining a band. "Kung saan umabot yung Zelle, yung Diyos pa rin yung nagdadala. Kaya kami umabot sa ganito. Kahit walang pera, nakapagtiis kami na 'eto kami, 'eto ang gusto namin."