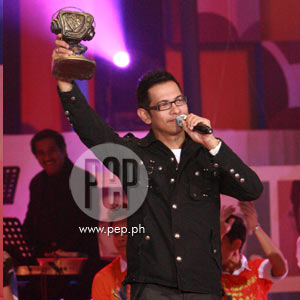 ---
Hardly any performance leaves Gary Valenciano at a loss for words. In his 25 years in show business, Mr. Pure Energy has seen it all. He even shared the stage with world luminaries like Santana, Prince, and Rolling Stones at the 2003 Hong Kong Harbour Festival. Alternative acts Jett Pangan, Ebe Dancel, and Aia de Leon just won't do, it seems. You need to have Ogie Alcasid, Regine Velasquez, Janno Gibbs, Jaya, Vina Morales, and Kyla. It would also be smart to add Gary's two sons Paolo and Gabriel to pull off the trick.
Local artists paid tribute to Gary V last March 26 when he received the Magna Award at the MYX award ceremonies last March 26 at the Meralco Theater. They rendered him almost speechless with a medley of Gary V songs; each number had a story to tell. It was perhaps one of the most impressive live performances this year.


The singer expressed his gratitude and his hopes for the future when he received the award: "I never planned to be in entertainment and now it's been 25 years. I've always believed in the Word of God saying that 'I will keep you fruitful even in old age.' I look forward to the next 25 years. I encourage each and every artist to keep on reaching and dreaming big. I never dreamt that God would take me this far and I can only imagine how far He will take you.
ADVERTISEMENT - CONTINUE READING BELOW
"To all the fans who have supported [cheers]...to those who supported the bands and solo acts...We can keep on writing music but if you don't appreciate our music then we wrote for nothing. I'd like to thank the fans for supporting our music and attending our concerts.
"I'd like to thank my wife Angeli [Pangilinan] for taking the courage to step beyond the boundaries to speak to me as a husband and as a best friend. She's one main reason why I'm still around today," said Gary gratefully. "I will continue...My doors will be open. I will work with the new generation. I want to work with my generation. I am open to working with people who are creating music that will give back because today, our stage is no longer just the Philippines but more so, our stage is the world."
Sharon Cuneta and the Apo Hiking Society were previously honored with the Magna Award. Gary received the award, according to MYX channel head Andre Allen Alvarez, for embodying "the essence of a total performer."
ADVERTISEMENT - CONTINUE READING BELOW
Ogie Alcasid and Vina Morales started the medley of Gary V songs with the upbeat "Hataw Na!" In 1993, the hit turned out a similarly titled movie, with Gary and Ms. Universe 1993 Dayanara Torres in lead roles.
Ebe Dancel of Sugarfree and Aia de Leon of Imago represented the rock scene with a charming rendition of "Di Bale na Lang." The ageless pop song also set up Di Bale na Lang, a film which then paired Gary with Pilita Corrales' mestiza daughter, Jackie Lou Blanco. "I grew up listening to Gary V so it was a dream for me to sing his songs," Ebe told PEP (Philippine Entertainment Portal) after the musical event. "Gary's music is timeless. Thank you for your music, sir."
The surprising tandem of new wave icon Jett Pangan of the Dawn and Queen of Soul Jaya then performed "Muli."
Janno Gibbs and Kyla took up "Out the Dark," which came from an internationally released, similarly titled Christian album. Gary's Christian songs have made him a much loved performer of the 700 Club in America. Gordon Robertson, chief executive officer of the Christian Broadcasting Network, called Gary "his favorite singer."
ADVERTISEMENT - CONTINUE READING BELOW
An interesting number was the rock rendition of "Shout for Joy" by Gary's sons Paolo and Gabriel. Paolo is the lead singer of Salamin, the band. On the other hand, Gabriel is known as a dancer who is seen regularly in ABS-CBN's Sunday noontime show ASAP.


According to Gary's wife, former Camay model Angeli Pangilinan, the family had trouble keeping the surprise from dad. Gary even overheard an argument about the presentation between Paolo and her. The son "didn't like singing a pop song, Siyempre naman, rockers don't like not singing their songs." Luckily, Paolo, realizing the situation, merely smiled and let the argument go. His ninong, musical director Rowell Santiago then made the rock version of the 1991 hit.
Gary and Angeli met at a Maryknoll concert before he became famous. He revealed in a previous interview, "She came up to me, make-up and all. She was a part of Music and Magic. I was so thrilled. I told myself, 'This is the Camay girl and she's talking to me.'"
ADVERTISEMENT - CONTINUE READING BELOW
Regine Velasquez, with whom Gary teamed up in a number of songs, sang "Sana Maulit Muli" with such passion, prompting Gary to close his eyes upon hearing the song's first line. Already, he recognized the Songbird's intoxicating voice. "He misses performing with her so much," said Angeli.
The songs brought back memories of Gary's fruitful career, one which took the son of opera singer Grimilda Santiago Ortiz to incredible heights. In 25 years, Gary performed with the world's best, sang the most poignant songs, and helped other musicians find their voices. He was a generous entertainer. Selfless and fearless, he shared his gift of music to artists and audiences. "God gave me this gift and it could have been given to someone else," he said.


It was high time for Gary Valenciano to be touched by his music as well.
Click HERE to view photos of the 2008 MYX Music Awards.