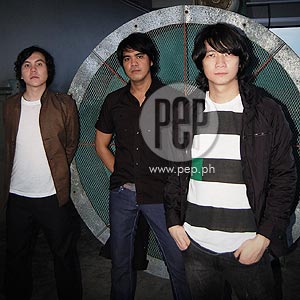 ---
"I always challenge myself so it's gonna be different," saysClementine "Clem" Castro about his new indie band called The Camerawalls.
The group is composed of two former Orange and Lemons (ONL)members—vocalist Clem and bassist Law Santiago—while their third member is Ian Sarabia who handles the drumming for The Camerawalls. This indie band gave the press a sample of their musicat the album launch of their 10-track debut album Pocket Guide to the Otherworld. The said event took place at Club Dredd, Eastwood City in Libis, Quezon City last July 3.
The songs sounded a lot like British pop mixed with the musical style of The Beatles, which were actually two of the band's influences in making their music. "Nandoon pa rin 'yong British pop influencebut we inject Filipino sensibilities sa mga songs," explained Clem.
The Camerawalls vocalist admitted that although they did notintend to sound different from his previous band, listeners might notice somechanges with their music. "I try to bedifferent this time. It's not the usualtheme of love and sex, not your typical concepts. We're writing songs about moving on and changing jobs, about thebad people in the world; about medical wonders and reincarnation."
ADVERTISEMENT - CONTINUE READING BELOW
These changes, according to Clem, were done because, "Wefelt that there are so many interesting things we could write about. We want to be socially relevant. At the same time, we felt our music shouldbe more personal."
GOING BACK TO INDIE. Aside from forming a new band, Clem also established his own independentrecord label, Lilystars Records, to support the debut album ofThe Camerawalls. This prompted the vocalist to describe the launch of their album as, "Everything isD.I.Y, do-it-yourself."
This move to become more independent seems to have stemmed from the breakup of the band Orange and Lemons. Asidefrom citing musical differences, Clem pointed out that a shift in musical direction alsocaused the split up of ONL, which became known for creating the Pinoy Big Brother theme song "Pinoy Ako."
He explained, "They [former bandmates] were nothappy with the direction I'm taking Orange and Lemons at that time. We started indie, di ba, then, we went mainstream with the major labels. Then,I think, that affected how they think. The mindset of an artist when you get into major labels and they gotconsumed by it. Money was coming in soit's inevitable that we would have a clash because of commercialism anddirection."


ADVERTISEMENT - CONTINUE READING BELOW
Now that The Camerawalls has released its album under an independent label, Clem hopes that other people won't be able to unduly influence them regarding the music that they want to create. He said, "I don't want to experience againthe same thing that I experienced with record labels. I [have] nothing against them kasi I've been told na, 'We need a 'masa'song, can you add a 'masa' song in this line up?' It's really difficult for me to work that way."
Ian agreed with Clem by saying, "Because you put your name on it. It's not like selling glasses. It's also selling your art andpersonality. You put your name on it,you don't wanna be named as that. Wejust want to have control over what we're known for, without being tainted by themoney."
The band's drummer added, "It's all one-dimensional. It's all about bands being used as a vehicleto sell products or they start out with all the right intention but then theyget controlled because the label lends them money and now, 'You're mine, youhave to do this for extra money.' So,the people really suffer because I mean, we could always buy things in otherplaces."
ADVERTISEMENT - CONTINUE READING BELOW
With their newalbum, the group said that they did not have any expectations especially whenthey formed together as a band.
"No expectations," said Ian, who also works as the financedirector of Vivian Sarabia Optical Corporation. "Hopefully people can dig [our music], you know, but we can'treally control what people like."
"As long as we're doing what we wanna do and we're notcheating ourselves or anybody else by making songs just so they sell. I think it'll work out fine, you know. Maybe other bands or other people see it andfollow through."


TRACK LISTING.

1. Markers Of Beautiful Memories
2. Clinically Dead For 16 Hours
3. Lord Of The Flies
4. I Love You, Natalie
5. Changing Horses Midstream
6. Ignore My Weakness, Don't Ignore Me
7. Canto De Maria Clara
8. The Emperor, The Concubine & The Commoner
9. Solitary North Star
10. Lizards Hiding Under Rocks

Right now, the 10-track album Pocket Guide to the Otherworld is available in all Music One outlets inMetro Manila. They also sell theirrecords globally by mail-order through their website, www.thecamerawalls.com orwww.lilystars-records.com. This indie band is also currently working on ways to sell theirmusic digitally.

ADVERTISEMENT - CONTINUE READING BELOW