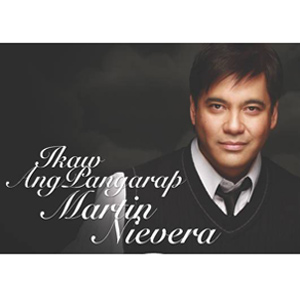 ---

When Martin Nievera first recorded the song "Ikaw ang Lahatsa Akin" in 1984, he recalls that it was the first time he felt he was aFilipino singer. Martin, after all, is an American citizen, who has beenshuttling back and forth from the United States for the past couple of years.After celebrating his 25th year in the industry in 2007, Martin releases hisnewest album, Ikaw ang Pangarap, under EMI Philippines.
Last July 4, PEP (Philippine Entertainment Portal) watchedMartin Nievera perform at the Trinoma Activity Center for the benefit of hisfans who were all eager to see the singer in person.
Ikaw ang Pangarap is Martin's first album to containall Filipino songs. It is a compilation of his Tagalog songs, including thetheme songs for ABS-CBN shows Lobo ("Ikaw ang Pangarap"), VietnamRose ("Magpahanggang Wakas"), and Lastikman ("Maging Anupaman ParaSa'yo").
According to Martin, he worked twice as hard on Ikaw angPangarap compared to any other album he has recorded, citing the fact thathe is not as proficient in the vernacular as he is in English.
"Tagalog is such a challenge for me," Martin told PEP. Heeven pointed out that he works harder compared to other local artists when itcomes to recording Tagalog songs. The challenge is worth it since Martin nowrefers to Ikaw ang Pangarap as his "perfect album."
"It has been a dream to record all new Filipino songs," hesaid. "I am glad that this is part of my collection. I am officially a Filipinosinger with this album."
Martin said this album is a perfect example of what Americaand traveling the world has done to his craft. Although the male singer said he felt asif he never left the Philippines, it was when he started performing in LasVegas that he realized how much he loves his home country. "I have been away so much I learned to lovemy country, my heritage...my Philippines," he said with pride.
ADVERTISEMENT - CONTINUE READING BELOW
According to Martin, performing for foreigners is easier thanperforming for Filipinos in America. "The non-Filipinos are easier to please.You stand on your leg, you rub your stomach, they you give a standing ovation."With Filipinos, however, Martin said he had to prove that he is worth theirtime, since they can see him perform in the Philippines during Sundays on theABS-CBN variety show ASAP '08.
Of all the songs in the album, he enjoys singing "Ikaw angPangarap" and "Kailangan Kita," both penned by Ogie Alcasid. According toMartin, "Kailangan Kita" demonstrates how Filipino songs should be sung. "Mysoul is singing, not my mouth," he even quipped.
The 15-track Ikaw ang Pangarap also includes otherFilipino songs such as "Ikaw Lang Ang Mamahalin" and "May Minamahal."