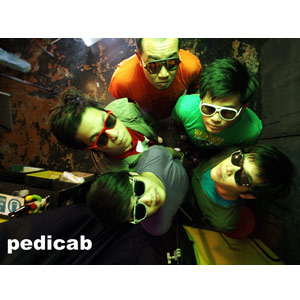 ---

The launching of Pedicab's secondrecord dubbed Shinji, Ilabas Mo Na AngHelicopter last July 11 was a reflection of the creativity of the five-member band. Held at the PabloGallery in Cubao, Quezon City, the venue was cramped yet intimate.Claustrophobic but liberating.


It was the kind of setting that suited the creative minds of Diego Mapa, Jason Caballa, RA Rivera, MikeDizon and Raimund Marasigan. Although officially signed under a major label,Pedicab still maintains that "indie" appeal of theirs—making the vibesurrounding the band totally carefree.
"We're still a fun band. We've always been a fun band," reasoned chiefvocalist Diego Mapa to PEP (Philippine Entertainment Portal) in an interviewbefore the show, which had female-led bands Chillitees and Taken By Carsserving as front acts.
Listening to the band's music,that statement, of course, was an understatement. Inspired by dance-punkforeign groups like Franz Ferdinand and new wave purveyors Duran Duran, DepecheMode, Gang of Four and The Cure, Pedicab has always been about dancing,grooving and all out fun channeled through bop-sonic guitar riffs, daze-ykeyboard actions, steady backbeat and free flowing word play—all blown up withthe help of RA's visual and multimedia effects. One interesting tradition ofthe band is to wear identical "costumes" during performances. This is a sign of"oneness," reasoned Marasigan in a previous interview. The "thematic" effect isa paradox to the band's creative and live spontaneity.
TIGHTER AND DIVERSE. Pedicab's debut album Tugish Takish was released in 2005 under a different label. Thesaid album spawned rock radio hits "Dizzy Boy," "Dito Tayo Sa Dilim," and"Konti Lang."
Three years later, the dance-rockunit is now under MCA Music with a new album to show off. According to Diego,the three-year album gap was due to the band's other creative and personalcommitments, gathering enough new materials for the new record, doing shows,and shopping for a new label.
ADVERTISEMENT - CONTINUE READING BELOW
"I think nakatulong din naman'yong matagal na gap kasi we were able to really write and improve the songs.Mas napag-aralan namin and mas napaganda namin, at least when it comes to ourown and collective preference," said Diego, who is the brother of actor JaoMapa.
The love for "dance-disco-punk"is still present in the new album, but Diego shared that compared to the firstone, Pedicab's music is now tighter and diverse.
"I wouldn't say na nag-mellowkasi ganun pa din naman pero lyrically and melodically speaking siguro maspinag-isipan kahit pa sabihin mo na makulit 'yong ibang songs. Masnakapag-invest kasi kami ng time," he added.
Being a typical Marasigan outfit,Pedicab's creative process most of the time starts with an impromptu jam witheach member contributing ideas. "Ganun usually," smiled Diego. "Then pag may naisipna naman na bagong puwedeng ilagay, susubukan namin hanggang we're satisfied saresulta."
It also helped that the bandthrough out the years has acquired a number of new gadgets and fuzz boxes,allowing the band to experiment further with their sound.
That pattern employed by the bandresulted to songs "FX," "Deafening Silence," "Ang Pusa Mo," "Simulan Mo Na,""Good To Go" and "Deep Eyes."
SHINJI'S THE MAN. The fun element even extended to the album'stitle. Shinji is the band's good friend who happens to be a studio engineer andrecord producer. Shinji produced Pedicab's second album with the help of HazelPascua at Sound Creation Studio. Providing additional production duties wereBuddy Zabala and Mong Alcaraz.
As for the album title, theShinji and helicopter reference were merely inside jokes among the band membersand the Filipino-Japanese producer himself.
"Katuwaan lang and nagustuhannamin lahat na ilagay 'yong name ni Shinji as an album title," smiled Diego,who aside from Pedicab is also a member of the Eraserheads off-shoot bandCambio, Monsterbot, aside from being known in the underground scene through hissolo persona Eggboy.
ADVERTISEMENT - CONTINUE READING BELOW
Twenty minutes after theinterview, Diego and the entire Pedicab crew dished out new and old hits. Basedon the band's performance made even more animated because of the enthusiasticreaction of the crowd, the three-year album gap was hardly evident. The passionof the quintet was evident as they delighted the audience with their currentsingle "Ang Pusa Mo" and the certified crowd pleaser "Dizzy Boy," among others.But more importantly, the fun transmitted by the band's music was purelyinfectious. Head bopping and body moving—undeniably Pedicab.