Bailey May fulfills his dream of becoming a recording artist with the launch of his self-titled album under Star Music.
Before entering the Big Brother house, Bailey became an Internet sensation for doing covers and posting it online, when he was still based in England.

When he joined Pinoy Big Brother 737, the 13-year-old Fil-Brit performer emerged as the Fourth Teen Big Placer.
During a digital media conference for Bailey's album earlier today, January 19, the young recording artist said it's a dream come true for him to have an album.
"Having my album has always been a dream for me ever since I started singing.
"So to be able to have it now, it's a blessing."
But did you know that one of the first Tagalog songs he learned singing was Daniel Padilla's "Nasa 'Yo Na Ang Lahat."
This song became viral and made Bailey an Internet sensation.
According to Bailey, the songs in his album belong to the type of music he wants to listen himself. "If it wasn't me I'd probably listen to my album. This is the type of music I'd type to listen to."
His songs "Can You Be My Girl" and "Gusto Kita" are compositions of Inspirational Diva Jamie Rivera.
Bailey says about working with Jamie, "She's one of the very famous singers in the Philippines and to be working with her is a blessing.
"I hope we'll have more [chances of working] together."
He recalled the advice he received from the inspirational diva.
"Keep grounded.
"And about singing, if you're singing a song, you have to feel it.
"So when I have to sing some of my songs, I had to think of something."
Bailey said that his musical influences include One Direction, Jireh Lim and Justin Bieber.
Aside from Jamie Rivera's compositions, Bailey's album also includes original songs "Boom Goes My Heart" and "Gotta Win," a revival of The Foundations' "Build Me Up, Buttercup" and Khalil Ramos' song "Now We're Together," which was also used as a love theme song in PBB 737.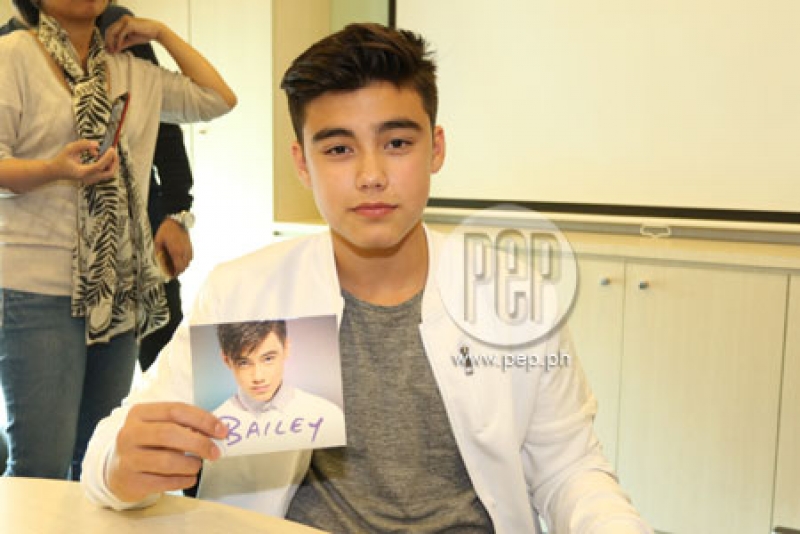 DANIEL PADILLA. Bailey was then told that there are some observers saying that he somewhat exudes an aura similar to Justin Bieber.
What can he say about this?
"I started hearing that last year [but] I didn't do it in purpose.
"I take it just kinda good because he's really good."
Since he did a cover of Daniel Padilla's song, there are also speculations that he might be imitating Daniel's style.
However, Bailey clarified, "If they say that, I don't think I am.
"I kinda sing similar songs but I have my own style, he has his own style."
Is Bailey open to doing a collaboration with him?
"Yeah, he's one of the biggest artists in the Philippines so to be working with him is a dream come true."
The "Global Gwapito ng UK" (his tag in PBB 737) also wishes to collaborate with James Reid [his co-star in On The Wings of Love], Darren Espanto, and JK Labajo.
He was also asked if he will be doing a collaboration with love team partner and fellow PBB 737 ex-housemate Ylona Garcia.
The young star answered, "I think, soon you'll find out."



WORKING WITH JADINE. Aside from working on this album, Bailey was recently cast in the ABS-CBN teleserye On The Wings of Love, which stars James Reid and Nadine Lustre.
The teen actor said that being part of a teleserye is something that is proud of.
"It's a blessing because before PBB, I was watching these stuff on TV [teleseryes] and I never expected myself to be on it.
"I've been hearing news about it as well, it's one of the biggest in the Philippines so it's a dream come true."
For him, working with JaDine is also a blessing.
"They're really cool and also I can really learn a lot from them."


TRACK LISTING. 1. Can You Be My Girl? 2. Gusto Kita 3. Boom Goes My Heart 4. Build Me Up, Buttercup 5. Gotta Win 6. Now We're Together (Also includes minus one versions)