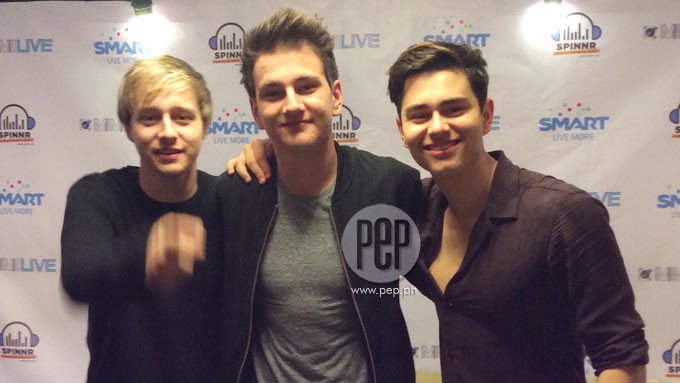 ---

The McDonough brothers: Connor, Toby, Riley make up the band Before You Exit. The boy band is one of the groups performing at the #3LOGYinManila concert tonight, January 30, at 7 pm, at the Mall of Asia Arena.

Connor says they picked the band name from wanting a name that actually has meaning to it.

"It's for 'before you exit, make a difference' and it's something we try to live by and be the best example of that name that we can be."
The siblings insist that there is no sibling rivalry and they get along very well with each other.
Toby says: "There's no leadership, it's like a partnership. We all work together." Riley adds: "We try to all agree on something. If we don't all agree it's like, how can we adjust it to where it can work for everyone." Then Toby interjects: "Sometimes, you have to call your mom." And who does she side with? Riley says it's with him "because I'm her favorite." There is no objection from the other two boys—but only, they say, because they agree that this is not true.
This being their third time in the Philippines, the brothers are always excited to play for their Pinoy fans.
"It's by far one of our favorite places to play," Connor says. "We tell everybody at home about it," Riley adds.
"We really do. The Philippines in general is just always so supportive of us and we can't really thank everybody enough for that. They've set the bar very high. It's awesome but it's hard for other places to top."
Riley agrees. "I think the fans always stick in the back of our minds. Just how crazy and supportive they are. We always look forward to that every time we come here."
ADVERTISEMENT - CONTINUE READING BELOW
Speaking of passionate fans, the McDonoughs agree that they have seen some very intense things.

Connor was tackled before and Toby almost got tackled in Manila—but crisis was averted, thanks to a very efficient bodyguard.

"One time, someone found out how to get into our hotel room and took our towels. That was kind of crazy. While the maid was in there," Connor says. "They acted like it was their room and just walked in and grabbed the towels," Toby explains.
Touring with other artists, they say, is an enriching and educational experience for them.
Connor recounts: "We did a U.S. tour with The Vamps, too. Every day with them is just like summer camp. We wake up, hang out, then we do stuff like paintballing, go to movies--all kinds of stuff. Then you get to do a show after that.
They are also very enthusiastic about playing their music in front of different audiences.
"I think we're always trying to expand to different audiences. Whoever wants to listen, we're happy to play for them. Wherever there's people, we'll play," Riley says.
"There's no age limit," Connor says."It would be cool to play with someone like Maroon 5 though. We love them."



THE TIDE. This marks the first time that The Tide has visited the Philippines, but they are more than ready to perform their unique music for Pinoys.
Of what they want to get from their audience during the show, Levi Jones, singer and bassist, says: "Energy, lots of energy. If you're not jumping and out of your seat, then we're gonna go out to the crowd and pull you out of your seat. We have a lot of energy at our shows because I think, I want us to be known as a band of which the live show defines us. I really think that's what it's becoming, we have a really energetic live show." But the boys are not worried. "We heard the Philippines is the craziest crowd. So we're super excited," Levi says.
ADVERTISEMENT - CONTINUE READING BELOW
Austin Corini, singer and guitarist, admits being a fanboy himself: "I'm a really big fan of [the band] Journey, I watched them with their new singer. I spoke with him on Twitter a couple of times. They're really nice guys. I don't know if he's in town, but it would be awesome to meet him!"

Attention: Arnel Pineda!
Austin says they also, hopefully, will be able to see some of the beauty of the Philippines: "We're open to what people suggest. We've never been here. So we just want to see as much as we can and meet all of our fans."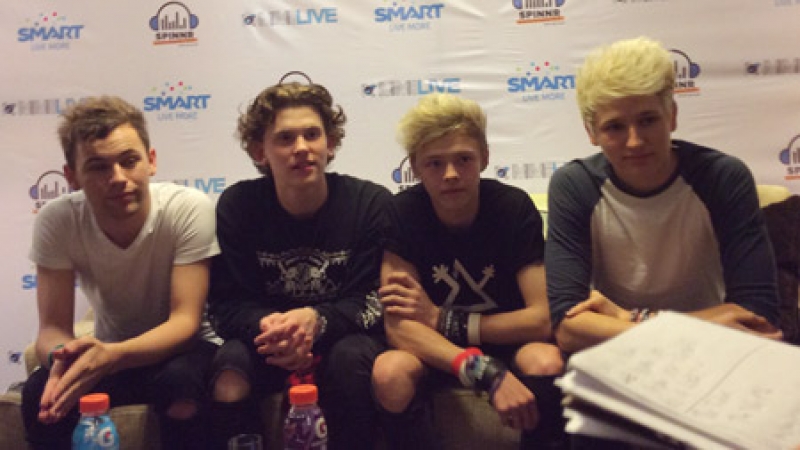 WILLIAM SINGE. Fast-rising Youtube sensation William Singe is the other solo act that completes the lineup of concert.

The Aussie performer has about 2 million followers—and still growing. He says that what sets him apart from most Youtube artists is that "I produce the covers before I sing them. I do my own take on it. I even change some of the melodies to suit me."
Last year alone, he released 55 covers. He choose songs based on number of requests from fans or what's hot at the moment. the moment. "But I'll only do a song as long as I feel I've got a good version to do. If it doesn't feel right to me, I'll scrap the whole thing and go to the next one. Normally, it's the songs that I love. And if it's the songs that I love, I know that I can take those songs and passionately make them the best I can."
William is known for his soulful renditions of popular songs—but concert-goers in Manila will be treated to a few of his originals as well. "For my original stuff, it's gonna be very urban pop. Hopefully, get in more organic instruments, and a funk here or a jazz here. I love them all. I want to incorporate them all. I've been writing since I was about 16. I've got about 200, 300 songs that I've never released."
ADVERTISEMENT - CONTINUE READING BELOW
He was asked what song by a female pop artist he would like to cover. "If I could do a version of 'Hit Me Baby One More Time' [by Britney Spears] and make that real smooth, that will be cool. I've got my mini keyboard in my hotel room, I might just get to work," he laughs.
Though it is his first time in the country, William gamely shares that he has a lot of Filipino friends back in Australia. "I heard that they're incredibly good musicians. Hopefully, [at the concert], maybe I'll go out and explore a little bit."
Admittedly, his sound is also starkly different from the rest of the boys on tour. But this only enriches the experience for the audience, he says. "I think it's a good thing to have a different genre on a tour like this. You can't have every person sound the exact same. Otherwise, you'll just be competing with the next man. If you bring someone else in that's doing another genre, you're catering to another audience. So you bring in a different audience."

Jayda Avanzado, the daughter of Jessa Zaragoza and Dingdong Avanzado, is also expected to join the #3LOGYinManila concert tonight.
The Vamps, Before You Exit, and special guest The Tide and William Singe will perform tonight, January 30, at 7 pm, at the Mall of Asia Arena.