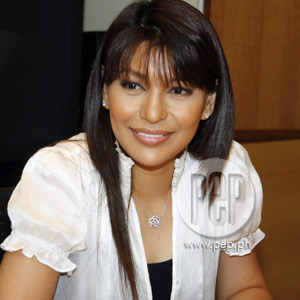 ---

Lani Misalucha's success story continues with the release ofher new Reminisce album from Universal Records. Executives of the recordlabel did their best to bring her back home for the launching and promotion ofthe new CD, which will be formally launched at ABS-CBN's ASAP '08 onAugust 17 (Sunday). Her visit is timely since Asia's Nightingale will celebrateher birthday in hr home country on the day that she launches her 14-trackalbum.
Universal Records believes that there is nothing better thanbringing back the world-class diva to her kababayans. The lasttime Filipinos were able to see Lani was when she performed at the SMXConvention Center, SM Mall of Asia, last January 5. Her solo concert coincidedwith the Metro Manila Film Festival (MMFF) Awards Night, which was also held atthe same venue.

The new CD Reminisce, recorded entirely in Las Vegas, Nevada, contains14 best-loved songs performed by the platinum-selling world-class diva. Lani has been performing at The Flamingo Hotel as the lead singer of the singing group Society of Seven.

Universal Records' producer/arranger/songwriter Ito Rapadas traveled to the U.S.A., to personally supervise theentire recording of Reminisce in Las Vegas.
"It is a sheer joy and such a rewarding experience to work with agenuine song artist like Lani," says Ito. "Given such a limited and borrowedtime, we have finished Reminisce. All of Lani's dedication to her art andgenerosity to share that God-given talent can all be heard in the album."


Lani calculates that it took more than a year to finish Reminisce.Just listening to hundreds of songs and making the final repertoire was timeconsuming. Then came the arrangements and rehearsals.

"The actual Vegas recording took us more than a month," recounts Lani. "We haveto be extra careful to every aspect of the job. Yes, we worked on borrowed timesince I have to finish my daily show before going to studio."
ADVERTISEMENT - CONTINUE READING BELOW

Lani Misalucha offers 14 heartwarming love tunes with "Love Of My Life" as thefirst single in Reminisce. The generous sampling of her vocal stylingand power will surely gladden the heart and enrich the soul.

With every song rendition, the female singer weaves vocal magic that willinspire listeners especially with tracks such as "Here There and Everywhere"(Beatles), "Someone That I Used To Love" (Natalie Cole), "Healing" (DenieceWilliams), "Bridges" (Sergio Mendes) and "Love Of My Life" (Queen).


Moreover, Lani's unique talent put across the listenerbeyond the mere messages from the lyrics of the songs. It transports us to thedeep emotions of love, like in "I Loved You All The Way" (Janie Frickie), "GetHere" (Oleta Adams), "Whispering Waves" (Donna Summer), "Skyline Pigeon" (Elton John), "Tin Man" (America), "Where Is The Love/ Feel Like Making Love Medley"(Roberta Flack), "We Could Have It All" (Maureen McGovern) and a bonus track,"IIsa Pa Lamang" (from the ABS-CBN teleserye Iisa Pa Lamang).


All the photos in the album are from an actual pictorialalong the Las Vegas Strip. With Lani's Reminisce, Pinoys can look backto happy and lovely memories; and more importantly, anticipate otherforthcoming recordings from the world-class diva.


Watch out for the
Reminisce
album malltour at Trinoma on August 22 (Friday), 6 pm and Greenbelt 3 Park, August 23(Saturday), 8 pm.