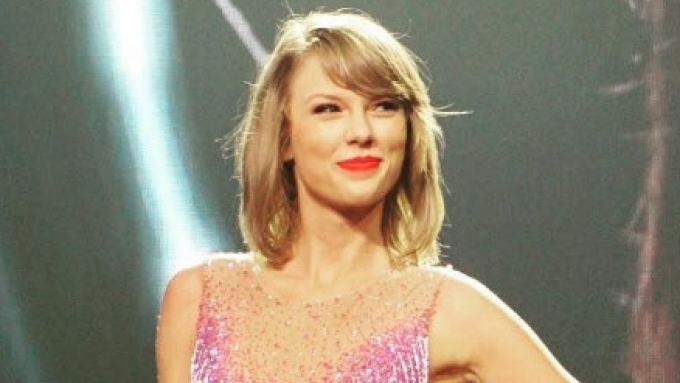 ---

Taylor Swift is known not just for her chart-topping hits but also for a having "a long list of ex-lovers" who inspire her to write her songs.

Adding to this long list is 32-year-old DJ and music producer Calvin Harris who recently called it quits with the 26-year-old pop star.
Last Wednesday, it seems like Taylor Swift has already moved on from their relationship after being spotted kissing and holding hands with a new beau—Tom Hiddleston. This came in just two weeks after her break-up with Calvin.
Netizens are already predicting that a new Taylor Swift album will be coming out with Calvin and Tom as major subjects but only time can tell.

As we patiently wait for the Grammy award-winning pop superstar's new music, we listed down 16 songs inspired by her ex-lovers. Check out the songs below:


1. Joe Jonas (July 2008-October 2008)



Song: 'Forever and Always' from Fearless (2008)
Lyrical Clue: "Baby what happened? Please tell me 'cause one second it was perfect, now you're halfway out the door..."
American TV host Ellen Degeneres asked Taylor if she wrote about her relationship with Joe Jonas on her 2008 album Fearless. The Grammy award-winning singer confirmed that she did write one and recalled, "There's one that's about that guy [Joe Jonas] but that guy is not in my life anymore, unfortunately. That's an ouch…" She continued, "I got a last minute recording session like right when it [relationship] was like that [going down]. Yeah an so, I mean, that's a good thing though 'cause it's kinda like, you know, my label let me record that song right before the album had to be done."



ADVERTISEMENT - CONTINUE READING BELOW

Song: 'Last Kiss' from Speak Now (2010)
Lyrical Clue: "I ran off the plane, that July 9th"
Remember when Taylor Swift went to Jonas Brothers' Burning Up concert tour in Dallas, Texas? That was in July 9, 2008 which explains the lyrics.



Song: 'Holy Ground' from Red (2012)
Lyrical Clue: "Back to a first-glance feeling on New York Time. Back when you fit in my poems like a perfect rhyme. Took off faster than a green light 'Go'"
The line apparently refers to the way Joe broke up with Taylor—through a 27-second long phone call. It's a harsh way to get bad news but Taylor has apparently moved on from the failed relationship and "reminisced" about their good time together through the song.



2. Taylor Lautner (August to December 2009)



Song: 'Back To December' from Speak Now (2010)
Lyrical Clue: "I miss your tan skin, your sweet smile. So good to me, so right."
In an interview with MTV News, Taylor Swift revealed that the song serves as an apology letter to a former lover. Taylor said, "I've never felt the need to apologize in a song before. But in the last two years I've experienced a lot, [including] a lot of different kinds of learning lessons. And sometimes you learn a lesson too late and at that point you need to apologize because you were careless."

Fans quickly assumed that she was referring to Taylor Lautner because of the references to "tan skin" and "sweet smile" in the lyrics. Aside from that, the former couple's relationship ended on a December, explaining the song title.


ADVERTISEMENT - CONTINUE READING BELOW
3. John Mayer (December 2009 to February 2010)
Song: 'Dear John' from Speak Now (2010)
Lyrical Clues: "Dear John, I see it all, now it was wrong. Don't you think 19 is too young to be played by your dark twisted games, when I loved you so?"
Taylor started dating John Mayer shortly after her failed relationship with Taylor Lautner. Taylor was 21 years old back then when she started dating the musician who was 11 years her senior. In an interview with Rolling Stone magazine, John admitted that he felt humiliated after hearing the song. He told the magazine, "It made me feel terrible because I didn't deserve it. I'm pretty good at taking accountability now, and I never did anything to deserve that. It was a really lousy thing for her to do."



Song: 'The Story of Us' from Speak Now (2010)
Lyrical Clues: "Now I'm standing alone in a crowded room and we're not speaking and I'm dying to know is it killing you like it's killing me, yeah?"
This part of the song refers to the ex-couple's encounter at the CMT Awards in June 2010. Both Taylor and John performed at the awards show that year and were seated a few steps away from each other. However, both Taylor and John pretended to be heavily engaged in conversation with people around them in order to avoid each other.



4. Jake Gyllenhaal (October 2010 to January 2011)



Song: 'All Too Well' from Red (2012)
Lyrical Clue: "We're singing in the car, getting lost Upstate. Autumn leaves falling down like pieces into place"
ADVERTISEMENT - CONTINUE READING BELOW
An insider told US Weekly that this song is about Taylor's relationship with Jake Gyllenhaal. 'All Too Well' is actually the first song Taylor wrote for her Red album. 'Getting lost Upstate' and 'Autumn leaves falling down' refers to the ex-couples' dates in New York City in October 2011, the official start of autumn. "MAPLE LATTES" was the hidden message printed in all caps on Taylor's Red album. Apparently, this is Jake's favorite drink.
The Grammy award-winning performer admitted in an interview with Good Morning America that this was one of the hardest songs she's ever written.

Taylor told the morning show, "'All Too Well' was the hardest to write because "it took me a long time to filter through everything I wanted to say. It started out being a 10-minute song, which you can't put on an album. I had to filter it down to a story that could work in the form of a song."



Song: 'We Are Never Getting Back Together' from Red (2012)
Lyrical Clue: "Ooh, we called it off again last night But ooh, this time I'm telling you, I'm telling you... We are never ever getting back together..."
Taylor left a hidden message on the album that reads "WHEN I STOPPED CARING WHAT YOU THOUGHT." The lyrics of the song obviously refers to Jake and Taylor's on-and-off relationship. Aside from this, Jake is rumored to be the inspiration behind Taylor's leading man on the song's music video. Like Jake, Taylor's leading man on the music video wore a blue jacket and lets the 26-year-old singer wear his scarfs during their dates set in a city during the autumn season.


ADVERTISEMENT - CONTINUE READING BELOW

Song: 'The Last Time' from Red (2012)
Lyrical Clue: "This is the last time I'm asking you this, put my name at the top of your list. This is the last time I'm asking you why, you break my heart in the blink of an eye, eye, eye."
"L.A. ON YOUR BREAK" is the hidden message written on the lyrics of 'The Last Time' on the physical copy of the her Red album. Fans assume that this refers to Taylor and Jake's meeting in Los Angeles, California while he was on a break from his schedule.



Song: 'State of Grace' from Red (2012)
Lyrical Clue: "Up in your room and our slates are clean, just twin fire signs, four blue eyes…"
Taylor's Red album is heavily influenced by her relationship with Jake Gyllenhaal that she even wrote more than four songs inspired by their on-and-off relationship. The hidden message printed in all caps on the album reads: "LOVE DOESN'T COUNT AFTER GOODBYE." Also, both Jake and Taylor have blue eyes and have Sagittarius as their star sign.



5. Conor Kennedy (July to October 2012)



Song: 'Everything Has Changed' from Red (2012)
Lyrical Clue: "All I've seen since eighteen hours ago is green eyes and freckles and your smile…"
Although Taylor wrote the song even before dating Conor Kennedy, the song is rumored to be dedicated to him since the hidden message to the song is "HYANNIS PORT." Hyannis Port is where the Kennedy Compound is located and the location of a house that Taylor previously owned.


ADVERTISEMENT - CONTINUE READING BELOW

Song: 'Begin Again' from Red (2012)
Lyrical Clue: "And you throw your head back laughing like a little kid, I think it's strange that you think I'm funny 'cause he never did"
Fans theories points out Conor as Taylor's isnpiration for the song. The hidden message also reads: "I WEAR HEELS NOW." The first stanza also mentioned a guy who doesn't let Taylor wear high heels, probably because he's of the same height as her (which is most probably referring to Jake Gyllenhaal). Conor is taller than Jake, which is why Taylor can now wear high heels.


Song: 'Stay Stay Stay' from Red (2012)
Lyrical clue: "That's when you came in wearing a football helmet"
The hidden message on the Red album reads: "DAYDREAMING ABOUT REAL LOVE." This is probably because her relationship with Conor at that time was fairly new and she's yearning for "true love" after her failed relationship with Jake. Another clue mentioned in the song is "football helmet." Conor was a member of Massachusett's prestigious Deerfield Academy back when he was still dating Taylor Swift.



6. Harry Styles (December 2012 to January 2013)



Song: "I Knew You Were Trouble' from Red (2012)
Lyrical Clue: "I knew you were trouble when you walked in so shame on me now; Flew me to places I'd never been, 'til you put me down, oh"
Fans were speculating about the inspiration behind Taylor's chart-topping hit until she released the music video for the song. The said MV featured references to her dates with One Direction member Harry Styles. One of the scenes in the music video show Taylor accompanying her fictional boyfriend at a tattoo parlor, something she and Harry did in real life back when they were still together.


ADVERTISEMENT - CONTINUE READING BELOW

Song: 'Style' from 1989 (2014)
Lyrical Clue: "You got that James Dean day dream look in your eye" and "You got that long hair, slicked back, white t-shirt."
Rumor has it, Taylor's last record is all about her past relationship to One Direction's Harry Styles. This song has his name written all over it, even the title!



Song: 'Out of the Woods' from 1989 (2014)
Lyrical Clue: "Your necklace hanging round my neck; the night we couldn't quite forget; when we decided to move the furniture so we could dance; two paper airplanes flying, flying"
While they were still a couple, Taylor and Harry were both spotted wearing paperplane necklaces. That is such a giveaway!


PEPsters, which of these Taylor Swift songs are your favorites? Share your thoughts in the comments section below: