It was an epic night of diverse music as music channel MTV Asia, and its localized version MTV Pinoy, mounted the second edition of MTV Music Evolution.
American pop rock band OneRepublic performed in the Philippines last June 24 for the event held at the SM Mall of Asia Concert Grounds in Pasay City.

Foreign artists APink, Bebe Rexha, and Far East Movement were included in the lineup along with local acts Gary and Gab Valenciano, James Reid, and Nadine Lustre.
OneRepublic—composed of Ryan Tedder (lead vocals, guitar, piano), Zach Filkins (guitar, backing vocals), Drew Brown (guitar), Brent Kutzle (bass, cello) and Eddie Fisher (drums)—was the last to perform on that rainy Friday night.

They played some of their popular hits including "Secrets," "Apologize," and "If I Lose Myself," among many others.




BACK IN THE PH. In a press conference held earlier at the Sofitel Manila, the members of OneRepublic expressed their excitement upon returning to the country and performing for their Filipino fans.

Ryan told the Philippine media, "It feels great to be back here. We went out last night into Manila. The traffic here in Manila is obviously crazy so the last time we were here, we didn't have much time… we only had a day."
The singer revealed that they got an earlier flight to explore more of the city. He said, "Yesterday, we intentionally took the early flight from Sydney, so we got in by lunch time and we had like, the day, to go around in Manila and check around and check some different spots, some cool coffee shops and restaurants and met up at some speakeasy bar last night."
Ryan said his cousin who resides in the country with his wife has been inviting him for a vacation. The band vocalist hopes to explore more of the country if given the chance.

He said, "I have a cousin that lives here, my first cousin, who I used to live with [and] he lives in the Philippines actually. He lives like about an hour away from here. Right on the ocean with his wife, who is a Filipino.
"He's always telling me to come out and go on a vacation. The next time we go here I'd like to have a few days where we can go to the beach and actually experience something outside of Manila. I think it would be exciting."
For their return to the Manila concert scene, OneRepublic expected a more energetic crowd specially for an outdoor music festival. Ryan said, "The last time we performed in Manila was incredible. The last time we performed here wasn't outdoors, it was in Araneta, the coliseum! The last time was in the arena. It's completely a different vibe with the arena. It's gonna be crazy.
"If it rains, it's gonna get even crazier. Yesterday during the rehearsals it started raining. We're like, 'Well, if it rains, it rains.' I'm gonna have to walk carefully. These shoes are really slick so I'm gonna have to put a different shoes on, but I think tonight the crowd's gonna be nuts. Outdoor crowds are more energetic than inside crowds always. So, it's gonna be very high energy too."
PEP.ph (Philippine Entertainment Portal) asked about the band members about their concert rituals and Ryan quipped, "O God, please help me not mess up!"
The singer continued by saying that their concert rituals are "very non-traditional."

He explained, "I see a lot of documentaries, whether it's Kings and Leons or Coldplay or Katy Perry, whoever it is, everyone is standing at the huddle [and like] like 'Woooh!'
"I know Taylor Swift does that before the show and maybe we should do that! I mean, I don't know."
Drew added, "We just throw peanuts and chips at each other for 5 minutes."
Ryan finished answering the question and said, "Our backstage pre-show is one guy might watching a movie, the other guy is listening to music, other guy is making coffee, hand grinding coffee. Sometimes I do push-ups, I like to go for like a run for 5k or 10k before the concert and then clean up and [before going] to the concert.
"So our ritual changes depending on like today, I think I'd go to the gym or hit 5k or so and probably work on some music. And yeah, we hit the venue.
"If we're nervous, we take a shot [of alcoholic drink] or two. Depends on where we are. Today might be dangerous because maybe we'd get dehydrated."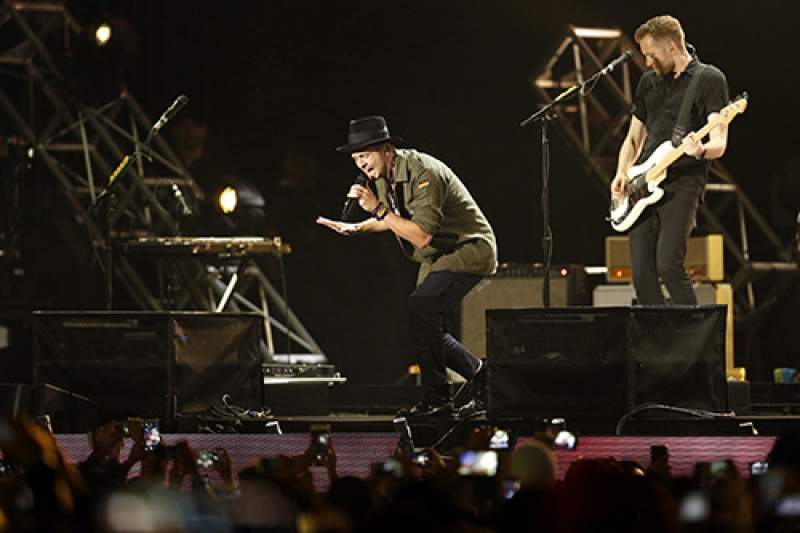 (Photo: MTV Asia & Ferdie Arquero)


For their set at MTV Music Evolution, Ryan noted that this is their first outdoor show in the country. The 37-year-old singer/record producer considers their first solo concert in the Manila as one of the band's favorite shows in their career.

The band performed at the Araneta Coliseum back in November 2013.
Ryan told concertgoers at MTV Music Evo, "This is the first time we played outdoors in the Philippines. Last time was in Araneta Coliseum. We saw all of you guys there. One of our favorite shows we've ever done in our entire career. But look, I think God is smiling on us. It cooled down, it's night, it's not raining. This is perfect."
Midway through their set, Ryan noted that their Filipino fans are the "most genuine and nicest people" they ever met.

He said, "We got asked earlier today, what specifically is unique about the Filipinos. Other than the food, which we love, you guys are the most genuine and nicest people we've met on this Earth and in this lifetime. You're so nice it almost freak us out. Everyone is so kind like, 'Wait a minute! What's going on?'"



NEW ALBUM. Last April, OneRepublic started working on a new album that is due for release some time later this year.

Ryan named some of the collaborators featured on their fourth studio album and said, "We have some features on our next album. I was a huge Peter Gabriel fan [and] he's collaborating on our next album. The other band called The XX, [we did] a song with them.
"[We worked with] Pharell Williams [and] we're still looking for some possible person. There's one song that we made [and we're] looking for a female collaborator which we have never done before. We're pretty excited about that. My dream collaborator is Peter Gabriel and he's on the album."
The group also released a new single titled "Whenever I Go" which will be part of their fourth album. The new song features the band's venture into a new sound, which prompted the press to ask them about experimenting with new songs.
Ryan answered, "I think getting bored of what we've done before pushes you to experiment. If you tour long enough on the same album, you'll get tired of those songs so you wanna try something new.
"I think that the artists that have the longest careers, that are able to constantly connect with the civilization in humans. Because music is the international language so the better you get of speaking it, the more dialects you wanna speak.
"So all we're trying to do is speak more and more dialects in different accents because music is the language, so we'd like to explore."
Ryan also disclosed how they get inspired to try new things: "We constantly listen to new music, constantly listening to new artists, new songs, new inspirations. And we also look back to old inspirations and old artists but new is always the most exciting thing, I think to most people, so we look out after new all the time."
The band members also admitted that they experienced creative burnout from time to time like most artists.

Ryan gave advice on how to deal with this by saying, "You have to change the scenery, you have to walk away. For me, if I get creative burnout with OneRepublic, I usually focus on another artist. So If I'm burning out on OneRepublic, I will switch into working on somebody else's album.
"I'll go spend a week working on different songs. So, I'll just listen to different music, get away from OneRepublic. Come back and start fresh or occasionally go on a vacation. We don't take mini vacations actually. Maybe one in two years and that's it. So yeah, that's what we do."
Drew added that their travels help them conquer this challenge, "The amount of travel that we do and the fact that most of what we do is while we're on the road is probably the best thing for us as far as avoiding a creative burnount. It definitely happens, it happens when you're in the same city for two or three weeks."
Ryan ended the question by pointing out, "Creative burnout usually happens when you're in the same place. So all of these travels are good for us, being in the Philippines today for the event and tomorrow."