'Hallyu wave' continues to spread in the Philippines and this time, South Korea's fast rising R&B singer DEAN makes his way to the country to perform live for his Filipino fans.

The 23-year-old K-pop singer is in Manila to promote his debut extended play (EP) album 130 Mood: TRBL under MCA Music (Universal Music Philippines). The album was first released last March 24.
This is DEAN's first time in the Philippines and the South Korean singer is excited to meet his Filipino fans. With the help of a translator, he said, "I am proud to perform the songs from my 130 Mood: TRBL album and I will be performing the singles I've written in America. I'm very excited for my performance to Filipino fans.
Unlike most K-pop artists, DEAN debuted in America before establishing his name as a singer/composer in South Korea. His first two singles—"I'm Not Sorry" and "Put My Hands On you"—were both in English. With this in mind, DEAN is confident that his Filipino fans will be able to enjoy his music. He told the press, "I'm very happy that Filipino fans knows English very so they can enjoy my English concept."
PEP.ph (Philippine Entertainment Portal) asked DEAN for his first impression of the Philippines upon his arrival. He answered, "The first feeling when I came to the Philippines is it's really hot! That was my first impression." He then described his Filipino fans as "small, cutie fairies."
Asked which places he would love to visit in the country, DEAN said he'd like to visit the country's top superclubs to experience the vibe of the local music scene. He told PEP, "I want to visit famous clubs in the Philippines so I can enjoy music and the beats in the Philippines."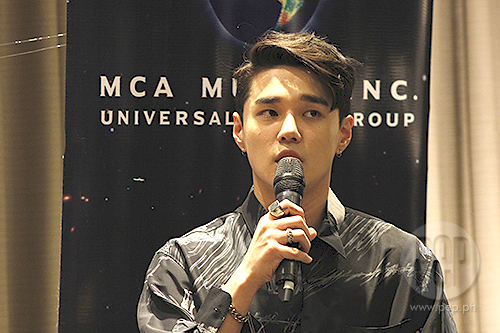 SINGER-SONGWRITER. DEAN has worked with a lot of South Korea's popular artists and idol groups. He collaborated with Girls' Generation's Taeyeon where he was the featured artist for the song "Starlight" from latter's 2016 album Why. DEAN was also featured on K-pop artist Heize for her singles "And July" and "Shut Up And Groove."
DEAN has also worked with EXO, VIXX, Lee hi, Block B, and Dynamic Duo, among many others, as a songwriter and music producer. He composed the music for EXO's song "Black Pearl" for their 2013 album XOXO and also VIXX's song "Voodoo Doll" which is the carrier single from their 2013 album Voodoo.
The press asked what are his inspirations when it comes to writing music and DEAN revealed, "I get my inspirations from my surroundings like drawings, paintings, and artistic movies I've seen."
In a separate interview, PEP asked how he writes a song for himself and for other artists. The singer/composer said communication between him and the artists helps him compose the songs. He noted, "I've experience collaborating with many other artists and communicating and interacting with my partner artists helps me write the lyrics."
As for his latest album, he names the song "21" as his favorite. DEAN explained, "The reason I like 21 the best is because several genres are featured in that song. I think that mixing genres in one song what people was expecting, the hybrid genres."
PEP also asked how he would like to be remembered as a musician. He answered, "I want to be remembered as an artist who can give impressions to Filipino fans for them to watch [me] perform live not just in the Philippines, but like also internationally."
What would he like to achieve for his career? Dean said he'd love to meet all of his fans and share on stage with them. The singer told PEP, "When I show my album or music, I want to have a concert with all of my fans and supporters and singing with the same stage."
If there's one thing that he wants to leave as his legacy, DEAN admitted, "I really want to be remembered as unique, personal musician. Unlike other artists who want to win awards, I think the most important thing is to be remembered as a unique artist."



130 MOOD: JNGL. A new album is now in the works which is titled 130 Mood: JNGL. DEAN said his fans can expect new songs with a different style from his previous works.

The "Bonnie and Clyde" singer said, "It will be more enjoyable if the fans or the listeners hear the lyrics carefully. There will be a series of music videos and it's more likely that mood and style so if you watch it carefully, you will enjoy it more."
The South Korean singer/composer told PEP, "I didn't collaborate with other artist in my upcoming album but I would like to work with Korean artists who have greatly influenced the Korean music."
Is he open to working with a Filipino artist? DEAN answered, "Regardless of the nationalities, as long as someone has the similar style of music as I am, I'm very open to it."
With him dubbed as South Korea's future for R&B, DEAN doesn't mind the pressure from the title and would just love to continue sharing his talents. The singer told PEP, "There's no definite pressure but from the support I get from the fans, I would just enjoy creating music in the future."
Towards the end of the press conference, DEAN gave a message to his Filipino fans. "I'm very thankful that a lot of Filipino fans love the songs in my 130 Mood: TRBL. It would be hard for Filipino fans to meet me [internationally] so I'm performing my best."
Catch DEAN's show at SM City North EDSA Skydome on Saturday, August 6, at 5 p.m. Meanwhile, here are some of his songs you might want to add to your playlist:


1. "I'm Not Sorry" with Eric Bellinger
2. "Put My Hands On you" with Anderson .Paak
3. "Pour Up" with Block B's Zico
4. "D (half moon)" with Gaeko
5. SNSD Taeyeon's "Starlight"
Photos: Nikko Tuazon and Joedi Bellen