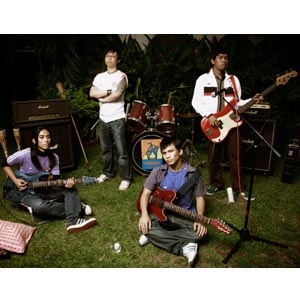 ---

Sponge Cola's upcoming third album is drummer Chris Cantada's last withthe group.
In a recent message posted by lead guitarist, Erwin Armovit, in SpongeCola's mailing list he cited Chris's fragile health as the reason behind the youngdrummer's decision to cut short his stint with the band.
Armo's message reads:
"Hi guys! Sadly, as you already know, Chris is leaving the band due to theworsening condition of his health. We have always made an effort to encouragethe improvement of his condition but it recently became too difficult for himto keep up with our schedule. While recording our previous album, TRANSIT, healready told us that he'd leave after finishing one more album. Our upcomingself-titled album is the last recording wherein Chris plays drums for Sponge Cola.We support his decision to part ways with us, but rest assured that there is nolove lost between us, and that we will still keep the fire burning. Thank youall for supporting Sponge Cola and OPM."
According to someone who is close to the band, Chris found it hard tokeep up with the typical late night schedule brought by gigs and shows.Shuffling band commitments with his day job in an advertising firm also provedto be a burden, prompting Chris to drop the band in favor of a more stablecareer.
SLOW DEPARTURE. Sponge Cola's upcoming eponymous third albumunder Universal Records is set for release on September 19 and will be launchedon September 26 at Eastwood in Libis, Quezon City.
Chris's departure however will be done gradually as he will still be seenin the band's forthcoming videos and even on some TV appearances meant topromote the new record. Sponge Cola though will hire session drummers to fillin Chris's slot during live gigs.
ADVERTISEMENT - CONTINUE READING BELOW
The band made up of Yael Yuzon (vocals-guitar), Gosh Dilay (bass), ErwinArmovit (lead guitar) and Chris Cantada (drums) were all college buddies fromthe Ateneo de Manila University. Sponge Cola's debut album, Palabas, was released in 2004 under SonyBMG Music Entertainment, spawning radio hits like "KLSP," "Gemini," and "Jeepney."
Sponge Cola's acoustic live cover of the Madonna classic "Crazy For You"gained popularity among fans and casual listeners after it became an Internet download favorite.
Right after finishing college, the quartet immediately dished out theirsecond record, Transit, under Universal Records in 2006 . The album found a more focused unit as proven bythe strong radio singles like the anthemic "Bitiw," "Tuliro," and "Pasubali."
Sponge Cola also graced two of the most successful tribute records tocome out recently: The Eraserheads' Ultraelectromagneticjamwhere they did a cover of "Pare Ko" and the Apo Hiking Society's two-volumedisc Kami nAPO Muna ("Nakapagtataka")and Kami nAPO Muna Ulit ("Saan Na NgaBa'ng Barkada").