Lady Gaga displayed aerial stunts and made use of drones for her electifying performance at the Super Bowl 2017 Halftime Show.
The 30-year-old American pop superstar performed a 13-minute set for the Superbowl 2017 at the NRG Stadium in Houston, Texas on Sunday night, February 5 (February 6, Philippine Time).
The singer took on the show solo without bringing any guests for the performance, unlike previous editions.
She wore a sequined silver body suit and knee-high boots designed by Atelier Versace for her performance.


SUBTLE POLITICAL STATEMENT. Since she is known to be an advocate for equality and empowerment, fans of Lady Gaga were wondering if she would make a statement regarding the United States's newly elected President Donald Trump.
The pop superstar didn't make any political statements on her set and didn't even mention the American president's name during her performance.
Still, the singer managed to include subtle political statements through her choice of songs.
She began her set with "God Bless America" and quickly followed it by Woody Guthrie's "This Land Is Your land."
She performed the songs while standing on the stadium roof, with the Texas' skyline as her backdrop. She was surrounded by hundreds of red, white, and blue drones the formed the image of the American flag in the night sky.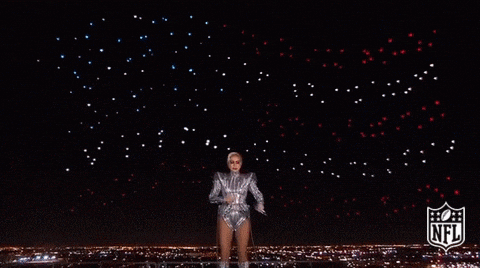 THE HITS. Wearing a harness, the international pop singer jumped off the roof and did some aerial acrobatics before landing on a platform at the middle of the stadium.
Snippets of "Just Dance" and Paparazzi" played before Lady Gaga continued her performance with a line from "Edge of Glory."



The six-time Grammy award-winner also performed her earlier hits including her chart-topping song "Poker Face" from her debut album The Fame.
She was lowered onto the main stage with pyrotechnics blasting around her before she continued her solo show with her LGBT-anthem "Born This Way."



The show continued with her performance of "Telephone" (without fellow pop superstar Beyonce) on a LED-lit, star-shaped metal structure.
The song was released back in 2010 from her album The Fame Monster.



Lady Gaga made her way to the middle of the stage and put on golden embellished structured jacket.
She picked up a Keytar and rocked the stage with another classic titled "Just Dance."



She toned the show down a bit but maintained the energy with her performance of "Million Reasons" from her latest record that she delivered by playing on the piano.



For her final act, Lady Gaga changed into glittering hot pants and studded football shoulder pads.
Lady Gaga told the crowd, "The Superbowl is what champions are about!"
She ended the show with a fiery performance of one of her biggest hits, "Bad Romance."



Watch Lady Gaga's full Superbowl 2016 Halftime Show by clicking on this link!

PEPsters, what can you say about her performance? Leave your thoughts on the comments section below.