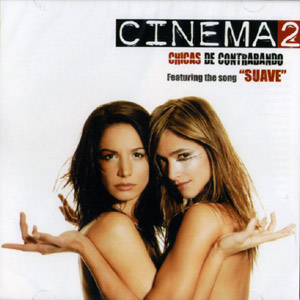 ---

Twoforeign ladies heat up the local music scene with their attractive looks, sexydance moves and dance hits. The female duo Cinema 2-made up of Andrea de Lugoand Barbara Clara-are now big names in the European dance scene and they hopeto make it big on Philippine soil as well.

Their 14-track album Chicas deContrabando was released abroad early this year. It has already given theduo three big hit singles in Italy, namely "Suave," "Estupido" and their latest "Ah! Ah! Ah!" Othercountries are also ready to come out with their own version of the CD.
Viva Records released Chicas de Contrabando intothe market last week and brought in Cinema 2 to the Philippines to heat up thelocal dance scene.
Andreade Lugowas born in Cesena, Italy. She is into gymnastics and karate. She studiedPublicity Communications but enjoys making music most. She was part of a rockband before Cinema 2. Andrea is also an actress. In fact she is one of thestars of I.T.A.L.Y. (I Trust and Love You), where she plays thelove interest of Dennis Trillo.
BarbaraClara studiedCommunications Sciences in her home country Venezuela. She went to Italy tojoin the International Miss Italia Competition and won the title. After thecompetition, she met Andrea and they formed the duo now known as Cinema 2.

Chicas de Contrabandoby Cinema Dos is locally distributed by Viva Records, a Viva CommunicationsCompany. Chicas de Contrabando isproduced by Carlo Nasi for PKP Music of Los Angeles, California.
TRACK LISTING.
1. Suave
2.Muneca de Trapo
3. Tuya
4. Estupido
5. Nada Esta Perdido
6. Contagiate
7. Duele
8. Loco Sentimiento
9. No Te Hagas Desear
10. El Engaño
11. Chicas de Contrabando
12. Me Robare La Luna
13. Ah! Ah! Ah!
14. Grita