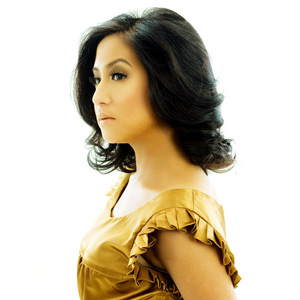 ---

In her 20 years in show business, JolinaMagdangal has demonstrated her bankability and her versatility as a star. Shehas been known as a child actress, a TV host, a singer, and more recently, a PinoyIdol juror. With her training as a protégé of Maestro Ryan Cayabyab (forthe musical group 14k), Jolina now shows her maturity with the release of her thirdalbum titled Destiny. This 10-track album is filled with unforgettablelove songs ranging from soothing ballads to electronic sounding upbeat popsongs.
There are three English revivals in thisalbum, with "Will of the Wind" as the carrier single and theme song of herupcoming movie, I.T.A.L.Y. (I Trust and Love You), produced byGMA Films. In this opening song, Jolina's steady voice rises over the heavypiano, accompanied with guitar and drums. Singing with the confidence of heryears in the field of music, her rendition of this song is testament to herbefriending the will of the wind.
In "When I Fall in Love," Jolina takes out the somber toneof the experience of falling in love with an upbeat rendition that can almost makethe listener dance. And this, she also does in her version of Fra Lippo Lippi's"Stitches and Burns."

Among the tracks in the album, "Pangako ng Puso," Umibig Ka," and "T'wingKasama Kita" have simple lyrics that Jolina successfully utilizes to convey theheartfelt messages of love—the central theme of this album. "Hanggang Kailan"is a soulful ballad, and Jolina's voice echoes with questions about thepersistence of love and its accompanying hopefulness.

Noteworthy among the tracks in this album are "Isang Taon" and "Buksan ang 'Yong Puso." In both songs, there is a sense of coming back to a place or aperson where the singer can only find true joy and peace.

Produced by GMA Records and distributed by Universal Records, Destiny isnow available in Astroplus, Astrovision, SM and Odyssey outlets nationwide.Interested buyers may also download Jolina's new album from Wellcom, MP3Express and MP3 King digital kiosks nationwide.
ADVERTISEMENT - CONTINUE READING BELOW
TRACK LISTING.

1. WillOf The Wind
2. Pangako Ng Puso
3. Umibig Ka
4. When I Close My Eyes
5. Isang Taon
6. Hanggang Kailan
7. Tuwing Kasama Kita
8. When I Fall In Love
9. Stitches & Burns
10. Buksan Ang 'Yong Puso
Catch Jolina with the other members of the cast of the movie
I.T.A.L.Y.
(
ITrust and Love You
) on the following dates:
September 20
in SMBicutan and
September 21
in SM Sucat.