A sea of white, pink, and blue lights filled the SM Mall of Asia Arena as hundreds of Filipino K-pop fans gathered to watch the first arena show of boy band Seventeen in the Philippines.
Seventeen—composed of S.coups, Wonwoo, Mingyu, Vernon, Woozi, Jeonghan, Joshua, DK, Seungkwan, Hoshi, Jun, The8, and Dino—wrapped up their Diamond Edge Tour in Manila last Friday night, October 6.
This is the K-pop group's second visit to the Philippines, following the success of their two-day fan-meet at the Solaire Resort and Casino in August 2016.

Here's a snippet of their performance of "Crazy in Love" during their 2017 Philippine concert:



Below are some highlights of the Manila leg of their Diamond Edge Tour.
Fans screamed their hearts out when Seventeen emerged on stage wearing suits in various colors.
The South Korean boy band kicked off the concert with "Pretty U," followed by "Beautiful" and "Adore U."
After the first three songs, each member had a chance to introduce himself to Filipino CARATs (fan club name).
Seungkwan (in pink) greeted Pinoy fans with, "Hi everyone! Nice to meet you!"
He added, "We've been waiting for this moment as well! I missed you guys a lot!"
DK (wearing blue, leftmost) shouted, "Ladies and gentlemen, welcome to Diamond Edge! I'm DK!"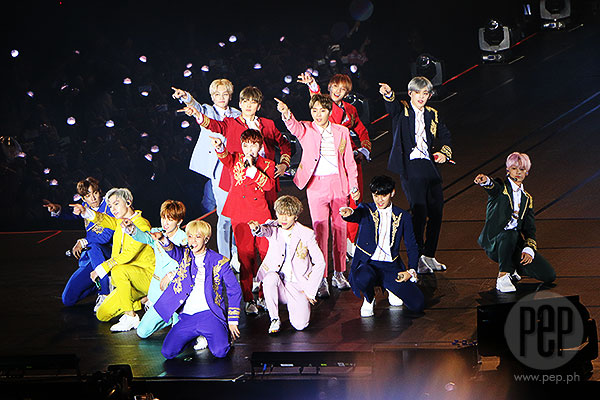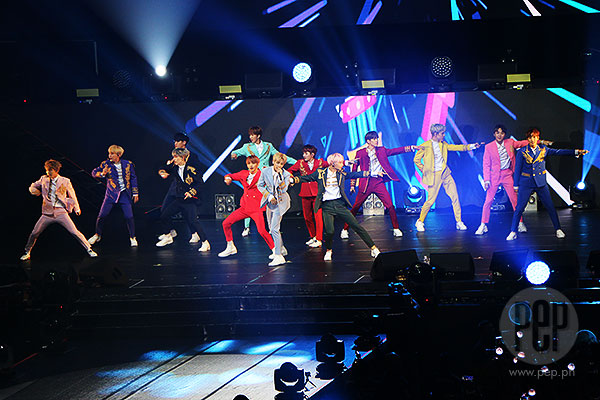 The band continued the concert with performances of "Still Lonely," "Very Nice," and "Swimming Fool."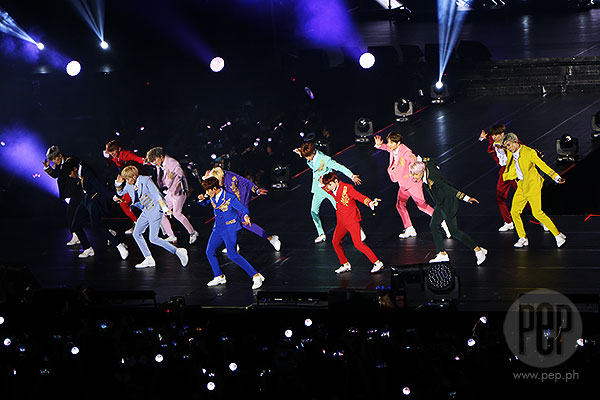 For the second half of the concert, the boys dressed up in middle-school uniforms and brought kilig with their renditions of "Mansae" and "Boom Boom."
DINO and Hoshi were left onstage and did an "impression challenge."
Hoshi won the contest after receiving the loudest cheer from fans.

As punishment for losing the challenge, DINO had to spell out his name using his butt.
However, fans persuaded Hoshi to also spell out his name using his butt.

Talk about being a sport!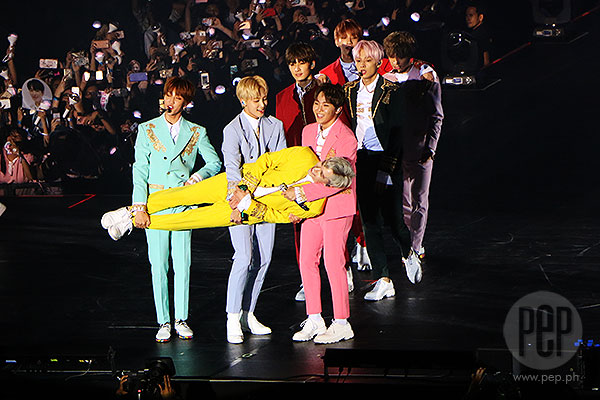 The third part of the concert was dedicated to the group's Vocal Unit composed of Woozi, Jeonghan, Joshua, DK, and Seungkwan. The boys performed their original songs titled "We Gonna Make It Shine" and "Don't Listen."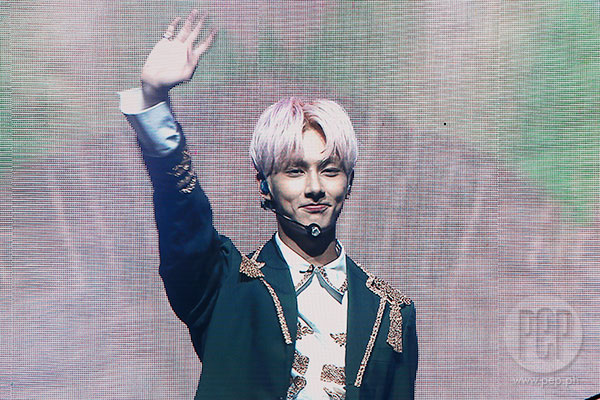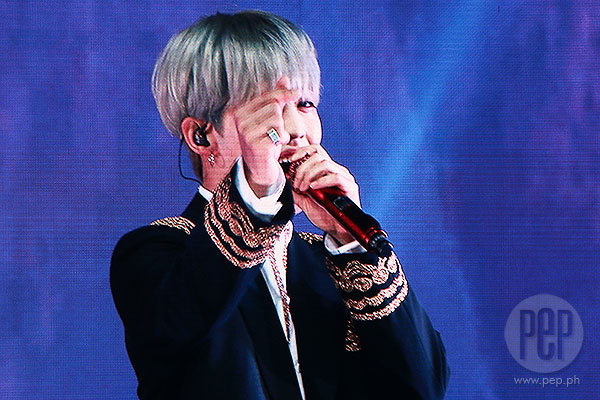 Seventeen's Hip-hop Unit—composed of S.coups, Wonwoo, Mingyu, and Vernon—displayed their rapping skills in their rendition of "Un Haeng Il Chi" and "Check In."
Meanwhile, the Performance Unit—composed of Hoshi, Jun, The8, and DINO—offered remixes of their songs "OMG" and "Highlight."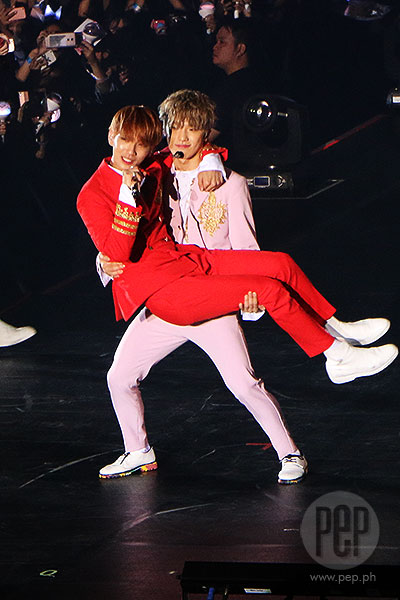 The band regrouped for "Crazy in Love," "My I," "Habit," and "If I."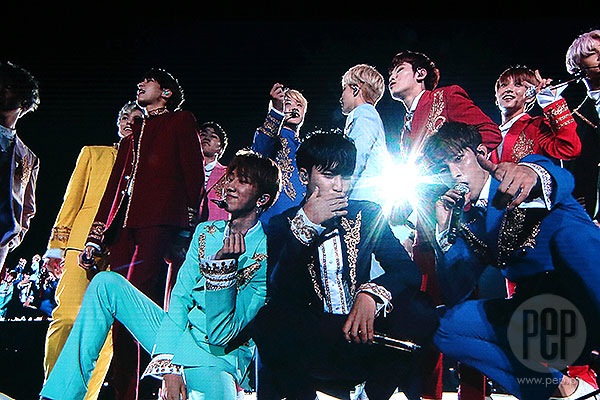 Towards the end of the concert, fans sang along as the boy band performed their songs "Rock Remix" and "Chuck."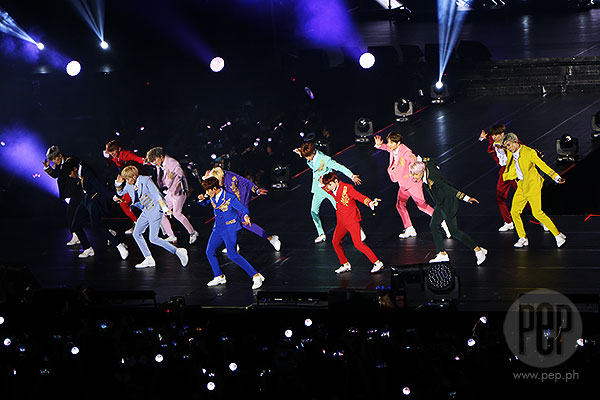 For their last song, the band rocked the stage with a performance of their latest single "Don't Wanna Cry."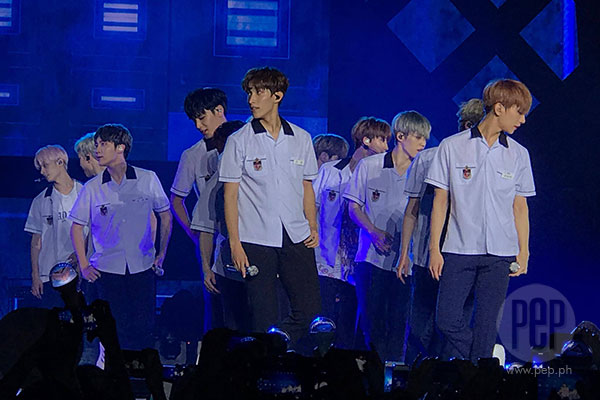 The members expressed their gratitude for their fans' overwhelming support through a "video letter" shown before their encore.
For their encore performances, the band performed "Shining Diamond" and "Healing."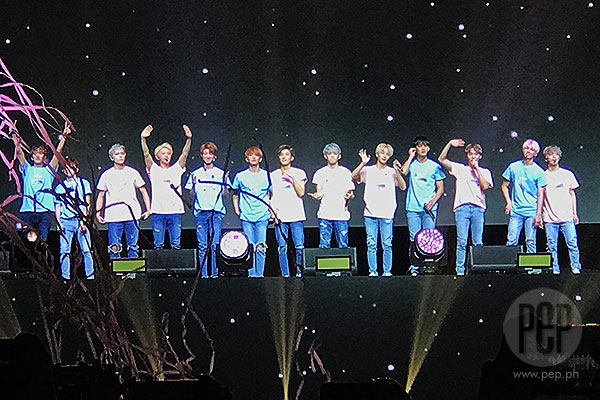 After performing, the members stayed onstage for 15 more minutes to talk to their Filipino fans.
Jun, a vocalist of the group, told the crowd, "Love you CARATs, see you guys next time!"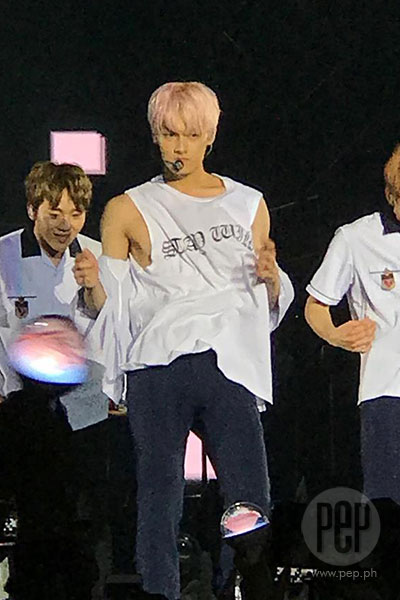 Lead vocalist DK told concertgoers (as translated in English): "Before the concert started, I couldn't believe that it's actually the last concert.
"We really tried our very best to show you guys what we can't during the last concert. I don't know whether it's good enough for you but I really thank you guys for coming tonight.
"Through the world tour, we've created a lot of wonderful memories and for all the love and support you gave us, we'll promise you to pay you guys back.
"Please look forward to our future plans and comeback. Salamat po!"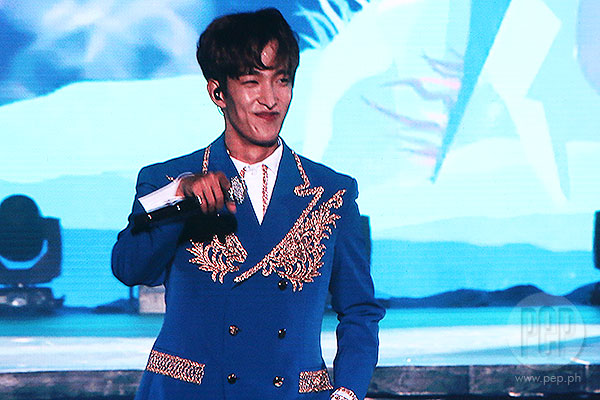 Rapper Vernon expressed how glad he was that Manila was the final leg of their tour.
He told audiences, "First of all, I am so glad that we're able to have our last performance for this world tour right here in Manila. You guys were so amazing!
"This is our first world tour and we couldn't have done it without any of you. It's all thanks to you. I can't be more happier, I'm so happy.
"It's an honor to make this journey with my loving members and our loving CARATs. Thank you so much!"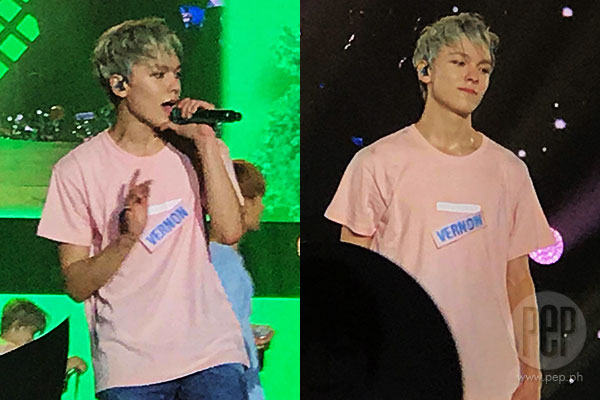 The 13 members of the K-pop group promised to return to the Philippines and also invited fans to support their upcoming album.