After four years, All Access Entertainment keeps the K-Pop craze in the Philippines alive by staging another edition of K-Pop Republic music festival.
Hundreds of Filipino K-Pop fans flocked to the Circuit Event Grounds in Makati City on Saturday night, October 28, to watch their favorite K-Pop groups.
The first edition of K-Pop Republic was held in September 2013 at the Araneta Coliseum headlined by Crispi Crunch with Soo Min of April Kiss, Dal Shabet, EXO-K, and SHINee.
This 2017, the K-Pop groups NCT127, GFriend, N.Flying, and Cosmic Girls performed their chart-topping hits for their Filipino fans.
Below are highlights of the two-hour music festival:
GFRIEND. The first band to perform was the six-member South Korean girl group GFriend.
The band—composed of Yerin, Yuju, Eunha, SinB, Umji, and Sowon—debuted in 2015, under Source Music Entertainment.
This is their third time to visit the Philippines.
The first one was in 2015 when they filmed their reality show One Fine Day in Cebu. The next year, they went back for L.O.L Manila Showcase held at Solaire Resort and Casino.
In an exclusive interview with PEP.ph (Philippine Entertainment Portal) before the concert, the members expressed their excitement to meet their Filipino Buddies (fan club name) for the third time.
Sowon told PEP through a translator, "This is our third visit and we're so happy to come back and we're always receiving so much love and we'll make so much fun with the Buddies."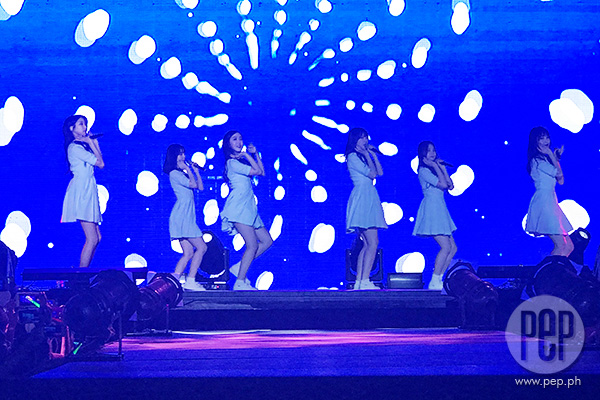 When asked for their comment on the growing popularity of K-Pop in the Philippines, Umji answered, with the help of a translator, "We're always so happy that the Korean culture has become popular here so with that, we'll reply back with good performances and good songs."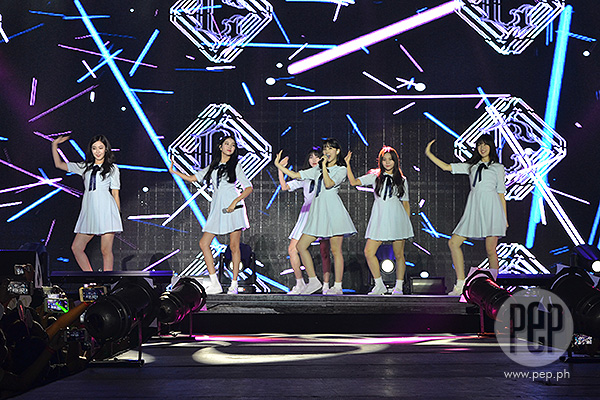 GFriend's 30-minute set started with the song "Navillera."
This was followed by "Rough," "Love Whisper," and "Summer Rain."
The South Korean girl group ended their set with "Me Gustas Tu."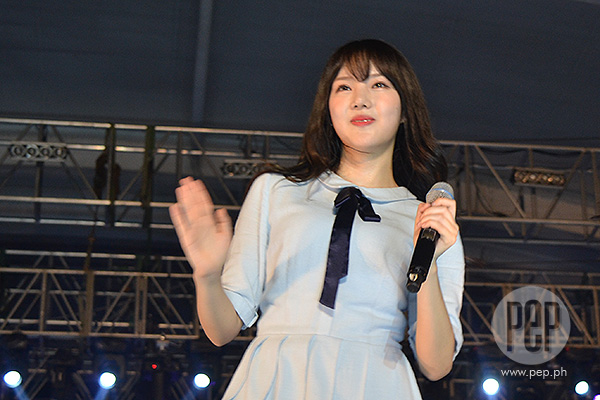 Towards the end of the interview with PEP, the girl group promised their fans to return all the love they've received through the years.
Yuju said, "Thank you so much Filipino fans for supporting us and with the love we received, we're gonna give more and more love to you guys. Thank you so much and I love you."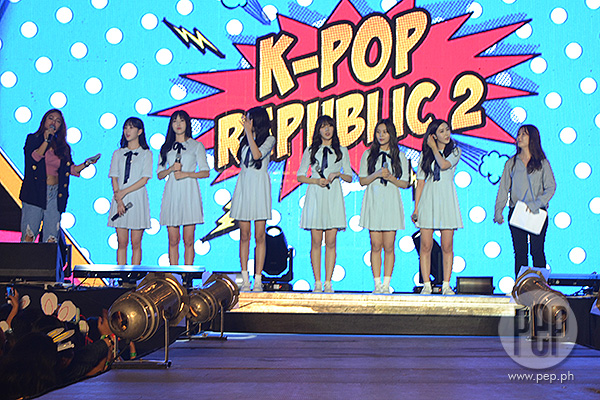 N.FLYING. Five-member rock-rap band N.Flying made a lot of fan girls scream their lungs out during their set at the K-Pop Republic 2.
N.Flying—composed of Hoon (guitars), Kwangjin (bass), Jaehyun (drums), Seunghyub and Hoeseung (vocals)—debuted in 2013 under FNC Entertainment.
During their set, the band expressed their excitement upon meeting and performing for their Filipino fans for the first time.
Jaehyun told fans, "Actually it's our first time in the Philippines but we all know that a lot of you guys have been waiting for us and because of that we'll make a lot more albums for you guys.
Seunghyub added, "We know that lot of you have waited. But, of course, we also waited for you guys."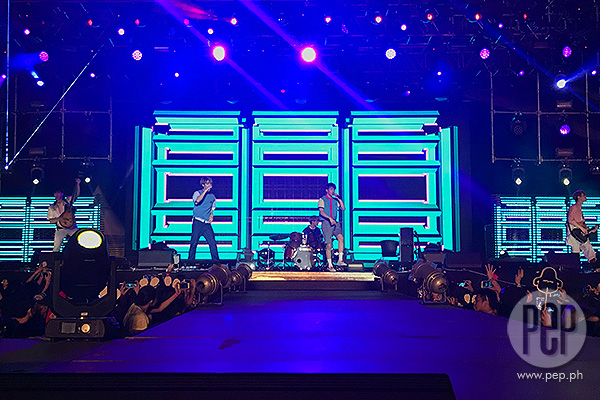 At one point, the band made concertgoers laugh because of the words they used to describe themselves.
Hoon said, "Guitar cause I'm a guitarist."
Seunghyub kept it simple and told fans, "I'm a guy."
Jaehyun described himself as a star "'cause I'm shining!"
Hood quipped, "Because your face is oily?"
Meanwhile, Hoeseung described himself as "very very very cute" and did his "aegyo" which is an expression of cuteness in English.
Kwangjin answered, "I'm strong!"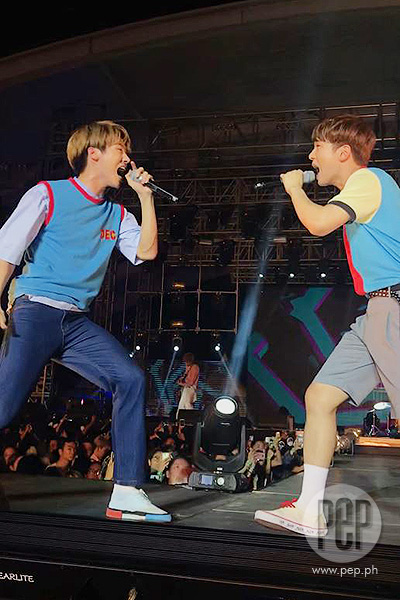 N.Flying pumped up the crowd with their performances of the songs "Awesome" and "Lonely."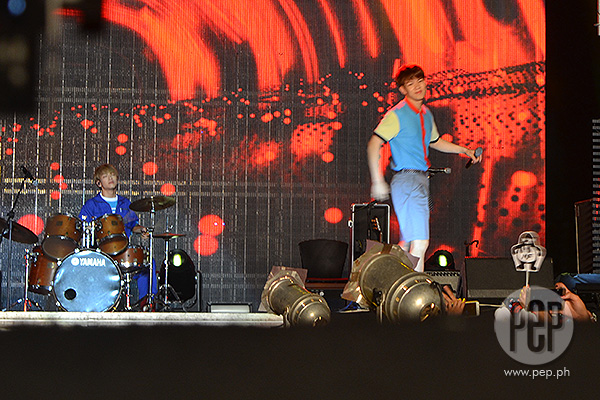 Their set also include performances of the songs "I'm Okay" and "The Real."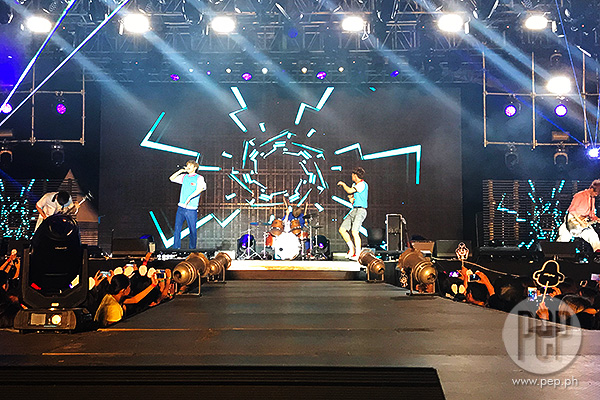 COSMIC GIRLS. Thirteen-member girl group Cosmic Girls also made their way to the Philippines for the first time.
The band—composed of Dawon, Eunseo, Exy, Xuan Yi, Yeonjung, Seola, Bona, Cheng Xiao, Mei Qi, Soobin, Yeoreum, Dayoung, Luda— debuted in February 2016 under Starship Entertainment and Yuehua Entertainment.
At a press conference before the concert, the members expressed their gratitude for the warm reception from their Pinoy fans.
Exy told the press, through a translator, "We're very glad to be here in for this meaningful event and we're glad that the Filipino fans are very welcoming to us."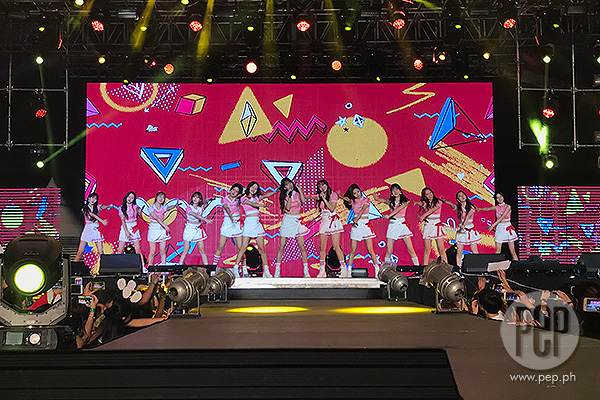 The girl group is currently promoting their latest single "Happy" from their first studio album Happy Moment. It was released last June 7.
When asked for the story behind their new single, Eunso narrated, as translated in English, "Our latest single 'Happy,' we've released it so that other people would also get the Cosmic Girls happy virus. We wanted to share that vibe.
"In addition, it's our very first full album so we put in so much effort in it and we would be so glad if other people would listen to it and give us love and support."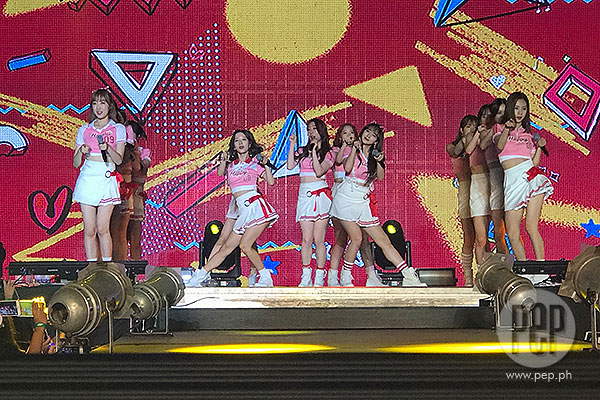 Bona ended the press conference with a simple message for their fans, "It's our first first time here in the Philippines and we really want to see our Filipino fans. We're glad to be here and I hope that we would have a great time today."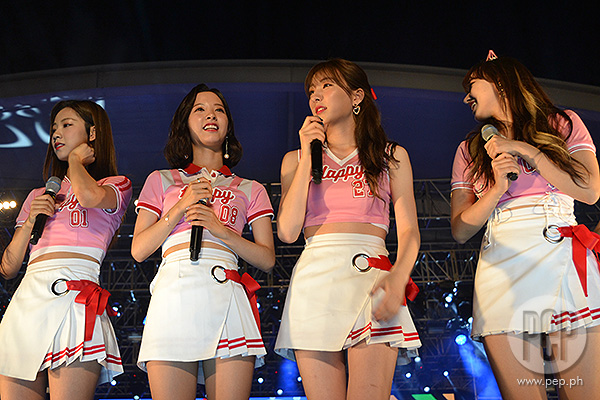 Cosmic Girls performed the songs "I Wish," "Momomo," "Catch Me," and "Secret."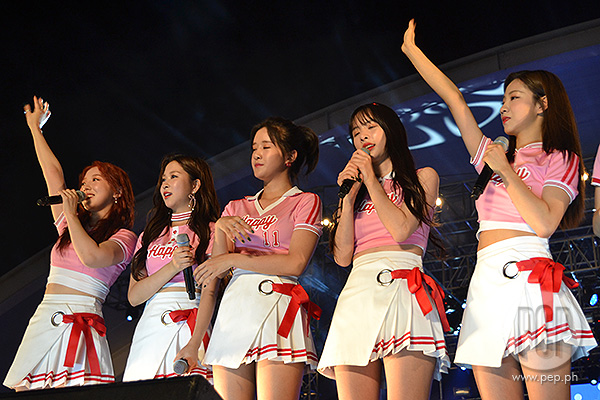 NCT127. Nine-member boy band, NCT127, drew the loudest cheers from K-Pop fans at the concert.
NCT127 is a sub-unit of the 15-member group called Neo Culture Technology or NCT under SM Entertainment.
The South Korean boy band is composed of Taeil, Johnny, Taeyong, doYoung, Yuta, Jaehyun, Win Win, Mark, and Haechan.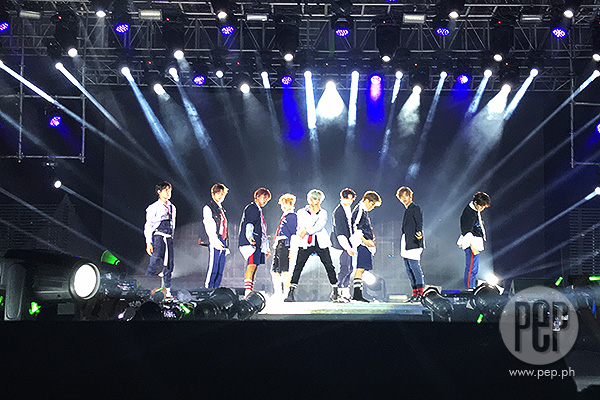 At a press conference held minutes before the concert, the band expressed their gratitude towards their Filipino fans who have been voting for their songs in local music charts.
JaeHyun (leftmost) told the press, "First of all, we heard that we won the first place in MYX Charts music video.
"So we're very thankful to for the people who loved our music and our performance.
"Please look forward to our new performances and we love you guys, thank you."
This inspired the members to give their very best performances at the concert.
DoYoung (rightmost) said, as translated in English, "We will do our best to show what we have prepared and tonight, we'll do our best to interact with our fans and have fun with them."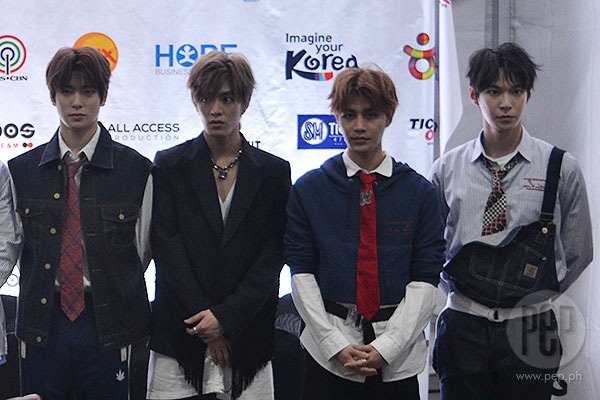 Taeyong admitted he was overwhelmed by the fans' support for their group.
He said, through the help of a translator, "It's our first here in Manila and we just feel blessed and very overwhelmed with how the fans are treating us.
"With all the fans cheering, we hope to show a them a great performance. We'd like to thank them for coming."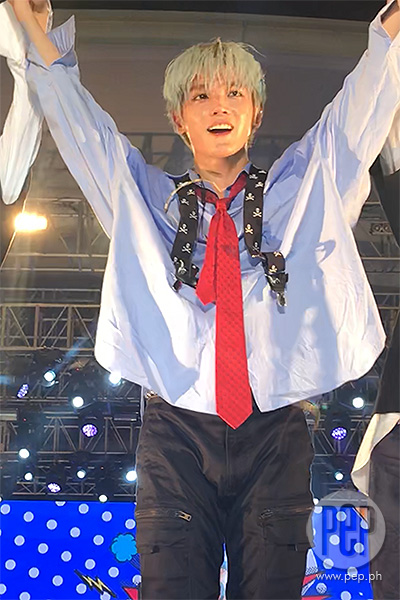 Towards the end of the press conference, Johnny (leftmost) said he hopes to see their Filipino fans as often as possible.
The 22-year-old K-Pop idol told the press, "As much as it is our first being here in the Philippines to perform, we're very excited to perform and we really love you guys. I hope we can meet you guys more often."
Winwin (second from right) received a cake from his Filipino fans in celebration of his 20th birthday.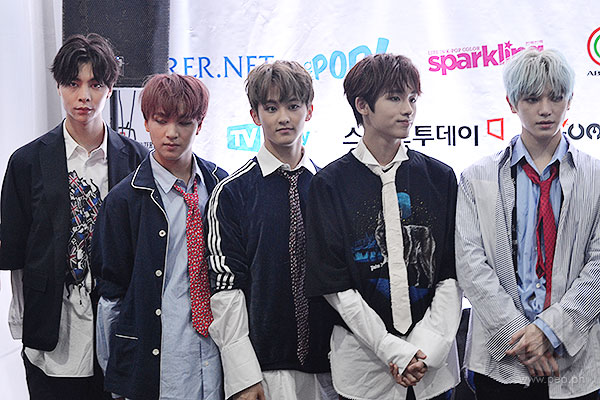 The band opened their set with the song "Fire Truck.'
Other songs they performed included "0 Mile," "Limitless," and "Summer 127."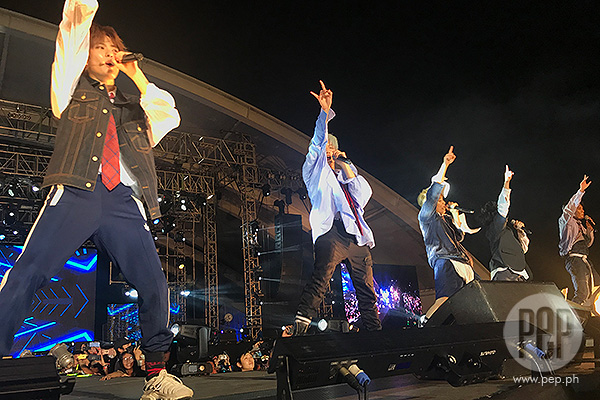 They ended their set with their latest single "Cherry Bomb."