A Facebook video showing Wildflower star Maja Salvador and Banana Sundae mainstay Pooh in a hilarious dance showdown has gone viral.
The video—now with 2.7 million views and has been shared more than 36,000 times as of press time—was taken during the One Wild Night concert of the ABS-CBN stars in Vancouver, Canada on November 5.
Both Maja and Pooh were wearing similar dance outfits, a green, glittery long-sleeved peek-a-boo leotard with matching thick fringe skirt.
While Maja completed her look with black knee-high boots, Pooh sported a pair of fleece ankle boots.
The comedian also donned a black wig to match the Dance Princess' long locks.

Maja teased Pooh when he crouched down on the floor: "Mukha kang palaka."

Pooh quipped: "Kulay green pa ko."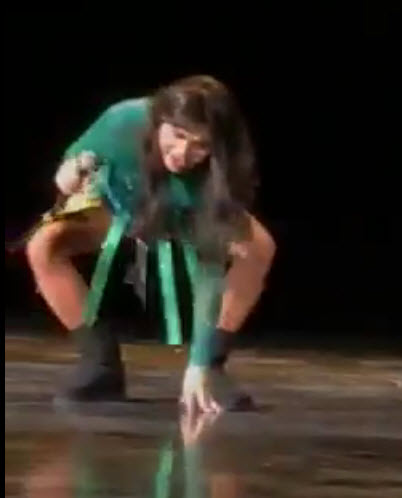 In between comic banter (which included a rated PG spiel exchange), Maja and Pooh engaged in a dance battle featuring moves popularized throughout the years.
The two started with Los Del Rio's "La Macarena."
Maja danced the original version of the '90s hit, while Pooh did the dance steps to the tune of Freddie Aguilar's "Magdalena" in remix version.
Maja moved on to the next hit, "Juicy Wiggle" by Redfoo. She said it was a popular song for the millennials of today, and proceeded to move her flexible body to the upbeat song.
Pooh then countered with an intro of "Juicy Wiggle" which segued to an earlier but equally popular dance song, Jason Derulo and Snoop Dogg's "Wiggle Wiggle Wiggle."
After Pooh's turn, Maja quipped, "Ano ba 'yan, ang baho! Nautot siya. Kinain mo pa naman tatlong itlog kanina sa breakfast. 'Yan yun, e."
Pooh retorted, "Uy hindi, walang amoy 'yan. Sa 'yo juicy wiggle lang. Sa 'kin, wiggle, wiggle, wiggle, wiggle. May Bisaya pa nga niyan, 'Ang imong kamot ibutang sa lubot.'"
The Cebuano sentence roughly translates to, "Put your hand in your butt."
In 2014, a Bisaya version of "Wiggle Wiggle" came out with a similar lyric.

Pooh cracked another joke that brought to mind former ABS-CBN host Willie Revillame.
"Meron si Willie 'Giling Giling,'" said Pooh as he gyrated his hips.

It will be recalled that Willie released his album Giling Giling under Star Records in 2008.
Maja and Pooh continued their battle with the 2015 craze "Watch Me (Whip/Nae Nae)" by Silénto.
The 29-year-old actress gave an all-out dance performance, ending it with a hair flip.
Pooh countered it with a sidesplitting dance move featuring the creepy chant, "May uwi si nanay, si nanay sa bahay," from the horror movie Feng Shui (2004).
The duo saved the best for last, with Maja gyrating to the 2014 dance hit "Twerk it Like Miley" by Brandon Beal.
Pooh then tried the dance move, but Maja ribbed him that his steps looked like the "Nae Nae" dance move.
She dared, "Tapatan mo yung 'Twerk it Like Miley.'"
The stand up comedian rose to the challenge and responded with the mega hit "Baby Shark Dance" from the Pinkfong children's app.
In the end, Pooh conceded to Maja for being the true Dance Princess.
Watch the video below.