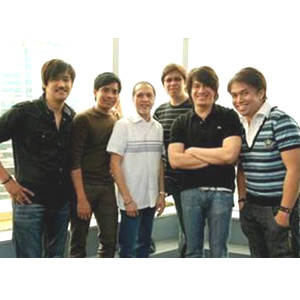 ---

In the '90s, the music of Side A was ubiquitous. Who can forget how "Forevermore" served as the soundtrack to countless marital unions, or how "Until Then" mirrored just how legions of lovelorn folks felt?

During Side A's heyday in the mid-90s, the band received a number of music awards, among them "Song of the Year" at the 1995 Awit Awards for "Forevermore" and Best Ballad Recording and Best Performance by a Group at the 1993 Awit Awards for "So Many Questions." Side A has sold over a million albums in total, their records reaching the platinum mark many times over.

Timeless hits like "Will I Ever," "Hold On," "All I Need," "So Many Questions," and "Tell Me" bear those passionate lyrics and gently cresting melodies that have become the trademark of the band, making them one of the most loved groups in OPM.

No wonder Side A was greatly missed when they took a long hiatus from the recording studio. Joey Generoso continues to be active in the entertainment scene since he has appeared several times in concerts and the GMA-7 reality singing competition Celebrity Duets.

The band kept up appearances in bars here and abroad, consistently putting on great shows, but fans have missed the pleading romanticism that a new original Side A tune invariably awakens in its listeners.

Now Side A is back with a new lineup, a new record label, and a new original song that reminds us just what endeared the band to us in the first place.

Lead vocalist and acoustic guitarist Joey Generoso, keyboardist Naldy Gonzalez, and drummer Ernie Severino are still around to weave romance into Side A anthems. Newcomers Leevon Cailao on lead guitars and bass guitarist Ned Esguerra have come on board, adding a new vitality to the band's music.

The band is now signed to MCA Music, the local arm of the Universal Music Group and one of the largest companies in the recording industry. Side A now counts itself among MCA's eclectic roster of artists, which includes Richard Poon, Julianne, Miguel Escueta, Zoo, Pedicab, Cambio, and Chicosci.

"Die Just a Little," a soaring ode about love lost, is Side A's first original track in six years. The song holds much of the same unabashed sentimentality of Side A hits of the last decade. But the band keeps up with the times by releasing "Die Just a Little" as an exclusive digital single, which fans can download through Fliptunes (www.fliptunes.net), the country's leading online digital music retailer and on mobile phones through www.mp3tone.ph via WAP.

The year 2008 holds a lot of firsts for the band: first original song in six years, first digital single, first release with the new lineup, and first record under MCA Music. But one thing that remains constant in spite of all these changes is Side A's ability to soothe a longing spirit with a heartfelt song.

"Die Just A Little," the new digital exclusive single of Side A is brought to you by MCA Music. To download the single on your mobile, visit www.mp3tone.ph via WAP on your cellphones. For online download, visit www.fliptunes.net/sidea.
ADVERTISEMENT - CONTINUE READING BELOW