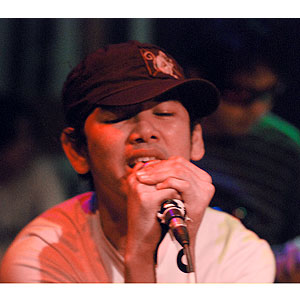 ---

Power pop band Cover Me Quick/! has justreleased a new single off the album Mga Kantang Galing Sa Loob Ng Kwarto Ko(Viva Records) with a live video shoot at 6 Underground in Ortigas Center,Pasig City.
The four-piece group launched a differentversion of the song "Ang Huling Kantang Gagawin Ko Para Sa 'Yo," apart from thefull-band version on the album. Karl Vito Cruz of Neruda played keyboards inthe stripped-down version.
"The idea of this is to present the song in astripped-down version, a la MTV Unplugged, which we watched a lot duringthe formative years of cmq/!. We have always been playing it live, withErikson [new member on guitars], but we never tried it this stripped down,"says BoX, the vocalist of the band and guitarist.
The set, which comprised two parts: anacoustic and a live one, was done in front of an audience, composed of friends,families, and core fans of the group.
The two-song acoustic set was completed by aremake of their first single, "Gabi Ng Prom," performed using both an acousticand an electric guitar. The band is quick to note that this is almost exactlyhow it was recorded in the studio.
"Normally, we do it with two electricguitars, live, with BoX on crunch distortion. This version is closer to ouroriginal recording," says bassist Ernie.
Erikson, the 20-year-old new addition to thegroup, says he was the most excited to do the gig since he's been with thegroup both as a roadie and then as the fourth member for sometime now.
"Iba kasi 'yung experience on stage withthem. I get to impart what I feel into the songs, kasi gano'n ang gusto nila,equal opportunity in arranging, even in composing songs," says Erikson, the newguitarist of the group.
BoX announces that Erikson is working on asong for the band's new album. Titled "Drama," BoX says it is one of the bestsongs the band is currently recording at Wombworks Studio in Marikina, whichthe band tags as its "mother ship."
ADVERTISEMENT - CONTINUE READING BELOW
"We feel at home recording at Wombworks,especially since the best producer in the world, Patrick Tirano, is in thestudio with us. We don't think this new album would have come out as good as ithas without his help. The songs we're including in the next album also soundsuperb! So we're really excited with those, too," says Mark, or "Eco" as he nowprefers to be called. Eco is the band's drummer.
The second part of the set was highlighted by songs that may be theband's next singles off the current album and new songs that the audience justheard for the first time. Noteworthy is the band's version of Sharon Cuneta's"Bituing Walang Ningning," which BoX described as being "power-popped."


Visit www.covermequick.com, formore info on the band, or contact 0915-3440808 for inquiries.