Filipino fans were thrilled upon the arrival of South Korean girl group Momoland in the Philippines.
The nine-member idol group had an exclusive performance for Solaire Rewards members on Saturday night, August 18, at Solaire Resort and Casino in Parañaque City.
Seven out of the nine members visited Manila: (L-R) Jane, Jooe, Ahin, Hyebin, Nancy, Daisy, and Taeha. The two members who weren't able to join them are Nayun and Yeonwoo.
PEP.ph (Philippine Entertainment Portal) and select members of the press interviewed the girl group during their Facebook Live interview held in Bonifacio Global City last Friday, August 17.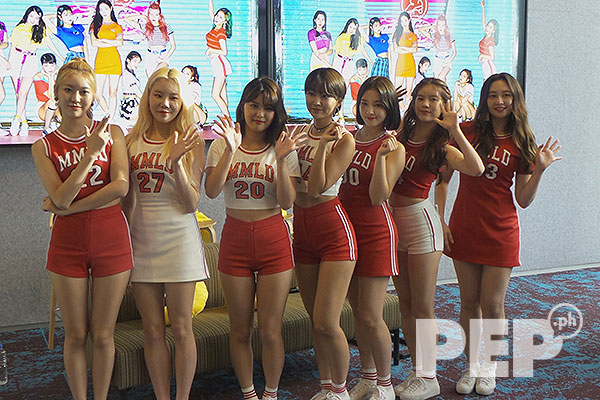 The members expressed how excited they were to finally arrive in the Philippines and meet their Pinoy fans.
Nancy said, "A lot of Filipino fans always send us so much love so we really wanted to come here and see how they really act in person.
"Since we saw that, it was so amazing and we're stunned about it."
At least 50% of likes on their official Facebook page come from the Phililippines. At press time, their FB page now has over 500,000 likes.
BBOOM BBOOM PRESSURE
Members of the press asked Momoland about their music during the Q&A portion of the program.
The group was asked if they felt any pressure upon releasing their follow up single titled "Baam" after the massive success of their song "Bboom Bboom." Both songs were released this 2018.
Hyebin answered, "We were kinda pressured after 'Boom Boom' because we didn't know that it would receive so much love.
"But the fact that we are going to enjoy [performing] is the most important thing.
"So while they're preparing as band, they were just telling themselves to enjoy the moment that they're doing."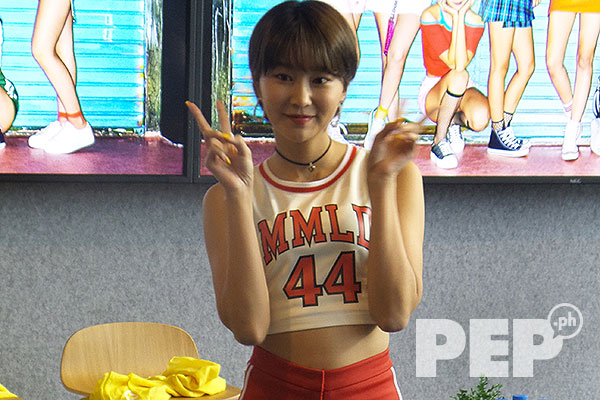 Their music video for "Baam" also made headlines in the Philippines when they included elements from Filipino culture as a tribute to their Pinoy fans.
Nancy recalled wearing a traditional Filipino costume and said, "We wore the clothing, the traditional clothing in our music video and actually wore it on one stage on a music program and that was really cool.
"It's beautiful and very comfy."
When asked what kind of artists they aspire to be in the next five years, Hyebin hopes that they'll be remembered as a group that spreads positive vibes.
She told the press, "I hope that Momoland will give good energy to people who listen to our music and who watch our performance.
"And a group that people would like to see... like miss them when they're not there."
ON FILIPINO CELEBRITIES
Nancy is practically the most famous member of the girl group because of her uncanny resemblance with ABS-CBN actress Liza Soberano.
The 18-year-old Korean-American singer admits that she's overwhelmed by the support she's getting from Filipino fans.
"Actually, it's really cool and... I'm actually shy about it.
"But I thank you guys so much that you have a lot of interest in me and my team."
She promised, "I'll just try to show you good things about me, good sides about me, and how I can work well."
Nancy was also asked how she felt when fans pointed out her resemblance to Liza.
She narrated, "Actually, I saw on Facebook and Twitter that a lot of fans said that I look like Liza.
"So I actually searched her pictures and she looked so gorgeous so I'm really honored for you guys to think about that so thank you."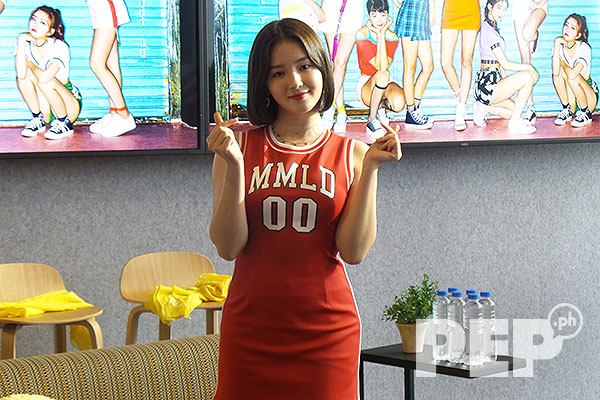 Nancy also shared her thoughts upon meeting boxing champ/politician Sen. Manny Pacquiao.
The group met the Pacquiao family including Senator Manny's wife, Jinkee Pacquiao, upon their arrival last Thursday, August 16.
"He was so nice and so cool. We got to see him in person."
EXPLORING PHILIPPINES
This is the first time the group arrived in the Philippines to perform.
Some of the members have already visited the country in the past.
The others, however, expressed their desire to visit some of the country's beaches, including Boracay and Cebu.
Daisy said, "We know that the Philippines has a lot of islands.
"We don't really get the chance to see the ocean and water...
"And we really enjoying going to the beach, if we get the chance I think it would be very lovely if we could visit a beach in the Philippines.
"That would be awesome."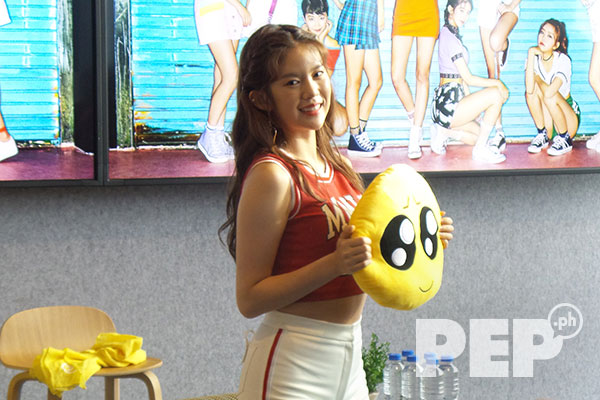 Ahin echoed Daisy's thoughts and added, "We don't really have that much time spent outside so...
"Actually, when we come to other country, we want to go out and see the seaside and like surf and actually do some activities."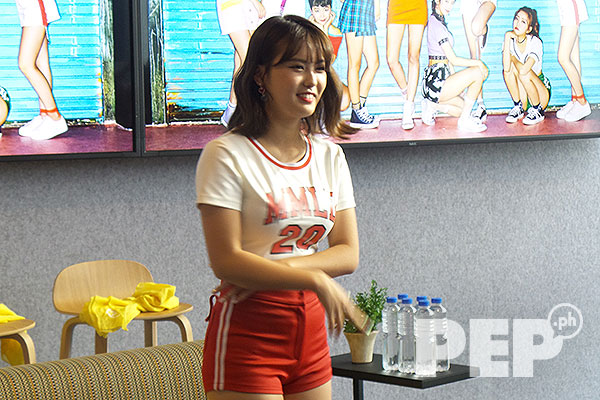 Hyebin recalled her visit in Boracay and said, "I actually went to Boracay before but now I know that it's closed but it's opening this year so I want to go there with all of our members."
For her part, Nancy recalled her visit to Bonito Island in Batangas before she became an official member of Momoland.
She recalled, "I've been to the Philippines before and I went to a small island called Bonito Island.
"And that was my first experience here and that was so great.
"I got to do like scuba diving and fishing. I got to eat a lot of mango and pineapple.
"I'd like to experience that again."
Jooe, who spent her 19th birthday in the Philippines, hopes to explore the streets of the country.
She said, "I want to walk the streets where it really feels like it's the Philippines."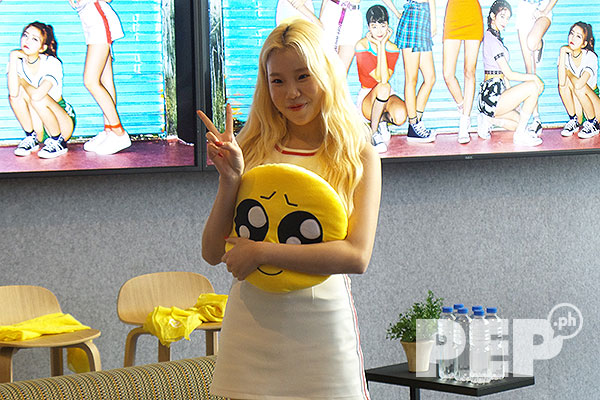 When asked if they have tried Filipino food, Hyebin answered, "We haven't tried Filipino food yet but we really want to try adobo 'cause we heard a bit [about it]. And I also want to try balut."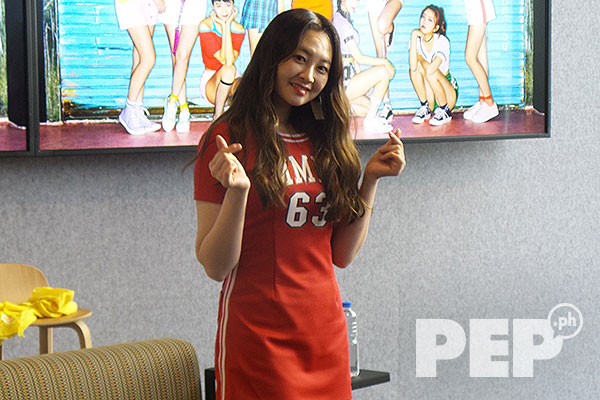 Momoland hopes to return to the Philippines and meet more of their Filipino Maries (Mary is their official fanclub name).
Daisy said, "It's unfortunate that we can not see all of you guys but we promise to come back again and we want to meet more of you and come closer to you guys.
"So don't be too sad about that because we really want to see each and everyone of you.
"And thank you for all the love and support to us. It really means a lot to us.
"I see it on Twitter, the gatherings that you have to celebrate our birthdays like among yourselves.
That's very thoughtful. Thank you so much."