A lot has changed since Jessica Sanchez became the American Idol finalist that Filipinos rooted for in 2012.
Now 23 years old, the Filipino/Mexican/American singer is much taller, sporting a red hairdo, and she can now do her own makeup.
Her upcoming concert, with Martin Nievera as guest, on November 10, 2018 at The Theatre at Solaire, will show that she has become a versatile performer.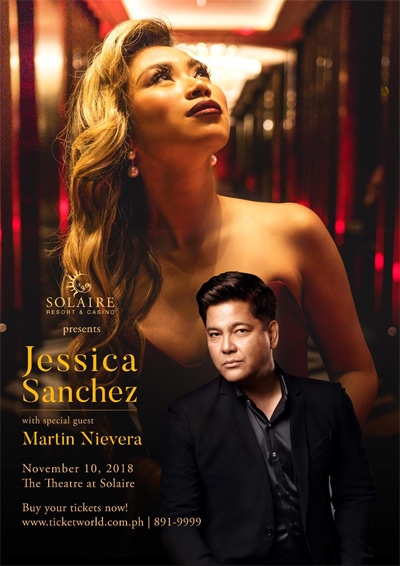 During her virtual presscon at Solaire Resort's Red Lantern restaurant, she said her repertoire will have a "mix of everything," and "won't be strictly like all originals, all ballads and love songs…"
There will be "songs I want to dance to," plus, of course, "a couple of Filipino songs."
And though she has yet to "improve her Tagalog," she will—without a doubt—leave her Pinoy audience spellbound.
Here's her beautiful rendition of "Ikaw" in February 2013.
Is she going to include the songs that made her an Idol favorite?
She answered "yes," without divulging the titles.
Is she going to be part of Idol Philippines?
In her reply to PEP.ph (Philippine Entertainment Portal) through talent manager Carlo Orosa, she said, "I haven't been told anything about being a part of Idol, but I would love to be a part of Idol if I was invited.
"I had such an amazing experience during my season on idol and it would be great to experience that feeling again."
IDOL DAYS
Looking back, Jessica considered her stint on the American TV singing competition a "huge experience."
She added, "It was crazy…There was so much going on. I was 16 years old…"
Her routine was "learning songs every day, learning arrangements every day," and after each round, "I would cry because was like super grateful. Every single round, from the beginning up to the finale, I cried."
Her most unforgettable moment was when Jennifer Lopez—together with fellow judges Randy Jackson and Steven Tyler—went up the stage while Jessica was singing her "elimination" song, Deborah Cox's "Nobody's Supposed To Be Here."
Fifteen seconds into her performance, Jessica heard J.Lo say, "Yes, we're using the save! You're not going home. Go sit down! Go sit down!"
Recalling her reaction, she said, "What is happening? Oh me? Me? You wanna save me? Because there was only one save. Me? 16-year-old Jessica?"
Meanwhile, Jessica's "And I'm Telling You I'm Not Going" duet with the song's original singer Jennifer Holiday was also one for the books, and received a standing ovation from the judges.
Initially, she then thought (and wished) that she would be sharing the stage with Beyoncé.
But, "Lo and behold, it was Jennifer Holiday," whom she described as "so sweet."
And believe it or not, "During that performance, I lost my voice. I couldn't sing before my turn on stage.
"[I was praying] Jesus, please…I have no voice right now. It came through. It was a miracle."
HOMECOMING
Her upcoming concert is going to be a reunion of sorts.
Definitely, she will be seeing her lola and relatives (maternal side), who are mostly based in Bataan.
She quipped, "My family is going to be there as soon as I land. Even if I don't tell them, they get to find out.
"As soon as I get there, they will be there."
Most of all, she will be performing again for her Filipino fans, who have been "amazing" and who—to this day—believe that Jessica was the rightful idol of Season 11.
For tickets, click this LINK.