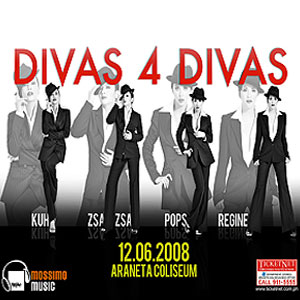 ---

A dream concert (which took nearly five years to plan) isfinally happening! The presence of four top female singers in the musicindustry promises to make Divas 4 Divas one of the most historicproductions in the local concert scene.
The date is December 6 andthe venue is the Araneta Coliseum. The country's top divas: Kuh Ledesma, Zsa Zsa Padilla, Pops Fernandezand Regine Velasquez will be together on the same stage for Divas 4 Divas, the first timethat all four of them will perform in one concert.
In time for the 20th anniversarycelebration of the Music Museum, this concert aims to remind people aboutsignificant role that the venue played in the respective careers of theperformers. Through the years, the Music Museum has achieved what Kuh andpresent owner Precy Florentino had envisioned it for: to become a venue ofchoice for local artists.
All but one of the four divas haspassed the 25th year mark (Regine has been in the business for 20 years) andthey have all been blessed with Gold and Platinum record awards, internationalrecognition, successful concerts and the respect of their peers and fans alike.
ADVERTISEMENT - CONTINUE READING BELOW
Original diva Kuh Ledesmahas done more than 300 concerts and released about 18 albums. She started outin the late '70s as the vocalist of the Music and Magic, which also included Fedelos Reyes, Angeli Pangilinan (now Valencio) and Jet Montelibano. Even as asolo artist, Kuh continued to shine. In 1981, the Philippine Movie Press Club(PMPC) named her Singer of the Year. The following year, 1982, she grabbed thathonor again, and added more: an Entertainer of the Year award from the AliwAwards Foundation. Her musical specials, like Kuh: By Special Arrangement (1987) also won notice from theCatholic Mass Media Awards and the Guillermo Mendoza Memorial Foundation. In1999, the National Centennial Commission recognized Kuh's outstanding effortsand talent by conferring on her the NatatangingGawad Sentenaryo as Most Outstanding Filipino.
As an actress, Kuh also made hermark in the films like Oro, Plata, Mataand the international production, ADangerous Life.
Even today, she continues to be apowerhouse in local music, and one of the most innovative, trend-settingartists in the business.
ADVERTISEMENT - CONTINUE READING BELOW
Divine Diva Zsa Zsa Padilla is an actress, TV host,recording artist and concert performer. Like Kuh, she started her career aspart of a band--in this case, Hotdog--then later went solo. Some of Zsa Zsa'sbiggest hits include Ikaw Lamang, Hiram,Kahit Na and Point of no Return.A truly gifted singer with one of the most beautiful soaring voices in town,Zsa Zsa is also a talented actress with several acting awards to her credit.These include a Best Supporting Actress trophy for Minsan Lang Kita Iibigin(1994), and Best Actress Trophies from the Gawad Urian, Film Academy of thePhilippines and the STAR Awards for Movies for her role in Batang PX (1998). Her most recent acting triumph was in 2006's Ako Legal Wife. Renowned for her beauty,Zsa Zsa is a loving partner to the King of Comedy Dolphy.


And who wouldn't know the ConcertQueen, Pops Fernandez? People practically grew up with her as sheblossomed from being an unsure teenager to the beautiful, poised and confidentconcert performer and recording star that she is today. Pops started at age 16,and within years of her debut, Pops proved that she was a talent to reckonwith. In 1999, she was chosen as Best Female Musical Variety Show Host in theKBP Golden Dove Awards. Gifted with a talent for reinventing herself, Popslaunched her own clothing line called Pipay and even accepted the offer to posefor the men's magazine FHM as the cover girl of the August 2006 issue.She has done 15 albums, which have received Gold and Platinum recognition.Musically, she continues to dazzle audiences here and all over the world withher talent, making her truly the country's undisputed Concert Queen.
ADVERTISEMENT - CONTINUE READING BELOW
Regine Velasquez, dubbed as Asia's Songbird, was thefirst Filipino to stage a solo concert at the Main Hall of Carnegie Hall, aspart of Carnegie Hall's centennial-year concert series. Her album, Listenwithout Prejudice, achieved platinum certification in several countries. In2000, she performed the country's millennial theme, televised in 55 broadcastnetworks throughout the world. Regine has collaborated with variousinternational artists, including Paul Anka, Michel Legrand, Mandu Moore, DavidPomeranz, and Bryan McKnight.

She also proved that she is a talented actress when she received a Best ActressAward for her portrayal of a mentally challenged woman in Maalaala Mo Kaya.Earlier this year, she hosted the musical show Songbird on her homenetwork GMA-7 and became the lead star in the Philippine version of Kim SamSoon. Regine also formed IndiMusic (iMusic), a record label partnered withthe late Bella Tan's Universal Records.
With these talented singers onone stage, fabulous costumes, impressive sets, mood enhancing lights, andincredible production numbers, Divas 4Divas is one concert that is sure to delight audiences. Helping the ladiesout is Louie Ocampo, their musical director.
ADVERTISEMENT - CONTINUE READING BELOW
After the Big Dome, the show willgo on tour in the U.S. in March and May 2009.
Tickets to Divas 4 Divas are available atMusic Museum (7210635 and 7216726) Headline Concepts (551-7253 and 551-7255)and Ticketnet (911-5555).