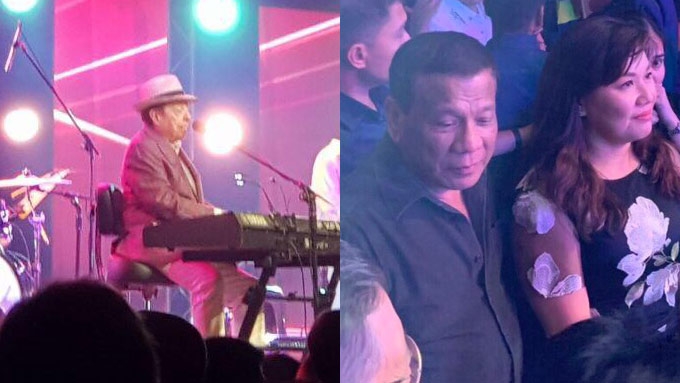 ---

Brazilian legend Sergio Mendes may not be aware of Filipinos' obsession with "hugot" lines. But he must have sensed it by saying we are as romantic as his compatriots.
During his A Valentine's Concert held at Solaire Resort and Casino's Grand Ballroom, he informed Pinoys of his assessment not once but twice.
"The Brazilian people and Filipino people are similar because they are both very romantic," he declared, "The Brazilians like to dance and to romance like Filipinos."
On the day of hearts, a packed crowd of mostly Baby Boomers filled the venue while Sergio and his band filled the posh venue with live music.
RETURN OF AN ICON
The 78-year-old musician from Rio De Janeiro is significantly associated with mixing bossa nova with the feel of jazz and funk, with the result accessible to mainstream audiences around the world.
First visiting the country in 1972, Mendes expressed his thrill of being able to perform in front of Filipinos once more. He exclaimed, "What a pleasure to be back in the Philippines! I'm happy to be here."
ADVERTISEMENT - CONTINUE READING BELOW
One of the world's most respected musicians in terms of authenticity to his motherland's culture and vibe, the iconic septuagerian and his back-up band composed of charming vocalists and gifted instrumentalists entertained the audience with an hour-long show not lacking in remarkable tunes, including his group's delightful cover of the Beatles classic "The Fool On The Hill."
JOBIM'S FRIEND
To introduce "Girl From Ipanema," Mendes said something that linked his act to the growth of Brazilian music: "This song became a big wave all over the world and it is written by my dear friend Antonio Carlos Jobim."
Yes, a name as historically important as Jobim belongs in his inner circle.
Of course, the tracks "The Look of Love" and "Mas Que Nada" couldn't be missed, especially with the latter's unforgettably singable "Oaria Raio/ Oba Oba Oba" line that fittingly served as encore.
THAT '80s GEM
ADVERTISEMENT - CONTINUE READING BELOW
In between the hits and interestingly obscure, yet still-engaging tracks are the solo spots for instrumentalists. The band's percussionist simply introduced as Jimmy wowed the crowd with his uncanny ability to produce delightful rhythmic beats with his mere fingertips.
Mendes knows to tickle an anticipating audience, stating, "This one's been playing here for many years," before launching "Never Gonna Let You Go." It is the one track in the night's repertoire suggesting that the Sergio Mendes brand could deliver a ballad pop gem. "Sure you remember this," he added.
The other '80s classic attributed to Mendes, "What Do We Mean To Each Other," was not performed.
FAN FROM MALACANANG
"Magandang gabi! Salamat po!" Mendes greeted the crowd, eliciting loud applause.
In relation to his romantic view of Pinoys, the compliment was reciprocated when he was deliriously cheered upon introducing one of the lady vocalists, Gracinha Leporace, as his wife. Romance was certainly in the air that night, off and on stage.
ADVERTISEMENT - CONTINUE READING BELOW
While Sergio Mendes was clearly the occasion's main star, someone in the audience abruptly stole attention as he entered the ballroom to watch the show.

Obviously a Mendes fan, the 73-year-old Philippine president Rodrigo Duterte suddenly got escorted into the room with his partner Honeylet Avanceña.
Well, in line with the romantic atmosphere, we may say the country's beloved boy from Mindanao won the heart of the girl from Ipanema right at that moment.