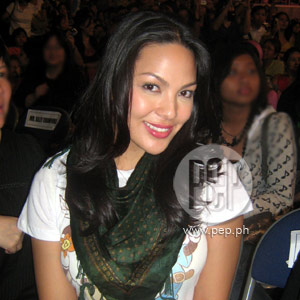 ---

KC Concepcion thought that she would just perform her newestsingle "Doo Be Doo" for the audience of Wowowee earlier today, November15. However, she was surprised when she was given a Platinum Record Award forher album a.k.a. Cassandra.
After singing and dancing to the tune of "Doo Be Doo," KCsaid thank you to all the fans who helped her album reach the Gold Record mark.But then Wowowee host Mariel Rodriguez corrected her and said that heralbum is not only Gold but is already certified Platinum.
Narciso Chan, Sony BMG's sales and marketing director, thencame out to give the Platinum Record Award to KC.

Just last October, KC's album reached the Gold Record mark and she received theaward during an episode of ASAP '08. (Click HERE to read related article.)
The 11-track album
a.k.a. Cassandra
is available inrecord bars nationwide courtesy of Sony BMG Music.