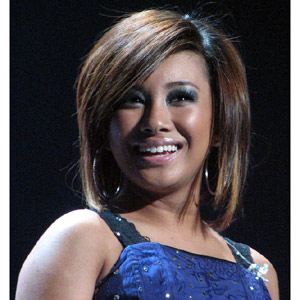 ---

Filipinos avidly watched American Idol Season 7 tomonitor the progress of the 20-year-old singer RamieleMalubay. Being the seventh Fil-Am to enter the Top 24 of American Idol,she earned the support of her kababayans but she wascut from the competition last April 2008.

Ramiele was born in Saudi Arabia toFilipino parents but she grew up in Miramar, Florida. Her father is RogerMalubay, a native of Polilio, Quezon province, while her mother is AliciaMacrowon, who worked in Saudi Arabia. When Ramiele arrives in the Philippineson December 12, she plans to visit Polilio and be familiar with her father'shometown.

The AI finalist used to sing as the front act of performers such as Kuh Ledesmaand Martin Nievera during American tours but this time, she will topbill theconcert dubbed as The IdolExperience: Ogie Sings with the Idols.

The two-night concert will take place at theAliw Theater in Pasay City on December 20 and 21. Three-time Aliw Awards'Entertainer of the Year and Hall of Famer Ogie Alcasid joins forces withRamiele, alongside the first Pinoy Idolsinging stars, and indie rock outfit Menaya in this groundbreaking concert.

How does Ogie feel about performing with American Idol finalist Ramiele?"I heard her recording and I think she is a very clean singer. Although R&Bang genre niya, magaling siya sa mga pop ballads, which is very Pinoy na Pinoy.I'm excited to meet her."


ADVERTISEMENT - CONTINUE READING BELOW
This is the first time that a concert will feature one of the country'spop icons together with the different singing champions. The concert will alsoserve as Ramiele's homecoming, and a reunion for Pinoy Idol winner Gretchen Espina and the 11 finalists.The producers are also in the process of finalizing the details so that AI Season 7 finalist Danny Noriega will be able to join Ramiele when she arrives here for the concert.


Ogie Sings with the Idols is being produced by a new production company called TheUnderGroundStudio, Inc (TUGS) under the supervision of Brian Sombero, vocalist/ guitaristof Menaya. The idea of bringing together the Pinoy and American Idols came about when Brian noticed that a lotof Filipino-Americans around the world are hurdling through tough auditions,and making it to the top slots.


The concept of the concert only materialized when GMA-7 got thefranchise for Pinoy Idol. As the showwas simultaneously running with AmericanIdol, another Filipino-American in the guise of Ramiele managed toreach top nine in its seventh season. "Ramiele's father is a close friendof my dad," Brian explains. "I asked him to accompany me to Miami,Florida to discuss and formalize the plan with Ramiele's dad. And since Ogie isa certified idol himself and a good friend of ours, I thought of putting all ofthem together in one show dubbed as The Idol Experience."

ADVERTISEMENT - CONTINUE READING BELOW

The concert's repertoire will revolve around a uniting theme but Brianrefuses to reveal what the audience would be treated with at this point. WithMarc Lopez as the musical director and Rowell Santiago as the overall director,it is enough to say that there will be several highly entertaining andinnovative musical arrangements customized for the depth and range of theperformers.

ADVERTISEMENT - CONTINUE READING BELOW
Brace yourselves for the Idol Experience!Catch your favorite Idols perform a great variety of music as they close theyear with a bang. Tickets are priced at P10,000 (already sold out), P3000,P2400, P1400, and P650. For more information, call Ticketworld at 891-9999 orTicketnet at 911-5555 or TheUnderGround Studio at 376-2732.