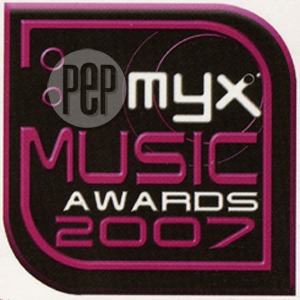 ---
The MYX music channel honors the hottest hit makers of 2006during the 2nd MYX Music Awards, which will be held tonight, March 15, at theAFP Theater, Camp Aguinaldo, Quezon City.
First launched in June 2006, the MYX Music Awards is known for its exciting categories,quirky celebrity presenters and awesome production numbers.
Now on its second year, the MYX Music Awards promises astar-studded event with the likes of Christian Bautista, Erik Santos, Hale,Nina, Sarah Geronimo, and 6cyclemind facing off against veteran performers likeGary V., Francis M., Michael V., Parokya ni Edgar, Rivermaya, and Regine Velasquez.
Meanwhile, get to see Gretchen Barretto, Chin-ChinGutierrez, Piolo Pascual, Rica Peralejo, and Optical Media Board chairman EduManzano vie for the "Favorite Guest Appearance in a Music Video"award. Meanwhile, the MYX VJs compete for the "Favorite MYX CelebrityVJ" title.
After being bestowed on the Megastar Sharon Cuneta lastyear, the prestigious MYX Magna Award will be presented to the trio APO HikingSociety for their outstanding contribution to OPM. The trio's music wasintroduced to a whole new generation in 2006 via the all-star tribute Kami nAPOMuna, which was the year's biggest-selling album.
Leading the contenders for the 2007 MYX Music Awards is rockgroup Kamikazee, which earned a whopping 12 nods, including double nominations inthe major categories Favorite Song and Favorite Video. The breakout band istrailed by Sponge Cola and Sandwich, which received six nominations each.
Here are the MYX Music Awards 2007 nominees:
Favorite Music Video: 1) Martyr Nyebera by Kamikazee; 2)Bitiw, Sponge Cola; 3) Sugod, Sandwich; 4) Invincible, Christian Bautista; 5)Doo Bidoo, Kamikazee.
Favorite Song: 6) Narda by Kamikazee; 7) Bitiw, Sponge Cola;8) Sugod, Sandwich; 9) Doo Bidoo, Kamikazee; 10) Stars, Callalily.
ADVERTISEMENT - CONTINUE READING BELOW
Favorite Artist: 11) Kamikazee; 12) Sponge Cola; 13)Sandwich; 14) Hale; 15) Imago.
Favorite Rock Video: 16) Bitiw by Sponge Cola; 17) Sugod,Sandwich; 18) Doo Bidoo, Kamikazee; 19) Waltz, Hale; 20) The Ordertaker,Parokya ni Edgar.
Favorite Urban Video: 21) I Do by Nina; 22) Solid, Pikaso;23) Manila, Amber; 24) Igalaw Mo Lang, Dcoy and RP; 25) 6indamorning, Dice andK9 Mobbstarr.
Favorite Mellow Video: 26) I Still Believe in Loving You bySarah Geronimo; 27) Dahil Ikaw, True Faith; 28) Invincible, Christian Bautista;29) Someday, Nina; 30) You Give Me Reason, Gary V.
Favorite Remake: 31) Doo Bidoo by Kamikazee; 32)Nakapagtataka, Sponge Cola; 33) Your Love, Erik Santos; 34) Panalangin,Moonstar 88; 35) Yakap Sa Dilim, Orange & Lemons.
Favorite Male Artist: 36) Christian Bautista; 37) ErikSantos; 38) Gary V; 39) Michael V; 40) Sam Milby.
Favorite Female Artist: 41) Sarah Geronimo; 42) Rachelle AnnGo; 43) Nina; 44) Sitti; 45) Toni Gonzaga.
Favorite Group: 46) Kamikazee; 47) Sponge Cola; 48)Sandwich; 49) Hale; 50) 6Cyclemind.
Favorite Indie Artist: 51) Kjwan; 52) Queso; 53) Up DharmaDown; 54) Dongabay; 55) Mayonnaise.
Favorite Media Soundtrack: 56) Dahil Ikaw by True Faith forSa Piling Mo; 57) Isang Bandila by Rivermaya for Bandila; 58) Nakakabaliw byBarbie Almalbis and Pupil for Juicy Fruit Rockoustic Mania; 59) First Day Highby Kamikazee for Rexona, First Day High the Movie; 60) Super Noypi by Sandwichfor Supernoypi.
Favorite New Artist: 61) Callalily; 62) Kala; 63) Hilera;64) Toni Gonzaga; 65) Yeng Constantino.
Favorite Collaboration: 66) Bakit Ba Iniibig Ka by ErikSantos and Regine Velasquez; 67) The Ordertaker, Parokya ni Edgar andKamikazee; 68) Hindi Ko Na Kayang Masaktan Pa, Ogie Alcasid and RegineVelasquez; 69) Superproxy 2k6, Francis M and Ely Buendia; 70) Umaasa,6Cyclemind and Francis M.
Favorite MYX Live Performance: 71) Apo Hiking Society; 72)Christian Bautista; 73) Kjwan; 74) Slapshock; 75) Dongabay.
Favorite Guest Appearance in a Music Video: 76) RicaPeralejo for Martyr Nyebera by Kamikazee; 77) Piolo Pascual for We Belong byToni Gonzaga; 78) Gretchen Barretto for Minamahal Kita by Ogie Alcasid; 79) EduManzano for DVDX by Sandwich; 80) Chin-Chin Gutierrez for Pintura by Kjwan.
ADVERTISEMENT - CONTINUE READING BELOW
Favorite International Music Video: 81) Buttons by PussycatDolls; 82) Welcome to the Black Parade, My Chemical Romance; 83) Bebot, TheBlack Eyed Peas; 84) Breaking Free, Nikki Gil, Vince Chong and Alicia Pan; 85)Sexy Back, Justin Timberlake.
Favorite MYX Celebrity VJ: 86) Michael V; 87) Gary V; 88)Jojo A; 89) Maverick & Ariel; 90) Kamikazee.