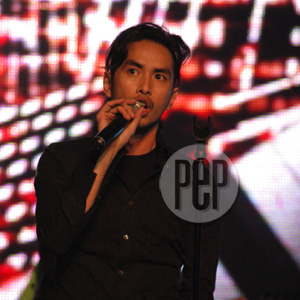 ---
"So here itis, our first full-length studio album that contains mostly compositions fromoutside the band, but from within our hearts," says Rico Blanco of Rivermayaabout their album titled Isang Ugat,Isang Dugo. "It's a projectthat has so far been one of the most exciting, humbling and fulfilling we haveundertaken. We didn't deliberate about what we'd eventually accomplish. We werejust fans rocking out to our favorite songs."
Released byViva Records, the must-have musical collection has quietly gone platinumstrictly through word-of-mouth buzz.
This album celebrates what many say was the golden age ofPinoy Rock and features some of the most precious Pinoy alternative gems fromMally Andres, Joey Ayala, Bobby Balingit, Ronniel Francisco, Binky Lampano,Leni Llapitan, RJ Oca, Chickoy Pura and Rhany Torres. It's a collection ofstunning songs—from a time when Rivermaya itself "was just discovering thepower of creating music, from artists that made us dream to start our ownband," explains Rico.
"The ideastarted a couple of years back when my Dean's December "Chemical Wedding" albumwas becoming totally worn out from nearly two decades of abuse in my cassetteplayer," confides Rico on how the album got started. "So Mark, Japs, Mike, and I thought it would be a good idea forus to re-record the whole thing, just copying everything note for note. Weweren't going to release it, we just wanted to do it for ourselves."
On how thesongs were chosen, Rico says: " We wanted to do even more tracks from thatperiod, but ran out of time. Besides, the sheer volume of great work thatflourished then makes it impossible for any one band, much less one album, tocover everything."
Featured on the IsangUgat, Isang Dugo album are thesongs "Golden Boy" by Ethnic Faces, "Things Are Getting Complicated" and"Healing" by Dean's December, "Tupperware Party" and "Never The Bright Lights"by Violent Playground, "Ilog" and "Padayon" by Joey Ayala, "My Sanctuary" and"Sumigaw, Umawit Ka" by Identity Crisis, "Things Within" by Silos, "RomanticKill" by The Jerks, and "Inosente Lang Ang Nagtataka" by the Wuds, as well asthe anthemic "Isang Bandila" created by Rico Blanco and Rivermaya.
ADVERTISEMENT - CONTINUE READING BELOW
Rivermaya's 13-track album released by Viva Records is nowavailable in record bars nationwide.