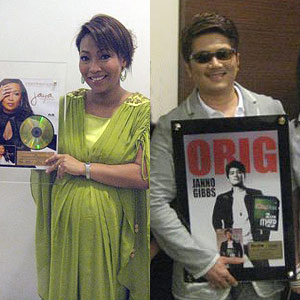 ---
Janno Gibbs and Jaya, better known as the country's King and Queen of Soul, have both been recently awarded for the excellent sales of their respective albums, Orig and Cool Change.

Janno's all-original 11-track album, aptly called Orig, earned him a "Special Digital Sales Award" for topping Wellcom's list of best-selling digital albums for the past several months. Orig features his hit singles, "Igiling" and "Haven't Stopped Loving You," as well as the popular TV theme songs of Codename: Asero and Gagambino.

Jaya, on the other hand, earned a Gold Record Award for the outstanding sales of her album Cool Change. The album, which marks her return to the recording scene since 2007, includes hits such as "Is It Over," "Just Once," and "Through The Fire."

She has recently released a new album titled Real.Love.Stories, a 14-track all-revival album including the carrier single, "All My Life."

Real.Love.Stories, which comes in both CD and digital format, is now available in record bars while Orig is still out on CDs at SM Record Bars and Odyssey outlets, and on 2GB SD cards at Wellcom, Laptopzone, MP3 King and MP3 Express stores across the Philippines.

Janno Gibbs' and Jaya's albums are produced by GMA Records.

ADVERTISEMENT - CONTINUE READING BELOW