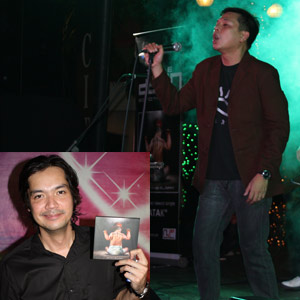 ---
Rock legend The Dawn launched theirnewest album titled Sound the Alarm last Friday, September 11,at Eastwood Central Plaza, much to the delight of welcoming fans eagerto hear fresh tunes from the veteran musicians.

It has been nearly five years since the group released an album featuringall-new material. Their last collection, Harapin, was launched back in 2004 and popularized singles such as "Tulad ng Dati" and "LagingNarito."

This year, vocalist Jett Pangan, drummer Jun Boy Leonor and bassist BuddyZabala are back in the spotlight along with a fresh face and name to grace thegroup's member line-up. In light of the recent exit of ex-guitaristFrancis Reyes, The Dawn has since added Kenneth Ilagan (formerly from TrueFaith) as the group's new guitarist, creating fresh rock infusions tosatiate the musical cravings of their fans.

Sound the Alarm is a 10-track album that offers all-newmaterial written and composed by the members themselves.


SOUND THE ALARM. With newest single, "Hatak,"the band kicked off their performance amidst smoke machines and cheers from theaudience. After short introductions of themselves, the band then played"Tulad ng Dati," followed by three tracks from the album: "As IDo," "Avenida" and title track "Sound the Alarm" aswell as a couple of The Dawn classics, "Iisang Bangka Tayo andTuloy-tuloy."

In an interview preceding the performance, vocalist Jett Pangan described theirmusic off the new album as "still very much The Dawn." He toldPEP (Philippine Entertainment Portal), "It's still loud, it's still rock,it's still melodic, but it's an infusion of different styles from Buddyand our new member, Kenneth."

The 41-year old vocalist also believed that the musical genius contributed byone of their newer members, Buddy Zabala (who joined the group as bassist in2005 after leaving The Eraserheads), has made this album quite different fromtheir past records. "That alone brings in something differentalready," he explained.

In the same interview, Jett narrated how they came up with Sound theAlarm and attributed their four-year hiatus to their busy schedules,among others. The singer told PEP, "We were busy, we had achange in members, until one day we just decided, 'Let's sit down, make analbum and finish it.'"

When asked whether they plan to do the same promotional activities for Soundthe Alarm as with Tulad ng Dati (which was madeinto a film and won Best Sound, Best Editing, and Best Picture in the 2006Cinemalaya), Jett Pangan answered with a firm NO. He explained, "We justwant this album out, we just wanna be a band again, and just promote an albumthe way bands do. Just do it light."

Sound the Alarm also boasts of the musical genius of Aries Guinto andformer Eraserheads drummer and current Sandwich frontman Raimund Marasigan asproducers.
ADVERTISEMENT - CONTINUE READING BELOW
MEET KENNETH ILAGAN. The addition of Kenneth Ilagan onguitars has been an awesome ride so far, as attested by vocalist JettPangan. He shared, "It's more fun. Makulit kasi 'to, e," referring to their newguitarist. "So, masaya, magaan," he continued. "We're serious with making ourmusic sound good everytime, but we also take time to laugh at each other, havea few beers, stuff like that."

Having been a guitaristfor the band True Faith, Kenneth is no newbie onstage. PEP asked the guitarist about his humblebeginnings with The Dawn, to which he replied, "Wala na ko sa True Faith fortwo months. Tapos si Alvin [one of the managers] called me up and told me nabaka pwede mag-audition. Nag-audition ako for one month. I was a session playerfor them. After no'n, ayun na."

Having been a huge fan ofThe Dawn even before joining the group, he also narrated his initialinteractions with the band, "Hindi nila ako kilala," he told PEP. "I [used to]always go up to them, introduce myself, [and] even though I was playing pa withother bands before, nagpapakilala ako, kasi I'm a fan 'e. Do'n nila akonakilala. Slowly, 'pag nakakasabay ko sa gig, 'ayun."

Despite being a newaddition to the group, Kenneth only has praises for his fellow members. "Mababait'yang mga yan. Very supportive," he exclaims. "Yung encouragement ng mga 'yan,grabe. Mababait 'yan, siyempre 'pag recording yung iba medyo strikto, pero atthe end of the day naman, yung music pa rin do'n nagkikita-kita," he laughs.


MESSAGE TO FANS. The Dawn has been in the music industry for a verylong time now, starting from the late '80s, and has since then attracted anumber of followers. PEP asked thegroup about their message to budding artists who want to follow in theirfootsteps.

ADVERTISEMENT - CONTINUE READING BELOW

"Just love what you do," shared vocalist Jett Pangan. "Youwill only know what you wanna do in life, if you listen to what's inside yourheart. It may sound cliché, but that's the truth," he explained. "Music as muchas it's fun... it's very unstable, sometimes you're the richest man in the world,and next, you're like, where's the gig?"


He concluded by saying,"It requires a lot of dedication and commitment but moreover, it requires love.You have to love it, because you have to love playing, whether it be a smallvenue like this or an arena, you just have to love it. You just have to livefor it."