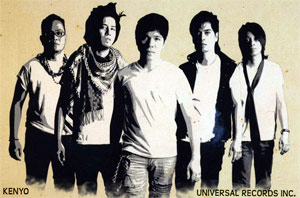 ---
Singer-songwriter Mcoy Fundales doesn'tmind being asked constantly about Orange & Lemons—the defunct pop-rock band he used to co-front with guitarist and ex-songwriting partnerClem Castro.
Neither does he care whether the publichears a similarity between the songs of his new band Kenyo and that of his former band.
"We have no issues on as how we soundedbefore as O n' L," a confident Mcoy told PEP (Philippine Entertainment Portal) ata recent interview held at Universal Records in Quezon City.
"Nagkataon lang siyempre every year welistened to new different batch of artists. Ako, particularly when I write,lumalabas na 'yong mga bago [influences], tapos traces nung dati. That's how Iwrite."
Starting from scratch after the controversialbreakup of Orange & Lemons, Mcoy—who immediately founded Kenyo togetherwith ex-bandmates Ace Del Mundo and JM Del Mundo—fondly weighed his newfound distinctionas Kenyo's sole creative force.
"With O n' L kasi I'm more of awordsmith. I contribute more on the words and konting mga melodic lines kungmay ideas ako. Right now with Kenyo, since I'm working by myself, sasongwriting aspect lahat, words and music I took charge na," he furtherexpounded.
PLAYINGOVERSEAS. Kenyo'sdebut album, Radiosurfing, launchedin 2008 paled in comparison to the success of O n' L's platinum selling discs releasedduring the band's existence.
Not that it bothered Mcoy.
While Radiosurfing earned mixed reviews from critics, the band packedtheir bags and headed overseas for a series of gigs booked under the invitationof new converts excited over Kenyo's brand of music.
"We were there [U.S.] for a month and ahalf," recalled Mcoy. "Nakakatuwa 'yon because of Radiosurfing, somebody from the States got a copy of the album andthey were amazed with the concept of the album so they invited us over to playand it became a series of shows."
The U.S. shows along with theappreciative response drawn from the crowd bolstered the band's collective confidence.In fact, most of the songs found in Kenyo's new album, Maharlika, under Universal Records were written during the inspiringperiod.
ADVERTISEMENT - CONTINUE READING BELOW
"We actually previewed some of the new songsthere," Mcoy said, his voice brimming with obvious pride.
"Hanggang sa Muli," the first singlelifted from Maharlika, was written andarranged completely in the States.
With Maharlika,Kenyo showcased its distinct trademark: accessible songs laced with impeccable pop sensibilities.
According to the band, the 12-trackalbum directly points to the direction Kenyo is heading.
"We'd like to think of this one as ourfirst since this is the original one because the last album was a projectrecord. This is a real Kenyo record because it's composed of all originaltracks."
PLAYINGTHE OLD HITS.Criticisms and comparisons aside, Mcoy said he remains grateful to his pastachievements while, at the same time, he's deadset on moving forward into the future.
"Hindi ko nga alam if I'm supposed to beglad or bothered with that. When Kenyo came out marami ring chunk of the oldfans accepted us."
He continued: "Sa amin, kami ang feelingnamin, we're starting over while doing whatever we want now without thelimitations of our old band."
How about playing past O n' L hits?
"Yeah, you can't help it," Mcoyacknowledged. "If Bamboo is still playing some Rivermaya songs and Rico evensings songs na originally si Bamboo ang kumanta, why can't we sing Orange &Lemons songs? We still do. We still play the songs."