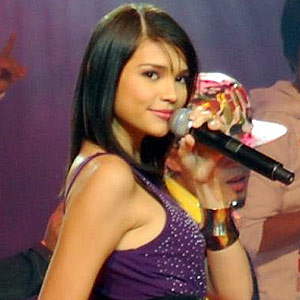 ---
After establishing herself as one of GMA-7'smost sought-after leading ladies, young actress Rhian Ramos is now a recording artist. X-Play Online Games Inc. (X-Play) and Bellhaus Entertainment Inc. recentlylaunched her singing career with the Audition Dance Battle dance album.
Rhian showcased her singing ability with"You," the carrier single of the 15-track dance album of Audition DanceBattle, an online casual dance game with millions of playersworldwide and published locally by X-Play, the joint venture company of GMANetwork Inc.'s digital media arm GMA New Media Inc. (GMA NMI) and leadingonline gaming publisher IP E-Game Ventures Inc. (E-Games).
"It's been such a great year for me; sobrangdami kong blessings na nakuha this year. I wanted talagatobe able to give something new to everyone who supported me. This year, singingwas it," shared Rhian during the official launch of the Audition Dance Album inGMA-7's Sunday afternoon variety show SOP. The event was was a double celebration forRhian since she also celebrated her birthday special that day.
Rhian's launch in SOP was also the premierefor the official music video of "You". Directed by Jeff Tan of BellhausEntertainment Inc., the video features a very sophisticated Rhian in stylishparty scenes, along with fellow Kapuso artists Sheena Halili, Dominic Roco,Vaness Del Moral, recording artist Brenan, and Audition's very own players.Highlights of the music video included scenes of Rhian onboard a helicopteramidst a classic skyline.
Aside from bagging lead roles in top-ratingKapuso shows such as La Lola, Zorro, and currently with the Pinoyadaptation of Stairway to Heaven, Rhian has been planning to come out with herown album this year.


"We've all worked so hard to make this album happen, and Ithank the Audition family na talagang pinaghirapan yung album," saidRhian. "Audistas," as Audition Dance Battle players are called, havechosen Rhian's song to dance so frequently inside the game that it has stayed on the #1 spot for several weeks now. The Audition Dance Battle game features a dance-gamingexperience that is complete with character customization, cool graphics andanimations, and the hippest tunes and moves from a variety of dance genresranging from hip hop to ballroom. "My song is featured inside the game andsoon, I will have my own avatar (character) in the game, which means you candance [online] pero ako 'yon," Rhian proudly shared.
ADVERTISEMENT - CONTINUE READING BELOW
"You" has already been getting airplay indifferent radio stations and music channels, and Rhian invites everyone tosupport her venture into singing. "Isa itong surprise for everyone.Grab a copy of the album, kasi pag binili niyo yung CD, hindi langsongs ang laman: may installer din for Audition the game,plus the official music video of 'You,'" said Rhian. The album also contains agame guide for Audition Dance Battle plus an in-game premium item known as theAngel Prince / Princess of Love wing set, an accessory that can be usedby players.
To show her appreciation to fans and Audistas,Rhian will be in a series of mall shows nationwide along with the crew ofAudition Dance Battle, dubbed as "The Hottest Gaming Barkada." The freeadmission mall tour will include special performances and an album signingactivity with Rhian, onsite tournaments of Audition and other X-Play games,plus lots of prizes.
Malltour dates and locations are as follows:


October 24, SM Manila
November 07, SM Batangas
November 14, SM Baguio
November 21, SM Cebu
November 29, SM San Lazaro (Manila)
"On behalf of the millions of Audistasplaying the game worldwide, we are excited to have Rhian as the newest star ofAudition Dance Battle Philippines. It's an honor to have one of the biggestcelebrities of today be part of the Audition family," said Franco Santos, product manager of Audition Dance Battle.
"I'm sure all Audistas out there arethrilled to see their favorite game come to life through the album,particularly with Rhian's single "You." Hopefully even non-gamers who likeRhian's single would also start playing Audition Dance Battle, for a chance toparty with Rhian online," added George Royeca, Chief Operating Officer ofX-Play Online Games Inc.
ADVERTISEMENT - CONTINUE READING BELOW
"Rhian has already achieved so much in heracting career, but that has not stopped her from pursuing her love for music.She has so much potential as a recording artist, so we're very proud to haveher as the feature star for the Audition Dance Battle Album and launch hersinging career with Bellhaus," says Jeff Tan, Chief Executive Officer ofBellhaus Entertainment Inc.