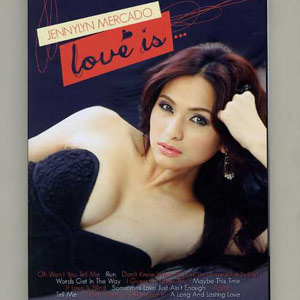 ---
Showbiz enthusiasts view Jennlyn Mercado as a TV and movie actress, and it is no surprise that the lead star of Gumapang Ka Sa Lusak has released a 12-track solo music album. Like her peers in the business, Jen ventured and took a risk in professional singing to prove that she's not just a beautiful face on TV.
Some succeed while some do not, but Jen—on her own right—seems to have that talent in singing as well. We first heard her back in 2004 with Living The Dream and four more albums followed it from that year to 2008.
This 2010, Jen has released her album titled Love Is... This is a compilation of love songs from the '80s to the '90s, including "Maybe This Time" and "Tell Me." This album shows that Jen is not deviating from the love song genre and chooses songs that provide a more relaxed vibe. It looks like Jen's objective with this new album is to soothe the soul and relax the mind with her renditions.
PROS. Jennylyn by herself is a good singer, and the musicians behind her—from the backup vocals to the percussionists—just make the listening experience even better. The mixing is superbly done and the pitch in every track is just right, with Jen switching at the right moment. Track placing keeps the listener interested. Nearly no dull moments for this album. The combination of international songs and local compositions makes this latest album from Jen a valuable addition to your collection. "A Long And Lasting Love" just sounds fresh, especially when Jen hits those mid-notes.
ADVERTISEMENT - CONTINUE READING BELOW
CONS. Album only has 12 tracks. Though the track list is great, it would have been great if they added three more like "I Finally Found Someone" for example (it's a duet, yes, but hearing a male voice singing alongside a woman's is essential, especially that the album is about love). Jen and the music just jive, but it will be noticed that sometimes the music just drowns out Jen's mezzo-soprano voice. On Tracks 10 and 11, Jen sounds almost off-key and you can almost tell that she does not dig those tracks.
VERDICT. Overall, this is another good album from a competent singer. If you can tweak your equalizer, you'll be able to appreciate Jen's vocal talent even more. Fans of the famous songs listed below and fans of the StarStruck Season 1 winner would find this a great value for their money. Jen is refreshing to the ears, making Love Is... a worthy buy.
TRACK LISTING.
1. Oh Won't You Tell Me
2. Run
3. Don't Know What To Do (Don't Know What to Say)
4. Words Get in the Way
5. I Guess I'm Over You
6. Maybe This Time
7. If Love is Blind
8. Sometimes Love Just Ain't Enough
9. Again
10. Tell Me
11. I Don't Want to Talk About It
12. A Long and Lasting Love