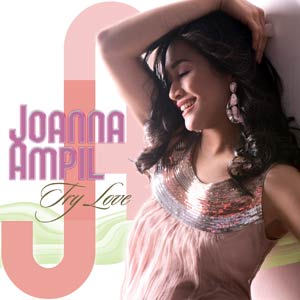 ---
International theater actress and singer Joanna Ampil is one of few Filipino talents who can say the following line about her debut album without sounding as if she's bragging or bluffing:

"I don't have to show off—I can show people more of what I can do later, and only if required."

She's starred in some of the biggest musicals in London's West End (Miss Saigon, Jesus Christ Superstar, Les Miserables), sang before the Queen of England, and worked with the likes of Andrew Lloyd Weber and Cameron Macintoch.

To say that Joanna is an accomplished artist would be an understatement; just like her 12-track album, Try Love, as a demonstration of the greateness of her vocal abilities, is understated.

Recorded last year while she was on vacation in Manila, the tracklist is composed of such songs as "If I Believed," "I'm Caught Between Goodbye And I Love You" (the carrier single), "Words Get In The Way," "I Only Live To Love You" (a Cilla Black-original later remade by Cliff Richards) and "Maghihintay Sa 'Yo."

Yet Joanna, with the candor of someone who is self-assured yet eager still to challenge onesself by taking on new things, says capturing the pop in "Try Love" wasn't as easy as, well, fizzle.

"Singing pop does not require me to use my big voice nor training in theater. Indeed, the challenging part, it turns out, was unlearning all those so I could give deliver on what the genre required," says the soprano.

Joanna was surprised with the meticulous way her album was recorded. Although she had recorded abroad for some of the soundtracks of the musicals she had starred in, the singing was captured raw because the intention was to make the recording approximate a live performance with its flaws and all.
ADVERTISEMENT - CONTINUE READING BELOW

"But for my pop CD here, me and producer Ferdie Marquez, we went for perfection," she points out.

Many have heard of the honors Joanna has brought the country but few here actually know how she sounds. That's because Joanna left the Philippines 16 years ago to join Miss Saigon in London, and opted to stay there when other big opportunities came her way.

Now that she's back, Joanna wants people to discover for themselves what she is about.

"I'm not going to be hard sell. If I keep thinking about what other people will say about me, then I'll be limiting myself. I'll just do what I think is best and if people embrace that, then that will be amazing," says she.

Joanna, like many Filipinos, is both romantic and nostalgic. "Try Love," she says, has songs that she grew up with and those she thinks Filipinos will love.

"I went by gut feel—I am, after all, Filipino, too, so I know what my kind like."

One of her favorite tracks in the album is her duet with Ariel Rivera on "The Last Time I Felt Like This." Joanna says it was a blast hearing her voice blend with the balladeer's because "he used to be just a familiar voice I'd hear on the radio."

She adds that OPM holds a special place in her heart because she is Pinoy regardless if she is in London or in La Union.

"Just because I stayed away for a time doesn't mean I have forgotten who I am. You can't run away from yourself even if you try. I still miss the weather here, the holidays such as Christmas and Valentine's Day, the food..."

Another of her favorite song in the album is the title track written by Julie Gold (Bette Midler's "From A Distance," Lea Salonga's "Journey"). Joanna says that the song "Try Love" was previously unrecorded that's why she had to study it based on the composer's demo tape.
ADVERTISEMENT - CONTINUE READING BELOW

"I want to reiterate that though Filipinos are known worldwide to be good mimics of other singers, we, too, know how to sing originals—and do a good job of it," she says.

Other songs in Try Love are "Healing," "Follow Your Road," "Hurting Each Other," "Lately" and "I Don't Have The Heart."


The 12-track album is released under Sony Music Entertainment (Philippines) Inc.