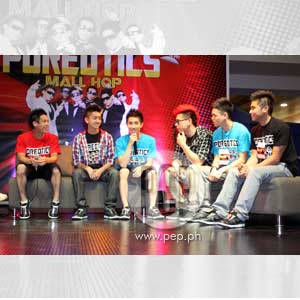 ---
It's not just Canadian pop superstar Justin Bieber who will be making Filipino teenagers go crazy on May 10 at the SM Mall of Asia Concert Grounds.
The show's front act, the Poreotics, is also gaining much public attention, especially since they've been performing in malls around the Metro for several days now in preparation for the big show tomorrow.
Composed of Matt "Dumbo" Nguyen, Can Nguyen, Charles Nguyen, Lawrence "Law" Devera, Justine "Jet Li" Valles, and Chad Mayate—the group has made a name globally after winning a string of big dance contests, like the 2009 Hip-Hop Internationals, Vibe 15, Fusion X, Body Rock, and most notably America's Best Dance Crew, where they emerged as overall champion in the 5th season.


Law, Jet Li, and Chad are the Filipino members of the group while Dumbo, Can and Charles are Vietnamese.
The name Poreotics stands for popping, choreography, and robotics—three elements that are vital and present in the group's overall stage choreography.
"I think our charisma and our character definitely shows onstage, and that I think that sets us apart from the others," said Matt during a press conference held last Friday, May 6, at the Events Center of the SM Megamall in Mandaluyong City.
While being a certified international dance group certainly carries a lot of perks, the boys confessed that behind every performance are tons of "hard work" and countless hours of rehearsals all for the sake of perfecting the steps.
Joining America's Best Dance Crew has taught every single member the joy of working together as a group and reaping the rewards after all the sacrifices.
"It was a lot of fun," said Justine. "We learned a lot from each other... the journey was definitely worth it."
The group understands their heavy responsibility as role models, although they're not at all daunted; in fact, they're glad to inspire other young people out there to pursue their dreams.
ADVERTISEMENT - CONTINUE READING BELOW
"Just be yourself," advises Charles. "If you're dancing, just keep on dancing. Don't let anybody tell you not to."
Can pitches in, "If you really want to do something, don't be afraid to work towards it."