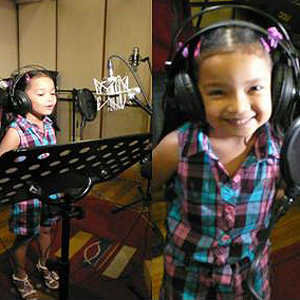 ---
Child star Xyriel Manabat ventures into the recording scene as she sings "Kuha Mo," the newest theme song of ABS-CBN's primetime teleserye 100 Days to Heaven.
Xyriel topbills this show along with veteran star Coney Reyes.
According to ABS-CBN's corporate communications department, Xyriel perfected the song after a few rehearsals, which amazed the Star Records staff.
Listen to Xyriel's voice as the television program carries its new theme song, weeknights after TV Patrol on ABS-CBN.
SHARE THIS STORY 100 Days to Heaven" data-url="https://www.pep.ph/guide/music/8477/xyriel-manabat-sings-kuha-mo-the-new-theme-song-of-100-days-to-heaven" data-desc="The child star is now a recording artist." data-image="https://contents.pep.ph/images2/guide/3bc7fa0b8.jpg"> 100 Days to Heaven" data-url="https://www.pep.ph/guide/music/8477/xyriel-manabat-sings-kuha-mo-the-new-theme-song-of-100-days-to-heaven" data-desc="The child star is now a recording artist." data-image="https://contents.pep.ph/images2/guide/3bc7fa0b8.jpg"> 100 Days to Heaven" data-url="https://www.pep.ph/guide/music/8477/xyriel-manabat-sings-kuha-mo-the-new-theme-song-of-100-days-to-heaven" data-desc="The child star is now a recording artist." data-image="https://contents.pep.ph/images2/guide/3bc7fa0b8.jpg">
SHARE THIS STORY
100 Days to Heaven" data-url="https://www.pep.ph/guide/music/8477/xyriel-manabat-sings-kuha-mo-the-new-theme-song-of-100-days-to-heaven" data-desc="The child star is now a recording artist." data-image="https://contents.pep.ph/images2/guide/3bc7fa0b8.jpg"> 100 Days to Heaven" data-url="https://www.pep.ph/guide/music/8477/xyriel-manabat-sings-kuha-mo-the-new-theme-song-of-100-days-to-heaven" data-desc="The child star is now a recording artist." data-image="https://contents.pep.ph/images2/guide/3bc7fa0b8.jpg"> 100 Days to Heaven" data-url="https://www.pep.ph/guide/music/8477/xyriel-manabat-sings-kuha-mo-the-new-theme-song-of-100-days-to-heaven" data-desc="The child star is now a recording artist." data-image="https://contents.pep.ph/images2/guide/3bc7fa0b8.jpg"> 100 Days to Heaven" data-url="https://www.pep.ph/guide/music/8477/xyriel-manabat-sings-kuha-mo-the-new-theme-song-of-100-days-to-heaven" data-desc="The child star is now a recording artist." data-image="https://contents.pep.ph/images2/guide/3bc7fa0b8.jpg">