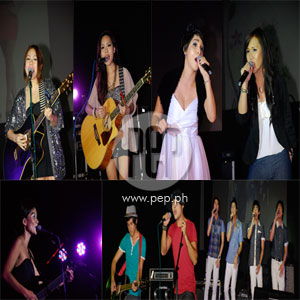 ---
It was a night of great local and foreign music, as MCA Music held a mini concert dubbed Music Comes Alive.
This two-day event showcased the latest albums launched by MCA Music. Its first show happened last July 22 at Eastwood Central Plaza, while the second show was held July 23, at Venice Piazza in Mckinley Hill.
PEP.ph (Philippine Entertainment Portal) got the chance to witness the first day performance of these new and fresh talents of the said management.
THE ACTS. The mini concert was hosted by Magic 89.9 DJ group, "Boys Night Out", and Marian from MCA Music.
Aside from hosting, Boys Night Out also showcased their other talent, singing. They performed their song "Shawarma ft. Guru Shivaker."
They even taught the crowd the "Shawarma Shiver," which is the dance step for their song.
Guests were able to see fine models strut their stuff on the catwalk.
These models portrayed the vibe and energy of the newest hit singles of J.Lo, Lady Gaga, Rihanna, Jessie J., and Nicole Scherzinger.
YouTube impersonator Lady Gagita brought the house down as she performed the songs of the Queen of Pop, Lady Gaga— "Born This Way" and "Judas."
OPM HITS. Though different foreign songs were performed, the stars for that night are the newest OPM performers.
First among them are the brother tandem of DJ and Micah, or more popularly known as The Lemars. Though for that night, DJ was not around due to a knee accident that he needs to recover from.
Micah didn't disappoint the crowd, as he performed their personal rendition of the Bruno Mars hits: "Lazy Song," "Marry You;" and the carrier single of The Lamars album, "Kung Puede Lang."
Next in line was another sibling tandem: sisters Krissy and Ericka first became known for their cover of the song "Don't Say You Love Me" by M2M.
ADVERTISEMENT - CONTINUE READING BELOW
But for that night they proved that they're not just an ordinary acoustic duo, as they performed Jessie J. song "Price Tag," "Where is the Love" by Black Eye Peas, and an original song for their upcoming album, "Rolling in Between."
They may pose like a K-Pop band but when they start to sing, you'll be surprised that the boy band 1:43 are actually performing OPM hits.
They performed three songs from their self-titled album. The songs are "Para Kang," "Harana" and PiNK (Pag-ibig Na Kaya?).
Now it's time for the solo performers. Tricia Garcia is the first solo performer to hit the stage that night. She gave people a taste of her music as she performed three songs from her album— "Tabing Ilog," "Kulay," and "Tubig."
Phil Collins discovered local artist Lica. She made everyone proud as she performed two of her original songs—"All I want to Be," and "Sound of Silence."
Who was the last to perform? It was the rocker chick Kitchie Nadal. She let the crowd listen to cuts from her newest album as she performed the carrier single, "Isang Araw."
Later on, she did a blast from the past as she serenaded concert goers with her original songs—"Bulong," "Same Ground," and "Huwag na Huwag Mong Sasabihin."
Overall, it was successful mini concert for these new, fresh artists.