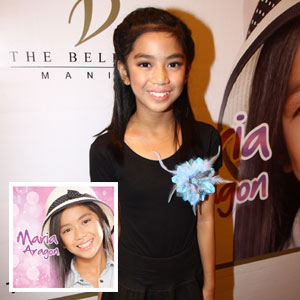 ---
Maria Aragon's self-titled debut album has already been launched in the Philippines. Last August 24, the Youtube singing sensation conducted the media launch at the Bellevue Hotel in Alabang.
Her album contains "Born This Way" as its carrier single and features "You're My Home," the theme song of the Star Cinema film, Way Back Home.
In the presscon, Maria told the press: "Thank you all for the support that you're giving me. I won't be able to do this album without you guys. I'm very starstruck that you're all here to celebrate with me. Thank you."
LADY GAGA. Maria revealed in the presscon that she still communicates with Lady Gaga. The two performed together for her Monster Ball Tour concert in Toronto last March 3 where they performed an acoustic duet of "Born This Way."
"I still have contact with her [Lady Gaga]. We still communicate actually via our managers.
"Because of her busy, busy schedule, I haven't talked to her personally again, but I'm, I'm so privileged that she's really supportive to me. It's just amazing!" exclaimed Maria.
The 11-year-old Filipino-Canadian singer Maria Aragon became famous because of her rendition of Lady Gaga's "Born This Way," last February 16.
The video caught Lady Gaga's attention and she was so impressed by Maria's performance that she even retweeted a link to the video.
In Lady Gaga's official Twitter account (@ladygaga), last February 17, Thursday, she tweeted, "Can't stop crying watching this. This is why I make music. She is the future," then she attached the link to Maria's cover of "Born This Way."
ADVERTISEMENT - CONTINUE READING BELOW
This August 19, in her official @mariiiaofficial Twitter account, Maria tweeted, "My cover of @ladygaga 's "Born this Way" has reached +40 million. Thank you for the views, thank you for continuous support."
Maria also disclosed that she's planning to give a copy of her album to Lady Gaga.
"I'll definitely give her [Lady Gaga] a copy of my album—for sure she'll be happy about the good news.
"Lady Gaga is very supportive in every way. She's just awesome!"
Is it okay for you to be tagged as Baby Gaga?
"Well, actually I was known when I got a chance to perform with Lady Gaga, so it's really okay with me to be tagged as one.
"But you know, I really don't mind, but I, but I think, well I still want the people to know me for who I really am—as Maria Aragon," she enthused.
How did you learn to play the piano?
"Well I got my first piano when I was seven and I never really bothered to play it.
"But it was always my brother who would play it and I got inspired by him to play the piano."
She also added, "Oh! When my YouTube video of "Born This Way" got out, actually I never really had any formal lessons in playing the piano before that."
How was it like singing in front of Prince William and Kate in Canada?
"It was very, very fun and I knew that I would do my best because it's the National Anthem [of Canada].
ADVERTISEMENT - CONTINUE READING BELOW
"We sing it everyday at school and just getting to actually, actually meet them and getting to sing in front of them, big honor."
Did you meet them in person?
"Yeah, yes! After, after all the noon show performances I got to meet them.
"They were very beautiful and handsome and...of course they were royalties, so they were very fantastic!" she said with a giggle.
Maria performed at the 2011 Canada Day concert on Parliament Hill, which included the Duke (Prince William) and Duchess (Kate Middleton) of Cambridge in attendance and a crowd of 300,000 people.
MEETING WITH LEA SALONGA AND GARY VALENCIANO. The 11-year-old singer has had the chance to meet with renowned personalities in the music industry, including Lea Salonga and Mr. Pure Energy Gary Valenciano.
"A, I met her in my hometown in Winnipeg and she's very, very, very nice and very talented. She really is just nice, very nice person."
Did she give you any advice?
"She didn't have much of an advice for me. I know that she, she knew that I needed a lot of support from my family and she's just very nice."
As for her meeting with Gary V, Maria recalls: "I met him a couple of times and actually I'm a part of his With Love Gary Valenciano Special on September 4. Please watch," she said with a smile.
"I mean, Gary Valenciano is like a household [name] for me coz so inspiring on stage.
"Both of us performed at the Yeng Constantino's concert. Did you watch him? He's so amazing!"
ADVERTISEMENT - CONTINUE READING BELOW


TRACK LISTING.

1. Born This Way
2. You're My Home
3. I'd Like to Teach the World to Sing
4. Follow Your Dream
5. Can't Smile Without You
6. Kung Bubuksan Mo Lang ang Puso
7. One Hope One Dream