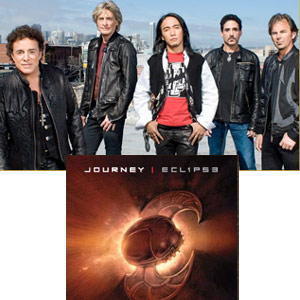 ---
Eclipse, the newest album of Journey, is in the running for Classic Rock Magazine's Roll of Honour Awards 2011.


Journey, which features Filipino vocalist Arnel Pineda, is competing against 12 other bands in the Album of the Year category.


In its website, the Classic Rock Magazine says there will be awards chosen by the magazine team and there are awards chosen by the public. The organizers point out that the Classic Rock Roll of Honour "isn't just about sales, it is about great music that will stand the test of time."


Now on its seventh year, the awarding ceremony is expected to take place at the Roundhouse arena in Camden, London on November 9, 2011.


The nominees for Album of the Year award include the American alternative rock band Foo Fighters (nominated for their album Wasting Light). The other contenders are Alter Bridge (AB III); Black Country Communion (2); Black Spiders (Sons Of The North); Black Stone Cherry (Between The Devil And The Deep Blue Sea); Graveyard (Hisingen Blues); Jeff Beck (Rock 'n' Roll Party); Joe Bonamassa (Dust Bowl); Michael Monroe (Sensory Overdrive); Motörhead (The World Is Yours); Rival Sons (Pressure and Time); and Whitesnake (Forevermore).
Arnel showcased his songwriting skills for Journey's 12-track album titled Eclipse. In fact, the carrier single "City of Hope" was written by Neal Schon, Jonathan Cain, and Arnel.

(CLICK HERE to read related article)


Aside from the Album of the Year category, there are five categories open to public vote that have been shortlisted by Classic Rock Magazine. These are Best New Band, Reissue Of The Year, Film / DVD and Band Of The Year.


In last year's edition of the Roll of Honour Awards, Journey bagged the Event Of The Year award when their 1981 single "Don't Stop Believin'" entered the UK Top 10.


Those who want to vote for Journey can visit THIS LINK.
ADVERTISEMENT - CONTINUE READING BELOW