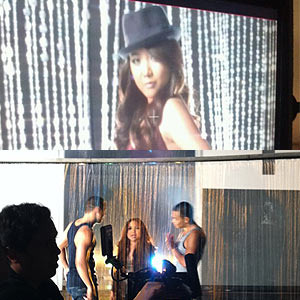 ---
Charice is done shooting the music video of her song, "Louder."


In previous interviews, the international singing sensation indicated that the music vid of the song would be upbeat and fast-paced.


Teen.com quoted Charice as saying: "We're gonna do the music video for 'Louder' because I really love to dance and the song is really an inspirational song."
According to magnustoday.net, the filming for the music video took place at the Smashbox Studios in Los Angeles last September 13. It was filmed by director Tim Cruz of Guerilla Hollywood while Michael Mihail served as executive producer.


In her Twitter account, Charice retweeted a photo of her while doing the shoot. For additional visual textures, overhead sprinklers were used to simulate rain—an integral element in the song's theme.

When they finished shooting, Charice posted this on her Twitter account: "It's a wrap!!! :) Pretty sure I am going to be sick tomorrow. #rainsceneLOUDERmv Thanks to all the people who worked with me!"


Gil Duldulao collaborated with Charice for the "Louder" music video. He previously worked with her for the "One Day" music video. In his Twitter account, Gil revealed: "@OfficialCharice is giving flava in rehearsals. Yeah!"


Gil is a renowned choreographer who has worked with Janet Jackson​ for over 14 years. He has also danced in music videos of various stars such as Madonna, Britney Spears​, Jennifer Lopez​, and Christina Aguilera​.


Some of the lyrics of "Louder" go:


I'm staring out of my window / And the rain is pouring down / When you left, I was so low / But I'm not gonna drown
I don't need no shoulder / I'm gonna be a soldier / I just wanna feel somethin' I don't understand
I'm just gonna run right through the rain / I'm just gonna dance right through the pain / I just wanna feel that rhythm, feel that drum / Let my heart beat louder / Let my heart speak louder than my head
ADVERTISEMENT - CONTINUE READING BELOW