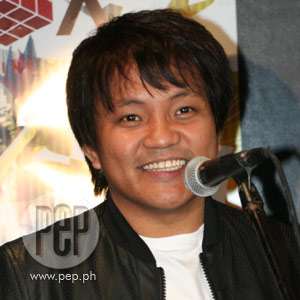 ---
Much like how a phoenix rises from the ashes, Ebe Dancel, formerly of Sugarfree, rises again...not from the ashes but from a 12-year long association with a band that shaped so much of who he is today.
Today, as Ebe Dancel, the solo artist-not the band lead singer, songwriter and guitarist-he is actively involved in the tracks and sound creation for each and every song. He is responsible for finding the right musicians to sing the right songs with him or for him. He explains that there is one giant whiteboard with a list of names for mixing and matching, all in his head.
This new album, Dalawang Mukha ng Pag-ibig, is not Ebe Dancel's first. But it is definitely a first in so many areas for Ebe.

In fact, the album launch this Thursday, September 29th, will mark Ebe's first major public performance as a solo artist. The event will take place tomorrow by 7 PM at Teatrino at The Greenhills Promenade. Those who will purchase the Dalawang Mukha Ng Pag-Ibig CD at the venue or those who bring their own copy will gain entrance plus two more companions.


RECORDING AS A SOLO ARTIST. According to Ebe, the recording process has "taught me to be better person, more patient, I appreciate the little details now, I'm there, dapat alam ko. I get to apply that in life, I pay attention to the little details."
He says that making the album was a roller coaster ride, and that, "I have to admit, it wasn't that hard because I had producers with me on this one. But I was responsible for so many decisions, unlike before may back-up ako, e. Pag di ko na alam ang gagawin ko, I always had bandmates to..." instruct and guide his process and decision-making.
ADVERTISEMENT - CONTINUE READING BELOW
"This time was more of a trial and error. Until I got it right. I hope I did."
Co-producers left him to make decisions so that he would learn. He'd already worked with them before. "Dati tamad ako, I'd wait for my turn, write songs, come in, play most of the guitar, sing most of the songs, then sit back and let them do their work."
With his new and first solo album, Ebe was there consistently and actively: from the mixing process to choosing the musicians to performing each song. The label and producers didn't intrude as Ebe participated in the process, and they let him stay on top of everything.
"It was difficult but it paid off. All of the musicians I worked with for this album are good friends of mine who happen to be some of the best musicians in the country. It's a blessing."
When asked how he would sum up the making of this album he says, "isa pang pagkakataon. It's basically what I'm going through right now. I have to start over. I feel like a teenager."
What he means is that he's passed the infancy stage and the kalokohan stage, explaining that "I've made so many mistakes, I've been there and I believe that God gave me a second chance...to prove myself, correct my mistakes, learn from them, make sure they never happen again..."
So what's his music like in this new phase for Ebe? "That I will have to leave to the listeners to decide. That's the way it's always been naman."
He shares that he writes his songs without trying to box it into any genre, pointing to his chest to signify that "the songs come from here, yung walang hindrance, kung gusto ko umiyak sa kanta ko, iiyak talaga ako. No one has ever stopped me before and I guess it's become a trademark of mine."
ADVERTISEMENT - CONTINUE READING BELOW
Now that the solo album is out in the market, if he were to look back on this period and have people remember this album, how would he like it to be called? "That it's an album from a guy who really tried. Hindi bed of roses itong pinasok ko. I had a very comfortable life. And now I'm way back down. But I welcome the challenge, I embrace it. Right now I'm just enjoying the ride."
He finds that the best thing about this new album is people getting to appreciate him now that he's back because "a few months ago, I thought this was impossible."
What pushed him to get started again when everything seemed impossible? He started writing songs again and since the album came out, nobody who's bought the album "has thrown it back into my face," he says, which is a good thing for a solo artist.
The inevitable question pops up: does it feel strange to work on an album without his former band mates in Sugarfree?

Ebe points out, "I think some people aren't over the band yet, but it's over. If it comes back, it's gonna come back without me. Or you can listen to me, give my songs now a chance."
He pauses for a while and says that if people miss the band, that's something he can do nothing about. But if they miss the songs, he's willing to play some of them, putting priority of course on his new songs now.
Ebe says, "Of all the albums I've made, this is the one I'm proudest of. That sense of history with Sugarfree is a part of me, will always be with me. I can't deny myself that aspect of my life-12 years ko ginawa yun. It's almost half my life. It's like my left arm, or left leg."
ADVERTISEMENT - CONTINUE READING BELOW
"To be very honest I miss the fans. They were what I was living for. I was exhausted."
Every time he sees them, fatigue seems to leave his body. He doesn't know how many of them will come back or will continue with him as a solo artist. He does hope to meet new friends. But what he really loves to see is those familiar faces who, in the past, before even Sugarfree was ready to perform, were already there, ready with a smile.


ON HANDLING REJECTION. His advice to aspiring songwriters is for them to "never be afraid to fail. Or better yet, never be afraid to be rejected. Because at some point it will happen." It's something that has happened to the best songwriters and to move on from such rejection, "don't give up so easily." With the songwriting field becoming so populated, aspiring songwriters should just pursue and keep going, especially if it's their dream.
His album contains ten songs, and unbelievably, 8 or 9 were written within a two-month time span (April to mid-May 2011). Ebe himself is amazed because this was a first for him. He wrote and recorded two tracks late last year and early this year. All that was needed from him was to come up with 8 more tracks. The time frame given to him was by March 2011.
"But this was the time I quit the band. So I stayed home. I literally slept the month away. If I were awake, I wouldn't go out except to do the grocery, attend mass, see my family. I didn't work. I tried, but nothing came out. It was very challenging."
He considers the month-long stay at home part of his grieving process. He may have been the one to leave the band but he says, "it didn't mean it didn't hurt. Ang sakit noon sa akin. Tinayo ko yun band. Sinakripisyo ko buong buhay ko doon. But I had to leave, e. It was time."
ADVERTISEMENT - CONTINUE READING BELOW
He didn't feel the weight of the emotion of leaving the band in the days leading up to their final concert because of their busy schedule. "Dahan-dahan, pero di ko naramdaman kasi all of a sudden everyone wanted us to play again... we were playing so many shows, running from province to the next."
The day after he left the band, he remembers that "parang mamamatay na yung puso ko. And I realized that I was feeling exhausted. And I had second thoughts about coming back. Pagod na nga ako, bakit ako babalik. I was being bullish."
What made him have the doubts in the first place is because Sugarfree, for the biggest part of his life, had become him and to him, the only thing he believed he could do or accomplish.
"Di ko pwedeng i-deny sa sarili ko. Lahat naman tayo napapagod sa trabaho. It's how you deal with it that matters."
Slowly Ebe's learning how to ride the bike again, completing his solo album, Dalawang Mukha ng Pag-ibig, and touring the provinces to promote the album. Ebe says that this time is different because he's "better equipped sa puso't-isipan, marami na akong natutunan sa mga pagkakamali ko."
What got him out of the one-month slump? The song "Muli," which appears on his album was born out of this time. And then two days after that, another song came up and then another. It got so productive for him that he was able to write the songs while recording them as well.
"I just learned to breathe. Nahanap ko ulit yung mojo ko, so here I am again."
When he found his footing again, he told himself to get back to work, "you've got a commitment to Warner Music Phils. so be the professional your parents raised you to be and finish the album."
ADVERTISEMENT - CONTINUE READING BELOW
He's been signed with Warner Music since end of August 2010 after letting Sugarfree know of his intention to leave in August 2010.
His lovely wife, Nikita played a crucial role in all the drama he went through. "She held my hand throughout the process. I know it was really painful for her to see me like that... being stuck at home, so she and my family, they never stopped encouraging me, hawak-hawak nila lahat ang kamay ko. During those moments when I didn't have faith in myself anymore, sa kanila ako nagdadraw ng inspiration. I'm really grateful for that."
For him, the rest of 2011 will be a flurry of activity to promote the album in Metro Manila first and then nationwide, with a strong label and manager behind him, supporting him, working with him and for him.
On a personal note, Ebe says that having a baby is not yet in the works for them, "one step at a time, we'll see what happens next year."
"I'm motivated, like the day when I decided to form a band, mas matanda lang ako ngayon. I think I've learned to feel and adjust well to the demands of the job."
If he were to create a time capsule of this period for the Ebe Dancel of 2016 to read and learn from, Ebe shares the following on what he'd write in it, "sasabihin ko, tandaan ko etong period na eto. Because this is the moment when you walked away from everything, you had no faith in yourself. Remember this time because this is the time you had to prove to your family and yourself that you can stand on your own. And always remember that whatever your problems, there's someone out there with bigger, so be grateful for whatever you have right now."
ADVERTISEMENT - CONTINUE READING BELOW
He finds social networking to be beneficial especially to him. "I love it. I rarely get hate messages. I get angry messages why I left the band. The fans have been waiting for the new album and most have heard the single already."
With Facebook and Twitter, he finds it easier to promote a gig. Next up for him in the digital aspect is to come up with a youstream channel. Though not his original idea, he says this is his chance to be in his pambahay, singing in front of the webcam with acoustic guitar-open open to requests for 30 minutes to 1 hour once a month or something like that, as long as it's gig done from the comforts of his home.
For him, Facebook and Twitter help him to communicate with fans as much as he can. "When I took a break, when I was at home, I was in constant communication with them. They know where I am. The musician as a result becomes more reachable, accessible."

TRAINING FUTURE MUSICIANS. Ebe is one of the artists who support the 7101 Music Nation Camp, which is already on its second year. Spearheaded by Ryan Cayabyab, this year's camp brought together aspiring musicians 18-years-old and up in a resort in Dumaguete.
From all over the Philippines, partner musicians include the likes of Jim Paredes, Noel Cabangon, Gary Valenciano, Gary Granada, Jay Durias, and more. Ebe says that they interact with the kids, share their experiences, with formal lessons scattered throughout the weeklong camp. The camp hopes to produce better observers, musicians among the attendees, some who of whom have produced indie albums, belong to indie bands, but none signed to a major label. Lessons for the camp include delving into Philippine music history, the ins and outs of the recording industry, signing with a label, etc.
ADVERTISEMENT - CONTINUE READING BELOW
He explains his reason for joining is that if someone of Ryan's caliber imparts his knowledge, why should someone like him, though not of Ryan's caliber, not do the same?
Right now, Ebe is working on some songs for a band, which he can't reveal yet, but will do so within the year.
He concludes that, "this is my second chance, I would like to believe it's my last. After this run, I'll be a family man, a house-band. The next chapter. Isang malaking libro ang buhay natin. We live our lives in chapters."
Get the chance to watch Ebe Dancel live on September 29, 2011 at Teatrino Greenhills Promenade for the official launch of Dalawang Mukha ng Pag-ibig.