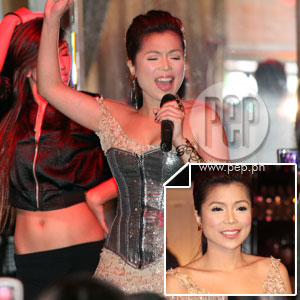 ---
Soothing tunes and moving ballads are Nina's trademark.
In her new album, Stay Alive, the Soul Siren radiates a different vibe and energy. The 12-track, all-original repertoire offers a wide range of genres from staple ballads to house, club music to pop, and rhythm and blues.
Stay Alive is a testament to Nina's evolution as an artist and determination to be a better performer. Five out of the twelve singles in her latest album feature upbeat, catchy tunes, which show her passion for dance music.
"Dance," her carrier single, is a fast track that fans will surely delight in. Its music video features a sizzling Soul-Siren showing off her dance moves.
The video also bares the artist's sexier bod—which she worked hard to achieve by taking intense dance classes, boxing, and tennis.
(CLICK HERE to view video)
Track 2, "Staying Alive," is another smoking track with bold and powerful lyrics: "I shouldn't let them knock knock knock me down... I'm staying alive."
Among the danceable songs are the pop-ish "Laging Ikaw." Tracks 6 and 7, "Only With You" and "I Came to Dance," feature infectious and enticing party-house music.
While the album attempts to prove the Soul Siren's versatility, Stay Alive is still distinctly Nina with her slow and sentimental ballads. "However Much Love" is a standout. As the song talks about steadfast and unconditional love, Nina's voice heightens the pain and vulnerability evoked by the lyrics and melody.
Other ballads are: "I Don't Want to Fight," which singer-composer Richard Poon wrote for the album, and the emphatic "You Should Know," co-written by Nina with R&B artist Keith Martin.
Stay Alive Special Edition CD, with minus one tracks, is exclusively available in all Odyssey outlets nationwide.
Stay Alive TRACKLISTING:
1. Dance
2. Staying Alive
3. However Much Love
ADVERTISEMENT - CONTINUE READING BELOW
4. Believe in the Dream
5. Laging Ikaw
6. Only With You
7. I Came to Dance
8. I Don't Want to Fight
9. Starlight
10. Missing You
11. You Should Know
12. Hagkan (Sabel Theme Song)